Something unprecedented and possibly highly significant happened last week in Australia, when the government resorted to military force to keep out 434 would-be refugees, nearly all of them from Afghanistan, along with some Pakistanis and Sri Lankans.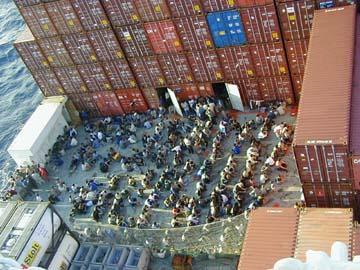 Would-be immigrants on the Tampa.
The story begins on August 24, when the 434 left western Indonesia aboard the Palapa 1, an unseaworthy wooden ferry that was supposed to land them illegally in Australia, making them eligible for asylum. But a day later, while still close to Indonesia, the ferry began to sink and sent out an alarm. The Norwegian freighter Tampa, one of the largest roll-on roll-off vessels in the world, replied to its emergency appeal and on August 26 rescued the passengers and four crew even as the ferry was actually breaking apart.
The Tampa then set sail for the closest port, in Indonesia. A few hours into the trip, however, a delegation of Afghans said to be acting in an "aggressive and highly excited manner," threatened the Tampa's tiny 27-man crew if the ship did not reverse course and take them to Australia. Fearful, the captain complied with their demands.
When the Australians realized the Tampa was coming their way on August 27, Prime Minister John Howard forbade it from entering the country's territory, saying that Australia cannot be seen "as a country of easy destination." The captain obeyed, stopping just nine kilometers outside Australian waters.
But two days later, citing health problems among the Afghans, he moved the Tampa into Australian waters, heading toward land. In response, saying he must "draw a line on what is increasingly becoming an uncontrollable number of illegal arrivals" Howard sent crack Australian troops to board the ship and prevent it from reaching land.
An impasse followed as the giant 44,000-ton ship loomed over a tiny Australian island. What to do with its passengers turned into a minor international crisis until, on August 31, New Zealand announced a willingness to take 150 of the asylum seekers and Nauru (a tiny, impoverished island state in the Pacific Ocean) accepted the remainder in return for an infusion of cold Australian cash. Pending the decision of an Australian court, this strange outcome resolved the issue.
The Tampa episode marks the first time in recent history that a Western government used military force to prevent a group of peoples at its doorstep from requesting asylum.
Predictably, the government's action was massively criticized by foreign leaders ("destroying its reputation"), international agencies ("unacceptable"), and excoriated by elite opinion in Australia, both media ("farcical") and academic ("we are heading in the direction of a pariah state").
Just as predictably, polls showed that a resounding 78 percent of Australians backed Howard's "resolve," and his party gained five percentage points in popularity. This broad support reflected two public worries.
The first is a sizable growth of illegal immigration, mostly of Afghans, Iraqis and Iranians. The 11 days before the Tampa's arrival saw more than 1,500 illegals landing in Australia on small boats, and reports were circulating of another 5,000 would-be immigrants readying to set sail from Indonesia. Many Australians felt under siege.
Second, recent police reports of Lebanese men gang-raping non-Muslim women specifically to humiliate them (one victim quoted her attacker, "You deserve it because you're an Australian") aroused anger. According to Agence France-Presse, "much of the support for the government stand was driven by anti-Muslim sentiment rather than anti-boatpeople attitudes."
A similar divergence of views is emerging throughout the West (most notably, in Austria), with the establishment basically welcoming nearly anyone knocking at the door while the population deeply resents the influx of peoples with alien customs and outlooks.
Howard's action in calling out the military to close his country's borders to illegal immigrants may have been a fluke. More likely, however, it has set a precedent that will be oft imitated as uncontrolled immigration becomes an ever-more central issue for Western societies. Four main factors are fueling this trend.
The growing disparity between the terrible conditions in so many failed states and the good life in the West (which includes such countries as Japan, Singapore, and Israel).
An increasing awareness by people in failed states about the West.
The declining costs of transportation from failed states to the West.
The West's favorable treatment of those who reach its territories, even if illegally.
Watch to see whether the "Howard solution" is a one-time eccentricity or the start of a trend. I'll bet on the latter.
---
Apr. 4, 2004 update: Two and a half years later, Raymond Bonner of the New York Times reviews the consequences of the above crisis. He reports that the 350 would-be refugees to Australia who ended up on the island of Nauru call their accommodations there "a big prison." In contrast, the smaller number who made it to New Zealand appear to be happier. John Howard's policy has worked, Bonner reports, in the sense that "the flood of illegal refugees into Australia has abated," though many Australians say the price has been too high and compare detention at Nauru with Guantánamo Bay.
May 5, 2015 update: Almost 14 years later, the impasse on Nauru has taken a new turn, reports Helen Regan for Time magazine:
Some 750 asylum seekers living in Australian government detention on the tiny Pacific island nation of Nauru face an impossible choice. They can stay on Nauru in squalid conditions. Or they can be resettled, of all places, in impoverished Cambodia — a country with a long record of human-rights abuses, where refugees are discriminated against and the chances of finding work are slim.

At first glance, it would appear that anybody would give anything to leave Nauru. About 200 refugees whose asylum claims have been processed live in small clusters of houses dotted around the island. But those awaiting a decision on their claims are kept in two detention centers, one for single men and another that houses families. There, people who've fled war and persecution in countries like Syria, Somalia, Burma, Sri Lanka and Iran sleep in sweltering and cramped plastic tents with little ventilation. They have limited communication with the outside world and many spend their days in fear and despair. ...

Resettlement in Australia is not an option for any of the inmates on Nauru. Canberra has repeatedly vowed that no asylum seeker attempting to reach its shores by sea will settle there. "You will not under any circumstances be settling in Australia. This is not an option that the Australian government will ever present to you," Australia's Minister for Immigration and Border Affairs Peter Dutton said in a video address, obtained by the Guardian two weeks ago.

With all of that being the case, the Australian government probably thought, when it made a resettlement pact with Cambodia last September, that the detainees on Nauru would jump at the chance of an onward journey. Under the deal, Cambodia would resettle an unlimited number of asylum seekers from Nauru in exchange for $31 million and the assurance that Australia would fund the resettlement process for at least one year.

Those who sign up to go are promised long-term support in the areas of work, education and health care. But immigration officials are struggling to find volunteers among the island's refugees to be on the first Cambodia-bound plane, which could depart this week.

Last Friday, about 200 refugees demonstrated in the eastern Ijuw camp on Nauru against relocation to Cambodia. They held up banners with slogans calling for justice and chanted "Cambodia, never ever."

Australian officials are reportedly offering incentives of nearly $12,000 to any asylum seeker that will step aboard, and are offering to fast-track asylum claims for refugees who agree to go, according to Ian Rintoul, coordinator for a Sydney-based refugee-campaign group, Refugee Action Coalition. ...

So far, just four people from Nauru have signed up to the offer, including an Iranian couple, an ethnic Rohingya man from Burma, and another Iranian man. Australia hopes that once they settle into their new life in Cambodia, they will encourage others to join them. But right now, Cambodia is looking even less attractive than a crushingly monotonous life in a bunch of flyblown tents somewhere in the Pacific.
May 11, 2015 update: I concluded the 2001 article above predicting that there would be a trend to use military force to restrain illegal immigrants. It's been a while, admittedly, but now the European Union has turned to the United Nations and requested permission to deploy troops to seize and destroy smugglers' ships before they take on their human cargo.
Aug. 21, 2015 update: Macedonia is not a member of the European but its special police fired stun grenades today on illegal immigrants mostly from the Middle East. In the Associated Press account,
to disperse thousands of migrants stuck on a no-man's land with Greece. ... A crowd of 3,000 migrants who spent night out in the open made several attempts Friday to charge Macedonian police after the border was shut to crossings the previous day. At least eight people were injured in the melee. ... One youngster was bleeding from what appeared to be shrapnel from the stun grenades that were fired directly into the crowd. Police backed by armored vehicles also spread coils of razor wire over rail tracks used by migrants to cross on foot from Greece to Macedonia.
By way of background: "Almost 39,000 migrants, most of them Syrians, have registered as passing through Macedonia over the past month, double the number from the month before."
July 28, 2018 update: Giulio Meotti writes about the Tampa in an excellent article, "Australia: A Model for Curbing Immigration," noting that the country's current policy began
with the "Tampa Affair": In 2001, Australia prevented a Norwegian boat, which had rescued hundreds of asylum-seekers in the Indian Ocean, from bringing them to Australia. It is called, "the boat that changed it all". The immigration minister at the time, Philip Ruddock, warned Australians that 10,000 people from the Middle East were preparing to embark boats from Asia to Australia. The Australian government ignored a request by the United Nations to let the refugees set foot on their island. Public opinion stood behind the government. ... Since then, Australia's policy to solve its own migration crisis has been, "no resettlements, no boats".

Following the Tampa Affair, the defining elements of Australia's future policy were put into place: "Islands were excised from the Australian migration zone to prevent asylum seekers lodging visa applications; detention centres were set up on Papua New Guinea's Manus Island and the tiny and bankrupt republic of Nauru; and a reluctant Navy was engaged to intercept and turn back vessels containing asylum seekers".
Given that Italy now follows the Australia "no boats" example, it is safe to say that the Tampa incident was "highly significant" and "the start of a trend."
Nov. 6, 2021 update: Twenty years later, Nauru is no longer so impoverished, for the Australian taxpayer pays an astonishing US$4.3 million a year for each illegal migrant housed on the island. Details from the Guardian:
The cost to Australian taxpayers to hold a single refugee on Nauru has escalated tenfold to more than $350,000 every month – or $4.3m a year – as the government refuses to reveal where nearly $400m spent on offshore processing on the island has gone.

Australia currently pays about $40m a month to run its offshore processing regime on Nauru, an amount almost identical to 2016 when there were nearly 10 times as many people held on the island.

No refugees and asylum seekers have been sent to Nauru since 2014, and with numbers of refugees held there dwindling – through resettlement to the US, transfer to Australia for acute medical care, abandonment of a protection claim, or death – the cost to Australia to hold each person has increased dramatically.