So reads an Associated Press headline and, I have to say, it leaves me queasy.
The Iraqi National Symphony – as woebegone an institution as its name suggests – was flown over to Washington, sponsored by the Department of State, and given an all-star treatment. Not only did the president attend, but the National Symphony Orchestra and cello virtuoso Yo-Yo Ma joined forces with the Iraqis. One of the six compositions played was by an Iraqi flutist in attendance. Secretary of State Colin Powell called the performance the "historic re-entry of the Iraqi culture on the world stage." For someone familiar with the history of European imperialism in the Middle East, this sort of showpiece feels awfully familiar and awfully doomed.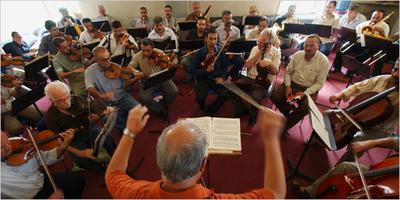 A rehearsal of the Iraqi National Symphony Orchestra in September 2006; because of frequent blackouts the orchestra often rehearses without electricity.
Yes, it's good news in itself that Iraqis are cultivating European classical music; in fact, I have written an article, "You Need Beethoven to Modernize," which argues that becoming proficient in the art of European classical music is actually a necessity if one is to become truly modern. Here is the conclusion to that article:
Thus does the response to Western music exemplify the whole of a civilization's experience with modernity. Its lack of utility makes it all the more useful as an indicator of achievement. Why this connection? Because, as Lewis observes, "Music, like science, is part of the inner citadel of Western culture, one of the final secrets to which the newcomer must penetrate." Music represents the challenge of modernity: competence in this arena implies an ability to deal with whatever else the West might serve up. Muslim resistance to accepting music from the West represents its larger unwillingness, whereas the Japanese have truly entered the inner citadel. In short, whoever would flourish must play Beethoven as well as Westerners do.
Rather, what makes me uneasy about the Iraqi National Symphony's appearance in Washington is the pretend nature of the effort (note again Secretary Powell's comment); the evident U.S. sponsorship of a glaringly weak aspect of Iraqi life; and the turning the orchestra into a kept institution in Iraqi eyes.
None of these aspects can be wholesome for the long-term development of classical music in Iraq. More urgently, I sense in this action a wrong approach to U.S.-Iraqi relations, a too great involvement in the internal matters. As I put it in a column recently, "Let Iraqis make internal decisions (security, finances, justice, education, religion, etc.), keeping only foreign and defense policy in coalition hands." To which I would now add, cultural decisions as well. (December 9, 2003)
Sep. 28, 2006 update: Almost three years later, the artificiality of the Kennedy Center spectacular is evident for all to see. Edward Wong reports from Baghdad in "And the Orchestra Plays on, Echoing Iraq's Struggles" that "the shining hopes" of 2003 have vanished:
Throughout more than three years of war the orchestra has striven to lift the country's spirits and give succor through art. But orchestra members are finding that while art can sometimes provide a brief respite from grim reality, it cannot stand forever as a bulwark against the maelstrom of conflict.

This summer four members fled to Syria and Dubai, stripping the orchestra of two cellists, an oboist and a violist, and leaving it with 59 musicians. The orchestra is often forced to rehearse without electricity because of frequent blackouts. The rehearsals take place three times a week in the former royal concert hall near the crumbling historic heart of Baghdad, with armed guards surrounding the compound. The musicians are running out of things like reeds and strings, and few music stores remain open in Iraq, partly because militant Islamists have bombed several. Players must worry about offending fundamentalist militiamen and Islamist neighbors.
Those fears are palpable among the musicians:
Now Ali Khasaf, a clarinetist, has to practice quietly in a sealed room in his eastern Baghdad home lest he risk offending conservative militiamen. Mr. Khasaf, 48, lives in Sadr City, the stronghold of the militia that answers to radical Shiite cleric Moktada al-Sadr. Some Shariah courts run by Sadr followers have deemed music to be un-Islamic, as the Taliban did in Afghanistan. "If the neighbors hear the sound, they might not like it," said Mr. Khasaf, a 25-year veteran of the orchestra. "The popular audience is not like you or me." ...

Mr. Khasaf and the other members of his family have to sneak their instruments in and out of their neighborhood. But they at least manage to practice at home. Not so with Izzat Ghafouri Baban, a Kurdish trumpeter who lives in what he calls a "filthy place": the strife-prone northeast neighborhood of Shaab, also under the sway of Mr. Sadr's Mahdi Army. "I can't practice in my house because I'm surrounded by husseiniyas," Mr. Baban, 41, said, referring to Shiite mosques that are named after the martyred grandson of the Prophet Muhammad. "Imagine if somebody hears there's a musician in my home. They'd think I'm against religion."
July 22, 2009 update: According to Steven Lee Myers of the New York Times, things are looking up for the Iraqi National Symphony Orchestra. It managed to survive the darkest days of the war in 2006-07 and now, says the orchestra's director and chief conductor, Karim Wasfi, it finds itself "out of the bottleneck." That is to say, immediate security concerns have been replaced by concerns about funding, housing, electricity, and a shared cultural life. The orchestra had been reduced to just 43 members and is now just shy of twice that, with 85 players, while Wasfi hopes for a full philharmonic of 120. The Ministry of Culture pays the salaries and the orchestra plans 14 concerts in Baghdad and 10 chamber performances elsewhere in the country during the coming year.
The most recent was July 16 in Sulaimaniya, in the northern Kurdish region, sponsored by Asiacell, a mobile telephone company, which will cover its travel costs. The playlist included Verdi, Liszt, Strauss, Webber, Gershwin and Dvorak, as well as Iraqi classical music. For the first time, Mr. Wasfi has even negotiated performances in the next year in the holy Shiite cities of Karbala and Najaf, where conservative religious values still dominate. "There's no indecent music," he said, explaining his delicate negotiations with religious leaders there.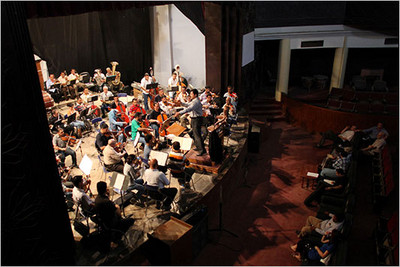 The Iraqi National Symphony Orchestra in rehearsal under the baton of Karim Wasfi.
Oct. 10, 2009 update: Another feel-good piece, this one by Nada Bakri, "After Years of War, a New Decorum," about Baghdad's Peace and Music Academy for the Washington Post. Founded by Karim Wasfi, conductor and director of the Iraqi National Symphony Orchestra, and housed in a former building of the Nigerian Embassy, it struggles to teach music and proper behavior.
Mar. 17, 2016 update: In a related story, the Music and Ballet School, founded in 1969 and Iraq's only school teaching these subjects, faces funding crisis due to low oil prices and the costs of war against ISIS. Because government funding has dried up, the Associated Press reports, it "has increasingly relied on donations from embassies, cultural institutions and private donors abroad." That pattern of foreign sponsorship emerges again.