In my critique of the U.S. Institute of Peace for consorting with Islamists, I pointed out that "Over and over again, branches of the American government have been embarrassed by their blindness to jihadist Islam," then I gave four examples of this pattern – a presidential candidate, the Department of Defense, the New York State prison system, and the Federal Bureau of Investigation.
But why stop there? This blog entry will itemize, in reverse chronological order, other instances of government mistakes at all levels in the United States, as they become known.
---
Rabia Chaudry served as "a spokeswoman for CAIR" and has trumpeted CAIR's virtues. Now, she's a Jennings Randolph senior fellow at the U.S. Institute of Peace (USIP). Good for her. But why does the USIP bio page (saved here if no longer available) on her career conspicuously not mention her CAIR affiliation? (July 23, 2016)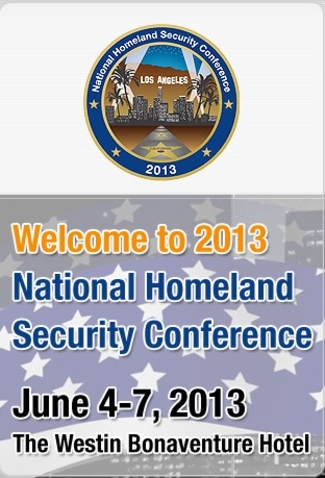 "Salam Al-Marayati, Muslim American Homeland Security Congress" (but really of the Muslim Public Affairs Council) is a panelist speaking today on "Public-Private Partnerships" at a conference co-sponsored by (among others) the Port of Los Angeles and the Los Angeles World Airports. (June 5, 2013)
The Pentagon invited Anwar al-Awlaki, a leading terrorist, and fêted him as a moderate Muslim.The U.S. government showa consistent ability to find the most vicious Islamists and portray them as exemplary moderate Muslims. (October 20, 2010) June 7, 2011 update: Catherine Herridge of FoxNews.com provides much added information on this notorious visit at "Radical Muslim Cleric's Pentagon Lunch: Top DOD Lawyers, Executive Director of CAIR Invited," including the fact that CAIR's Nihad Awad also seems to have been present.
The White House invited Hatem Abudayyeh, executive director of the Arab-American Action Network, to an outreach session on April 22, 2010 for Arab-American leaders in the Eisenhower Executive Office Building. Last week, the FBI raided his Chicago home in what appears to be a terrorism-support investigation involving the Popular Front for the Liberation of Palestine (PFLP), the Revolutionary Armed Forces of Colombia (FARC), and Hizbullah.
It bears mentioning that the Wood Foundation, on whose board Barack Obama served, donated $40,000 to the Arab-American Action Network for "community organizing" in 2001 (when it was headed by the notorious Ali Abunimah); and that Obama spoke at an AAAN-sponsored farewell dinner for Rashid Khalidi in 2003. (October 1, 2010)
The Federal Bureau of Investigation included Kifah Mustapha, imam of the Mosque Foundation in Bridgeview, in a six-week program at the FBI's Quantico, Va., facility that included visits to the National Counterterrorism Center and FBI headquarters, despite his being named an unindicted co-conspirator during the Hamas funding trial of the Dallas-based Holy Land Foundation for Relief and Development. In that trial, Mustapha was named as a member of the U.S. branch of the Muslim Brotherhood's Palestine Committee which was established to funnel funds to Hamas. He was also identified as a Holy Land Foundation employee who served as its agent in Illinois. (September 30, 2010)
The U.S. Department of State sent Dawud Walid, a top CAIR functionary, on a trip to Africa. (July 26, 2010)
In testimony before the U.S. House Committee on Foreign Affairs, Subcommittee on Terrorism, Nonproliferation, and Trade, Steven Emerson today exposed the U.S. Department of State's wretched record in funding and promoting Islamist individuals and organizations. A quote from the top:
The State Department's efforts to reach out to the Muslim community have resulted in multiple collaborative efforts between the State Department and radical Islamic groups and individuals. Some of these groups and individuals have even been convicted, indicted, or designated unindicted co-conspirators in terrorism cases in the United States.
(July 31, 2008)
Richard M. Daley, mayor of Chicago, participated at the opening ceremony of the "Mosque Foundation Garden" in a one-acre plot of land next to the Adler Planetarium, right by Lake Michigan, a prime piece of real estate. Trouble is, the mosque donating the public garden is the one in Bridgeview, Illinois, that has been investigated for terrorism ties. Oh well, why bother oneself with a nasty thing like terrorism when a lovely garden's to be dedicated? (November 14, 2006)
The Federal Bureau of Investigation thanks CAIR's Ahmed Bedier for "a job well done ... to keep the nation safe." See the video. (November 9, 2006)
One day after the London airport plot was thwarted, Joe Persichini Jr., assistant director-in-charge of the Federal Bureau of Investigation's Washington field office, held a joint press conference, broadcast on C-SPAN, with CAIR, MPAC, ADC, and the All Dulles Area Muslim Society (ADAMS), a local Washington organization. Persichini lauded the groups for their stand: "This is a display of leadership. This is a display of bravery." (August 11, 2006)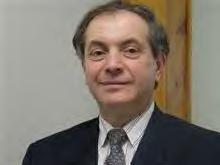 Yahya Basha, civilian ambassador
The
State Department
is sending
Yahya Basha
, former leader of the
American Muslim Council
and associate of
Abdurahman Alamoudi
, on a eight-day, three-country tour of Europe as a "civilian ambassador" in the Civic Outreach program. (June 16, 2006)
For information on the J. William Fulbright Board of Foreign Scholarships bringing its second leading Islamist to the United States at taxpayer expense, see "More Fulbrights for Islamists." (April 20, 2006)
The Department of Defense largely paid for a conference co-sponsored by the International Institute for Islamic Thought (IIIT) in March and the Department of State sent Hank Crumpton, its head of counterterrorism, as the keynote speaker. Joel Mowbray concludes that "the two biggest power centers in government are working to rebuild IIIT's reputation."(April 13, 2006)
During my stint on the board of the U.S. Institute of Peace, I tried to keep it on the straight and narrow with regard to radical Islam, without conspicuous success (see "The U.S. Institute of Peace Stumbles" and "The USIP Responds to My Critique" for the details). But since I went off the board in early 2005, things have gone from bad to worse. Today, for example, the "USIP Religion and Peacemaking List," an e-mail service providing information on these two subjects, includes details on an "Imam Training Conference" run by the ISNA Leadership Development Center and the Salam Institute for Peace. So, USIP is now endorsing Islamic Society of North America? To make matters worse, USIP on March 21 took its U.S.-Muslim World Advisory Committee to meet Secretary of State Condoleezza Rice and other top administration officials; that committee includes such Islamist organizations as CAIR, MPAC, and CSID. (April 7, 2006)
The International Institute of Islamic Thought posting says it all: "Ambassador Hank Crumpton, national coordinator for counterterrorism, was the key note speaker at dinner on the first day of the conference "Muslims in America: Challenges, Prospects, and Responsibilities" co-sponsored by International Institute of Islamic Thought (IIIT), International Center for Religion and Diplomacy (ICRD) and the Institute for Defense Analyses (IDA) on March 14-15, 2006 in Alexandria, Virginia. A senior FBI official also spoke at the dinner." (March 15, 2006)
The U.S. Consulate in Lahore, Pakistan co-organized with the Teachers' Development Centre a one-day workshop and videoconference on the subject of "Passing on Islam" on February 25. According to a Pakistan newspaper, its purpose was to promote "awareness among the youth about Islam." Topics covered included "Islam in the Classroom and at Home," "Aspects of Culture, Food, Clothing, Customs and Rituals," "Teaching Tolerance", "Respecting Law as a Muslim and a Citizen," "Countering Media Perceptions," "Gender Issues," and "Cyberspace Islam." In addition to the obvious impropriety of Americans paying for such instruction, it was held in collaboration with the Islamic Society of North America, an Islamist organization. (February 26, 2006)
Turns out that Marwan Othman El-Hindi, an immigrant from Jordan recently arrested on charges that he plotted to attack American soldiers in Iraq, worked as a chaplain at the Toledo Correctional Institution. He only lost the job because he supplied an inmate with bread and oranges, which is illegal. (February 23, 2006)
To understand why the government keeps making these egregious mistakes, listen to Daniel Roberts, special agent-in-charge of the Federal Bureau of Investigation's Detroit bureau, as he explains "Bridges," an FBI outreach program to Muslims.
What we're looking for here is people who are well respected in the community, that we can build a relationship with them and they can trust us, that we're telling them the straight story. And by and large, they've been outstanding individuals that we've had a chance to meet with through the Bridges program. ... Obviously, if they were supporting terrorism in any way, shape or form, then no, we wouldn't reach out to them. That's not in our mission. But if they were just exercising their First Amendment right on a particular political issue, that's their right. And we don't stop them from doing that. And we would probably still reach out to them.
(January 10, 2006)
New York State's Department of Correctional Services (DCS) is fighting to preserve the "dangerous status quo" whereby Islamist chaplains dominate and intimidate Muslim prisoners, according to Stephen Schwartz. Warith Deen Umar, 61 né Wallace Gene Marks, served for many years as the chief Muslim chaplain of the state prison system, until Gov. George Pataki barred him from the prisons in 2003. That was after the Wall Street Journal reported Umar's glee over 9/11. But the state authorities took no steps to extirpate Umar's clique of radical chaplains. Schwartz deems the DCS "grossly irresponsible in failing to clean those who share Umar's radical views and crass manners out of the Muslim prison chaplaincies." He also provides information on the persecution of Shi'ite Muslims within the prison system by these Wahhabi zealots and on their court case, Orafan v. Goord. Things are so bad that "One Shia plaintiff in the case had to request to be put in solitary to stop harassment of him by the Wahhabi clerics. Another plaintiff was stabbed by another convict the night before depositions were taken in the Shia suit." (January 10, 2006) Sep. 28, 2006 update: Judge Robert P. Patterson sentenced Warith Deen Umar to a year of home detention on a gun charge.
On the day he was about to be sworn in as the second-ever Muslim chaplain of the Fire Department of New York, Intikab Habib, 30, expressed views to Newsday about the responsibility for 9/11 (at which many FDNY personnel lost their lives). The native of Guyana who studied Islam in Saudi Arabia said he doubted the U.S. government's version. "I as an individual don't know who did the attacks. There are so many conflicting reports about it. I don't believe it was 19 ... hijackers who did those attacks." Elaborating on his doubts, Habib went on: "I've heard professionals say that nowhere ever in history did a steel building come down with fire alone. It takes two or three weeks to demolish a building like that. But it was pulled down in a couple of hours. Was it 19 hijackers who brought it down, or was it a conspiracy?" Asked who was in fact responsible for the attacks, Habib said he did not know. "My position as a chaplain is that whoever did it, it's a tragic incident."
In response to these remarks, a spokesman for the FDNY, Frank Gribbon, said that Habib came recommended by the Islamic Society of Fire Department Personnel, and that society continued to stand up for Habib. "He's a good man," said Hakim Braxton, its president, a "humble, grounded and family man." Gribbon of the FDNY also uttered these memorable words: Habib was hired, he said, "based on his credentials as a religious person. We don't ask new employees about their political views before we hire them." (Sep. 30, 2005) Oct. 1, 2005 update: An uproar over the Newsday revelations prompted Habib to resign his chaplaincy, just two hours before he was to be sworn in. Fire Commissioner Nicholas Scoppetta confirmed Gribbon's comment a day earlier: Habib "was vetted, there was a background check and a fingerprint check, and there was nothing negative that came up. We don't usually consider political views. This is an unusual situation." Mayor Michael Bloomberg, asked about the selection process, said that "If there are questions about that to be raised, you may rest assured, I will be raising them."
"I found new allies to help me do my job," announced Karen Hughes, advisor to George W. Bush and now under secretary of State for public diplomacy after visiting the Islamic Society of North America conference, thereby telling the world that she plans to work closely with Islamists. (Sep. 2, 2005)
CAIR recently boasted of conducting "diversity training for 46 graduates at the Sacramento Police Training Academy. ... to make the graduates aware of issues that they might face when dealing with the diverse Muslim community in Sacramento." Aware of CAIR'S real nature, William A. Mayer of www.pipelinenews.org thought he would inform the Sacramento police department about this. So he on July 8 provided its information officer, Michelle Lasark, with specifics about four of the CAIR affiliates connected to terrorism (on which, see "CAIR's Legal Tribulations"). Lasark replied as follows:
I called the academy staff and our intelligence section and a bunch of people...we have been using these guys for quite some time ... they teach both the Sheriff's department, and our police department, Davis and West Sac ... and the thought process that we use ... we can't isolate just, because there's a few bad seeds in the organization that it doesn't mean that the whole organization is bad ... we have to stand by the fact that its not the whole organization that's bad...just because some members of the Texas branch were arrested ... it goes with any organization ... these people aren't terrorists.
Mayer calls this "a remarkable explanation, one that borders on the ridiculous," and sensibly replies:
No these CAIR trainers personally, aren't terrorists; however, people within the CAIR organization have been convicted as terrorists. Apparently, at least in Sacramento and surrounding areas, the multicultural acceptance bar been raised so high that unless CAIR's police department trainers actually walk into the classrooms wearing bomb belts and brandishing full-auto AK 47s, any transgression by the parent organization are simply of no consequence.
(July 11, 2005)
The Department of State sent an official, Gerald Michael Feierstein, director of of the Office of Regional Affairs, Bureau of Near East Affairs, to speak at CAIR's conference on "Islamophobia and Anti-Americanism: Causes and Remedies." Feierstein spoke at a panel today concerning "Anti-Americanism and U.S. Foreign Policy." In my view, participating in a CAIR event is yet worse than inviting CAIR into the State Department building. (May 14, 2005)
Twenty top Washington politicians made the mistake of meeting with Sami Al-Arian, an Islamist accused of funding and directing Palestinian Islamic Jihad's terrorist campaign against Israel, as I note at an update today to "Last Week I Saw Clinton." Al-Arian's lawyer is cleverly exploiting this fact to defend his client. "Al-Arian's access to these political figures," he writes, "coupled with the fact there was public-source information regarding many of the contentions that form the basis of the government's indictment seem to belie the notion that Dr. Al-Arian was in anyway considered by anyone in the intelligence or law enforcement communities to be any kind of threat to the United States or a threat to harm any officials of the United States." By that standard, all the other Islamists listed in this entry (including Abdurahman Alamoudi) must also be innocent. (April 22, 2005)
The Detroit school distict hired Kifah Wael Jayyousi, now 43, in 1997 as assistant superintendent for physical facilities and capital improvement. He then left for the Washington D.C. school system, where the Jordanian immigrant with a Ph.D. in engineering, worked as "chief of facilities" between 1999 and April 2001, paid $114,534 a year for overseeing the maintenance—including the water, heating, and air conditioning systems—of the city's public schools. Jayyousi now stands accused of providing material support and resources for terrorism and conspiring to kill, kidnap, maim or injure people or damage property in a foreign country. According to an affidavit released today, Jayyousi ran two charities, the American Islamic Group and American Worldwide Relief, described as vehicles to raise money and find fighters for foreign Islamic causes. In 1995-96, he allegedly recruited two or more people to fight in Chechnya and arranged for equipment, including satellite phones, to be sent there. (April 2, 2005) Nov. 23, 2005 update: The U.S. government formally accused Jayyousi yesterday of helping the Islamist terror enemy. As the indictment puts it, he "actively recruited ... fighters and raised funds for violent jihad." Aug. 17, 2007 update: A federal jury in Miami convicted Jayyousi and two others of operating a terror-support cell. According to the Detroit Free Press, "The men were accused of sending money, recruits and equipment to Islamic struggles in Bosnia, Kosovo and Chechnya in 1993-2001. Prosecutors said Jayyousi used his American Worldwide Relief organization and newsletter, the Islam Report, to carry out his activities. They said he corresponded with Al Qaeda operatives and raised almost $50,000 to buy satellite phones for Chechnyan rebels fighting Russian soldiers." June 25, 2012 update: The U.S. Supreme Court let stand Jayyousi's 2007 conviction.
The Department of State does it again. "MPAC Addresses State Department Forum on Terrorist Financing" reads a press release today from the Muslim Public Affairs Council. The group's new national director, Ahmed Younis, spoke to a "Conference on Humanitarianism and Islam: Cooperation, Coexistence or Conflict with Mechanisms of Western Aid" organized by the Bureau of Intelligence and Research. The press release indicates that Younis spoke on "the realities of post-9/11 terrorist financing policy and enforcement." And next, what? Invite in the Mafia to lecture on mob financing? (March 15, 2005)
I posted a weblog item today on the Bureau of Prisons citing a CAIR publication and presumably relying on it. (Feb. 10, 2005)
High-ranking officials of the State Department had the special pleasure today of being lectured at about "Islamophobia" by none other than Nihad Awad himself, the Council on American-Islamic Relations' chieftain. In the course of what he described as an "open and forward-looking" meeting, Awad magnanimously offered CAIR's services to promote "an accurate image of America in the Islamic world." (Jan, 13, 2005)
Can it be possible that an office of the Federal Bureau of Investigation still turns to CAIR for the "sensitivity training" sessions that Robert Mueller mandated last year? Surely, this is a joke? No, it happened today at the Jacksonville, Florida division of the FBI. I'll let CAIR crow about the day's events:
The Florida office of the Council on American-Islamic Relations (CAIR-FL) today held a diversity training workshop on Islam and the American Muslim community at the FBI's Jacksonville Division All Employee Conference. More than 150 law enforcement agents, including FBI and Joint Terrorism Task Force supervisory personnel, attended the workshop that examined basic Islamic beliefs and concepts, common stereotypes of Islam and Muslims and ways in which to improve interactions with the Muslim community. Agents were able to ask questions throughout the two-hour CAIR-FL presentation.
(Dec. 1, 2004)
The City of Dallas employed one Mufid Abdulqader, the half-brother of notorious Hamas leader Khalid Mishaal, as an engineer. It turns out that Abdulqader had some interesting extra-curricular activities. Todd Bensman and Robert Riggs of CBS-11 News in Dallas report, in a wondrous tone, that "this professionally accomplished, highly affable public servant by day, was on weekends singing the praises of the terrorist organization Hamas, encouraging martyrs to kill Jews and glorifying violent Jihad." CBS then quotes from a federal indictment how this "top fundraiser" for Hamas "performed skits and songs which advocated the destruction of the State of Israel and glorified the killing of Jewish people."
Our people in Al Aqsa are out to revenge, to destroy the enemy; our revolution is spread throughout the land! With Quran and Jihad, we will gain our homes back, hey, hey, hey! My precious eyes are for Palestine, the agony of death is precious killing Jews...Death to Jews is precious. Jews will not fear threats, only action, so Hamas, hit them with the shoe bottoms of Islam and Hamas!
CBS also reveals that Mufid and his Al Sakrah troupe raised funds for Hamas
since at least 1990, in Oklahoma City, Kansas City, Chicago, New Jersey and elsewhere. Some of the conferences were videotaped by their sponsors, such as the Islamic Association for Palestine and the Muslim American Youth Association. The videotapes appear to have been repackaged, edited and sold or distributed as propaganda. ...

Videotapes of the conferences, showing Abdulqader performing, are familiar to FBI counter-terrorism agents who investigated the HLF, sources confirm. Masked jihadists in camouflage uniforms march menacingly to the band's drumbeats, waving national flags. Children take the stage to perform pantomime stabbing and shooting motions to the beat. One child points a toy gun at the sky, marching in place on stage. During brief intermissions, Islamic speakers take the stage to recite old anti-Jewish conspiracy canards. ...

In 1996, for instance, Mufid and Al Sakrah performed at a crowded New Jersey conference. Among their lyrics: "With holy war, we regain the land. No to giving in. The blood of martyrs will fall like the water of rain ...To Jerusalem let's go. The sacrifice is calling."
The Dallas city government fired him in August, upon his indictment for helping the Holy Land Foundation funnel money to Hamas. The indictment accuses Abdulqader and six co-conspirators of raising over $12 million for HLF in 2000 alone.
Unembarrassed by all this, Abdulqader is trying to get reinstated to city engineer position, appealing his termination on the grounds that the criminal indictment was improperly cited. (Nov. 20, 2004) Dec. 1, 2004 update: Todd Bensman, co-author of the CBS report cited above, has a long, colorful, and revealing article on Abdulqader in this month's D Magazine.
It's not proven, but Michael Isikoff and Mark Hosenball of Newsweek raise the possibility that, thanks to the ineptitude of the State Department's Agency for International Development, American taxpayers in the late 1990s sent money to Al-Qaeda. The reporters show how newly-released government documents point to the Islamic American Relief Agency, an organization whose U.S. headquarters in Columbia, Mo. was just raided by the FBI, received millions of dollars from AID for charitable work in Africa, even as its overseas affiliates were funneling funds directly to Osama bin Laden. (Oct. 20, 2004)
The mostly-government-funded National Democratic Institute for International Affairs hosted a delegation from a Muslim Brethren-tied political party in Yemen in July 2004. Justifying this use of taxpayer money, the NDI's Middle East specialist, Leslie Campbell, noted that the Yemeni group "appreciated that the U.S. had reached out to them. If they're empowered, they'd serve as a bulwark against those who want to destroy." (Sept. 11, 2004)
Not only has the State Department sent Abdurahman Alamoudi, convicted of terrorism-related offenses, to represent the United States six times on lecture tours, but Lorenzo Vidino informs us today that State also brings Islamists into the country via its International Visitors Program (IVP). In place for over fifty years to bring foreign politicians, scholars, cultural figures and other influentials to the United States to "experience America firsthand," the program has since 9/11 focused on reaching out to Muslims. Nice idea, but, Vidino shows, "on more than one occasion it has proven to be poorly organized and even counterproductive" because State Department often fails to understand who it is inviting. For example, Haci Karacaer of the extremist organization Milli Görüş Teşkilatı was a recent official guest. To make matters worse, as he went around the United States, Karacaer met with representatives of fringe organizations who reinforced Islamist notions "that America is a racist and evil country." Vidino concludes that the IVP is potentially "a very powerful weapon in the war for the hearts and minds of Muslims worldwide, but the State Department is turning it into a boomerang." (Aug. 9, 2004)
FBI Director Robert S. Mueller III – my nominee as the Bush administration official slowest on the uptake when it comes to militant Islam – issued a press release today stating that "The Attorney General and Director recognized the importance of MPAC's anti-terrorism initiatives." I have already pointed out how MPAC's so-called anti-terrorism initiative actually hoodwinks law enforcement; but I guess the FBI, in total political correctness mode at present, refuses to see this. Praising MPAC follows, by the way, on the FBI, back in September 2002, recruiting Muslims at a conference of the Islamic Society of North America, an Islamist organization. (July 9, 2004)
Attorney General John Ashcroft, a hero in the war on terror by virtue of his efforts to protect the United States, has (along with Assistant Attorney General Acosta and Special Counsel for Religious Discrimination Eric Treene) made the grievous error of recently meeting with representatives of the Muslim Public Affairs Council, according to an MPAC e-mail sent out today. (June 23, 2004)
In a major, self-inflicted setback in the war on terror, Secretary of State Colin Powell met today with four of the worst Islamist groups in the United States – the Council on American-Islamic Relations (CAIR), the Center for the Study of Islam and Democracy (CSID), the Islamic Society of North America (ISNA) and the Muslim Public Affairs Council (MPAC). According to a CAIR press release, "The discussion focused on topics such as the Middle East peace process, the war in Iraq, efforts to promote democratization and reform, America's image in the Muslim world, and the role American Muslims can play in helping to formulate polices that will improve that image." (June 17, 2004)
Carl Gershman, the long-time and usually savvy president of the National Endowment for Democracy, has duplicated the USIP's mistake and will deliver a keynote speech at the Center for the Study of Islam and Democracy's annual conference, taking place today and tomorrow, a conference that includes the participation of none other than Kamran Bokhari. His error here goes to show that however knowledgeable a person was about yesterday's issues, that's not enough to prepare him for today's threats. (May 28, 2004)
The National Security Agency sponsored the doctoral studies in computer science at the University of Idaho by Sami Omar al-Hussayen, currently on trial for financing jihad. (April 15, 2004)
The Department of the Treasury sent a high-ranking official, Deputy Assistant Secretary Juan Zarate, to address the Islamic Society of North America's Fifth Annual Education Event on the matter of terrorists' abuse of charities. Not only did the Treasury thereby endorse an organization itself under investigation by the Senate for ties to terrorism, but the DAS's words were fawning to the point of embarrassment: "I have been fortunate enough to speak and work with ISNA in the past, and value our developing relationship. This weekend, you have welcomed me yet again, and I continue to be grateful for your outreach and hospitality." (April 13, 2004)
A proclamation by Mayor Diana Wesserman-Rubin of of Broward County, Florida, declared August 2, 2003 to be CAIR Appreciation Day in Broward County. (Aug. 2, 2003)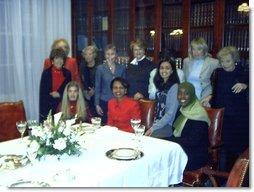 Condoleezza Rice at the Karamah Iftaar.
National Security Advisor
Condoleezza Rice
gave the keynote address at
Karamah
, an female Islamist organization dedicated to spreading Islamic law in the United States. (December 4, 2002)
Jim Towey, director of the White House Office of Faith-Based and Community Initiatives, participated in an August 2002 ISNA conference, as revealed by MilitantIslamMonitor.org. What makes this the more noteworthy is who else addressed the conference – a veritable rogue's list of Islamists. Some attended in their institutional roles:
American Muslim Alliance (AMA) Board Chairman: Agha Saeed
American Muslim Council (AMC) President: Yahya Basha
The Community Mosque National Jamaat: Imam Asim Abdur Rashid
Council on American-Islamic Relations (CAIR) President: Omar Ahmad
Islamic Circle of North America (ICNA) President: Zulfiqar Ali Shah
Muslim Alliance in North America (MANA) President: Siraj Wahhaj
Muslim American Society (MAS) President: Suhail al Ganouchi
Muslim Public Affairs Council (MPAC) President: Salam Al-Marayati
Muslim Students' Association (MSA) President: Altaf Husain
Muslim Youth of North America (MYNA) Chairperson: Hanaa Unus
North American Islamic Trust (NAIT) Chairman: Bassam Osman
Other Islamists appeared in their own right, without institutional affiliation:
Yusuf Talal Delorenzo
Murad W. Hofmann
Yusuf Islam
Abd al Hakim Jackson
Muzammil H. Siddiqi
(Aug. 30, 2002)