The Council on American-Islamic Relations usually gets a free pass as a "civil rights group," no questions asked, but once in a while someone is awake at the switch and protests its activities, influence, and acceptance. Here, in reverse chronological order, are some noteworthy examples:
---
The World Shia Forum slams CAIR's hypocrisy of pretending to worry about the desecration of a Jewish cemetery when it cares nothing about the Saudi desecration of the Islam's holiest monuments. (February 27, 2017) Apr. 16, 2017 update: The World Shia Forum goes after CAIR again, this time stating that "CAIR's Selective and Hawkish Stance for War against Syria is Emblematic of Sectarian Bigotry."
Josh Mandel, the treasurer of Ohio, wrote on Facebook today: "If Council on American Islamic Relations is for it, it's probably bad for America. What a horrible organization." (February 2, 2017)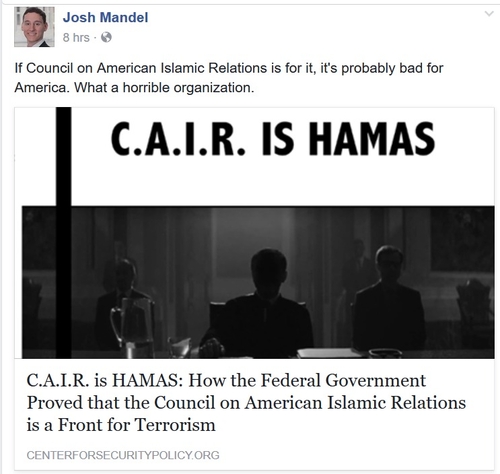 Anila Ali complains in "A Lack of Empathy" about CAIR's intruding itself uninvited into the San Bernardino massacre. (February 23, 2016)
Shireen Qudosi, a Muslim reformer, defends a non-Muslim's criticism of "the Muslim Brotherhood- and Hamas- linked lobby group CAIR" in "How CAIR's Tirade Against Ryan Mauro Exposes the Hamas-linked Group. (April 28, 2016)
Republican presidential candidate Ben Carson took umbrage on learning that two Democratic U.S. representatives, Zoe Lofgren (California) and Alcee Hastings (Florida) are bringing CAIR staff to the State of the Union Address tonight:
They have done things that are clearly, you know, not pro-American. These are people who I have called for an investigation of. We can't now sit there and say these are buddy-buddies of ours, [so] let's go ahead and investigate the thing. If they are our buddies, let's put that clearly out there. And if they're not our buddies, let's not be giving them access to the ability to further carry on what they call a civilization jihad and to change us from a Judeo-Christian foundation to a Muslim foundation. We have got to be smarter than that.
(January 12, 2016) Jan. 13, 2016 update: Of course, delighted to be called "not pro-American," CAIR a day later exploited this criticism for fundraising purposes.
Almost ten years after an earlier impassioned plea against CAIR, Zuhdi Jasser offers another eloquent analysis, this one titled "CAIR Inventing a Crisis, Again - And Landing Muslims on the Unemployment Line," on the topic of the mostly Somali Muslim employees at Cargill Meat Solutions in Colorado. An excerpt:
Here, CAIR is using Cargill's Somali Muslim community – a group with multiple marginalized identities – to push a broader agenda nationwide. The Somali Muslim community is already vulnerable in many ways. Now some two hundred people who had stable work are potentially left without a way to provide for their families. Will CAIR ensure their security – whether by making up for lost wages or making sure they secure new employment if a deal cannot be reached? CAIR's message is not one of constructive paths forward – but seeks instead to prove that America is hostile to Muslims and that Muslims. Through this, CAIR is stoking tensions between immigrant communities and the broader population, between people of color and their employers, and between Muslims and non-Muslims. If the civil rights of Muslims are truly infringed upon, they must certainly be defended, and boldly. However, CAIR is notorious for its opportunistic use of matters of faith and minority rights to carry out its nefarious goal of advancing an interpretation of Islam and Muslim existence which rejects pluralism, rejects diversity, and promotes hostility against dissidents, reformers, and those who truly support civil and universal human rights. We ask both Muslims and non-Muslims to not be fooled.
(January 6, 2016)
Indian Americans for Freedom issued a press release celebrating the first Indian-American super PAC and described one of its television ads:
Its most powerful message is aimed at 8th Congressional District candidate Tammy Duckworth, citing her public appearance with CAIR, the Council on American-Islamic Relations. Several members of CAIR, an international organization, have been indicted or imprisoned for terrorist activities, causing the FBI to cut off all ties to the organization. The spot thanks Duckworth for her service, but questions the wisdom of her association with CAIR in the quest for votes. http://www.youtube.com/watch?v=0yx7WGPHoG4 (See it to believe it Tammy Duckworth with CAIR)
(November 1, 2012)
Raneen Albaghdady, 32, of Dearborn Heights, appeared in a hijab before Judge Bill Callahan of Wayne County Circuit Court in Michigan in June. Telling her "No hats allowed in the courtroom," she replied, according to the court transcript, "OK, it doesn't matter" and took off her hijab. Later, she had second thoughts and, with CAIR as her co-plaintiff, filed a lawsuit on Aug. 26, claiming that Callahan wrongly forced her to remove the hijab. To which Majed Moughni, a Muslim attorney from Dearborn, argues the woman was not wearing a hijab at all but a fashionable garment; and the fact that she removed it shows she wasn't serious about wearing it. In flyers distributed this week, Moughni defended Callahan and criticized the CAIR, a co-plaintiff in the case, saying the lawsuit is "a disservice to all Muslims." To which, Dawud Walid of the CAIR Michigan office, said of Moughni: "He's not the hijab police." (Sep. 5, 2009)
In an unprecedented action, Minneapolis Somalis took to the streets to demonstrate against CAIR's meddling in its affairs, holding the Islamist group responsible for blocking an FBI inquiry into the disappearance of Burhan Hassan, a young man of Somali origins. The Minneapolis Star Tribune report by Allie Shah and James Walsh, is worth quoting at length:
Relatives, friends and neighbors of a Minneapolis teen killed in Somalia pressed their argument Thursday that a Muslim civil rights group is hampering a federal investigation into the disappearances of dozens of Twin Cities Somali men. At a protest outside the Brian Coyle Community Center in Minneapolis' Cedar-Riverside neighborhood, Abdirizak Bihi, the uncle of Burhan Hassan, who relatives say was killed last week in Mogadishu by a terrorist group, accused the Council on American-Islamic Relations (CAIR) Minnesota chapter of discouraging local Somalis from cooperating with the FBI.

"We don't want anyone to come into our community and tell us to shut up," Bihi said. "Law enforcement will not be able to do anything without information from the community." About 50 people attended the rally, waving signs and hollering, "CAIR out! Doublespeak out!"

During a months-long investigation into the disappearance of up to 20 Somali men, CAIR Minnesota launched a campaign to encourage anyone asked to speak to the FBI to be aware that they can have a lawyer present. Jessica Zikri, communications director for CAIR Minnesota, said that effort is not meant to discourage anyone from speaking to investigators. Rather, the campaign is meant to ensure that people's civil rights are protected, she said. She said the group is willing to meet with families of the missing men.

CAIR Minnesota cosponsored an ice cream social at the Coyle Center to discuss the future of the complaint investigation unit of the city's civil rights department. Protesters used the occasion as an opportunity to voice their frustrations. Jama Dhagad, a distant relative of Hassan, was among the protesters. "These people in the building, they're not representing the Somali community in a good way," he said.

Ifrah Hassan, a cousin of Burhan's mother, balanced her 18-month-old son as she shouted slogans. "I don't want my son, when he's 18 years old, out of nowhere going someplace else," she said. "We need to find out who did this."

Osman Ahmed, another relative of Hassan, said some in the family believe CAIR has aligned itself too closely with mosques where some believe the missing boys may have been influenced to leave. "They are supporting the groups we suspect of recruiting our kids," Ahmed said. "We refuse to be silent."
(June 12, 2009) Aug. 6, 2010 update: The Investigative Project on Terrorism updates the Somali criticism of CAIR at "Minneapolis Somalis Played Key Role in al-Shabaab Investigation."
The Department of Justice has been turning down student applicants with a CAIR background, an internal report, An Investigation of Allegations of Politicized Hiring in the Department of Justice Honors Program and Summer Law Intern Program, found: "[Counsel to the Associate Attorney General.Esther] McDonald's written notations indicated that she had concerns about the candidate because he was a member of the Council on American Islamic Relations and that she had placed the application in the questionable pile." (June 24, 2008)
Congressman Bill Shuster (Republican, Pennsylvania) issued a press release in which he expressed "extreme disappointment with House Democratic Leadership due to their decision to reserve a room in the US Capitol building for a meeting with CAIR ... to discuss US foreign policy in the Middle East." Shuster flayed the Democrat House leadership for "walking a very fine line between a political stunt designed to undermine the President and our military and abetting the enemy." Shuster even referred to CAIR as "a front group for terrorists." (March 12, 2007)
Senator Barbara Boxer (Democrat of California) honored a California-based representative of CAIR, then rescinded the certificate and publicly stated that "We made a bad mistake not researching the organization. My organization created this problem. I caused people grief, and I feel terrible. Yet I need to set the record straight, and I'm setting the record straight." (Jan. 4, 2007)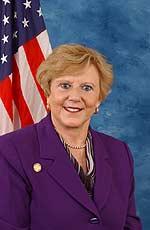 Congresswoman Ginny Brown-Waite (Republican of Florida) gives her candid opinion of CAIR.
In a
three-page letter
addressed to Ahmed Bedier of CAIR's Florida office, Congresswoman
Ginny Brown-Waite
(Republican of Florida) gives him a piece of her mind on everything from CAIR's reluctance to condemn terrorism to his sandbagging her at a meeting in May 2004.
You may recall our meeting on May 29, 2004, when I met with you and other members of your organization.... You should also remember that I was invited over to the home of a prominent doctor in Hernando County to allegedly "have some tea and see how his children were doing." Imagine how surprised I was upon entering the home to find a group of eight or more men sitting in a semicircle preparing to have a discussion with me. It certainly was not the casual social event I was invited to, but not being the type to shy away from a healthy discussion, I joined in and listened.

It was suggested to me that the group needed a Member of Congress who would be sympathetic to the CAIR-Muslim view. I then told the group that I would not be the person for them due to the fact that neither I, nor my constituents, felt that the American Muslims or CAIR had adequately disavowed past terrorist acts. Whereupon you said that CAIR had taken out a full-page ad in the New York Times and several other large major newspapers. I responded with something like "Well, I am not sure the majority of my constituents subscribe to those papers."

From there on the conversation went downhill. When it became apparent to you that I was not willing to champion your cause in Washington, you Mr. Bedier, made the following statement, which was so outrageous I remember it almost verbatim. You told me that you had done research on me and found that I was Catholic and then went on to say, "Catholic priests pose more of a terrorism threat by having sex with young altar boys than those who flew planes into the World Trade Center." I found the statement so bizarre that I asked you to repeat it and without hesitation, you did. It was at this point that I stood up and told you that the meeting was over. I also pointed out the fact that the Catholic priests did not kill 3,000 innocent people, and that we knew where the guilty priests were located and they were not hiding in caves. I then left....

Several moderate Muslims have since heard about our verbal exchange and apologized for your very inappropriate attack on my religion.... Mr. Bedier, in closing, I know many fine Muslims who would be well served by your resignation from the local CAIR office. Your militancy and manipulation of facts does not serve them well
Comment: (1) Brown-Waite has done what many of her colleagues should do. (2) The last sentence implies that CAIR is better than Bedier, but the two deserve each other. (Nov. 9, 2006) Nov. 10, 2006 update: Bedier responded to Brown-Waite. As quoted today in the St. Petersburg Times, he denies ambushed her in 2004: "It's unethical and shameful for a congresswoman to resort to lies and fabrication in order to defend anti-Muslim bigotry." As for Brown-Waite's recollection that Bedier said "Catholic priests pose more of a terrorism threat by having sex with young altar boys than those who flew planes into the World Trade Center," he says, "That's a lie. She's twisting it. I said we cannot stereotype and blame Islam for the actions of a few individual criminals, just like you cannot blame Catholicism for the actions of a few criminal priests."
"Omran Salman v. CAIR and MPAC" is the title of my weblog entry on another Muslim critique of CAIR. (Aug 31, 2006)
M. Zuhdi Jasser, head of American Islamic Forum for Democracy, writes one of the most impassioned criticisms of CAIR I have read to date.
Night after night, I see Muslim national organizations like the Council for American-Islamic Relations, or CAIR, cry out over and over about anecdotal victimization while saying and doing absolutely nothing about the most vile hate-speak and actions toward Jews and Christians in the Muslim world. It is the most self-serving of outrage. The question I ask myself in the darkness of my own night is, "How did my beautiful faith become so linked with such ugliness." ...

There are some small signs that my community is finally beginning to wake up to the cancer in its midst. We are learning something that was the central lesson of World War II—that once aroused, evil never stays self-contained.

For many in my faith, it was all right to blow up innocent Israelis as they sat in their cafes and pizza parlors. Through some tortured act of logic, these suicide bombings were seen as some sort of legitimate religion-sanctioned acts. (All the while, notice how few Muslim organizations like CAIR will denounce Hamas by name). But, as evil always does, it migrates, and soon radical Muslims were blowing up little children in Russia, commuters in Spain and worshippers in one of Iraq's holiest mosques.
(Mar. 30, 2006) Apr. 2, 2006 update: After Ibrahim Hooper wrote a letter to the editor defending CAIR's virtue by listing the ways in which it supposedly condemned terrorism and hate, Jasser has replied with a second round, "They just don't get it." Jasser notes that Hooper "seems to either conveniently or carelessly miss the entire point" of the original column. So, Jasser tries again, even more directly, demanding replies on four specific points:
Will they directly help to dismantle and lead an organized effort against terrorist organizations and individuals by name beginning with Al Qaeda, Islamic Jihad, and HAMAS to name just a few of the radical Islamist enemies of America? Will they name and ideologically engage the extremism of the Wahhabists of Saudi Arabia, the theocrats of Iran, Sudan, and the litany of other despots and theocrats in the Muslim world in their so far empty nameless condemnations of terrorism?
Will Mr. Hooper acknowledge that political Islam (Islamism) is the toxin which feeds the terrorism committed by radicalized Muslims?
If so, is it not the primary role of Muslim American organizations to lead the ideological war against radical Islamists? Non-Muslims can do nothing to deconstruct this poisonous ideology. Our fellow Americans living in fear for their security are looking for us to lead this fight. The credibility of Muslims is suffering deeply as a result of the complete denial of this responsibility by the likes of Mr. Hooper.
As a fellow Muslim, will Mr. Hooper join me in the call to my fellow co-religionists to fully and unequivocally separate the spiritual from the political?
Jasser then ends up on this stirring note:
Our community needs organizations with a new paradigm in this global conflict. Unless, leading Muslim organizations primarily and frontally engage ideological Islamism (political Islam), in an effort to cure the cancer from our midst, all of their other efforts will remain, pure and simply, self-serving and far from embodying the Golden Rule.
Lodi Muslims to picket CAIR's Sacramento office? In the wake of the arrests in Lodi, California, divisions in the town's Muslim community have come to the surface, report Neil Gonzales and Howard Lachtman in the Stockton Record. The issues appear to be two-fold, over building the Farooqia Islamic Center and more broadly, whether the community should be led by those who grew up in Lodi or by newcomers from Pakistan. In both questions, the conflict appears to be between Muslims of a more traditional bent and the Islamists. CAIR has butted into the controversy, naturally (see the June 9, 2005 entry, below) on the side of the Islamists.
The response has been sharp. Naheem "Nick" Qayyum, a board member of the Lodi Muslim Mosque, says he and many others plan to protest at CAIR's Sacramento office for taking the side of the two imams arrested on immigration violations—Mohammad Adil Khan and Shabbir Ahmed.
Qayyum said the Council on American-Islamic Relations, or CAIR, shouldn't be defending the two imams, who he thinks have tried to take control of the local Islamic community. The imams have been controversial in part because they came to Lodi from Pakistan. ... Qayyum said that Khan and Ahmed "divided our families—brothers against brothers, sisters against sisters. If [CAIR] is going to go out to support these people, we're going to protest. We're going to try to get 400 to 500 people to go to the office in Sacramento. That's not a joke, either. As far as I'm concerned, [Khan and Ahmed] hijacked our religion and tried to hijack us."
CAIR's executive director in Sacramento, Basim Elkarra, declined to comment. But the Lodi mayor, John Beckman, recounted hearing Elkarra telling an FBI agent that opponents of building Farooqia were calling him to tell him to not fight efforts to deport Khan and Ahmed. (June 11, 2005) Aug. 13, 2005 update: More discontent with CAIR in Lodi: Qayyum said he and others had heard about condemnations of the United States and praise for the Taliban by Shabbir Ahmed, one of Lodi's two imams, much before the FBI's investigation went public with this information. I'll let Andrew Adams of the Lodi News-Sentinel pick it up from here:
Qayyum said he approached CAIR for some help with the mosque's imam situation. He said he believed CAIR leaders had some influence with [the other imam, Mohammed] Adil Khan, who in turn had a close relationship with Ahmed. "I asked CAIR to help out in the community because he [Adil Khan] was causing a lot of problems," Qayyum said. "At that time, CAIR pretty much told me to go away." ...

After federal agents arrested Adil Khan and Ahmed on immigration charges, Qayyum said CAIR moved strongly into the media spotlight. He said CAIR made headlines with claims that residents were the subject of intense questioning and harassment by the FBI. "They kind of blew the thing out of proportion for whatever reason," he said. "Maybe they were just trying to get their name out there." Despite the claims of FBI heavy-handedness, CAIR could not provide specific information to back those claims up. And Qayyum said he wasn't happy when Elkarra held a news conference at the Lodi Mosque, making it the subject of the intense gaze of several TV cameras.
Two Muslim groups have publicly repudiated CAIR – something, I admit, I have long awaited. Here is Kamal Nawash of the Free Muslim Coalition Against Terrorism, whom I have criticized in the past but who is doing good work now, as paraphrased by Jon Ward of the Washington Times. CAIR and similar groups "condemn terrorism on the surface while endorsing an ideology that helps foster extremism." That ideology's driving force is "the ideal of theocratic rule—the unification of church and state." Then the Times quotes Nawash on CAIR and its ilk:
Almost all of their members are theocratic Muslims who reject secularism and want to establish Islamic states. The heart of the extremism and terrorism in the Muslim world is the idea of political Islam. ... Terrorism and extremism is a natural result of theocratic rule.
Zainab Al-Suwaij of the American Islamic Congress makes the same point a bit differently. Ward paraphrases her saying that "The disagreement highlights the schism between Muslims who want to practice a more secular version of Islam that espouses a separation of church and state, and Muslims who interpret their religion more strictly." She then goes on to note that while groups in the first category, such as AIC, are proactive about terrorism, CAIR and others are more defensive. She continues about the secular Muslims:
We're not saying, "No, we [the Muslim community] don't have a problem. In fact, we have these problems. And we're working on trying to find a solution.
The moderate groups (FMCAT, AIC, and others, including the American Islamic Forum for Democracy), are meeting this evening in Washington, D.C. and CAIR specifically was not invited. Ward writes that CAIR said its members "would have attended if invited, though they disagree with the hosting groups' point of view." More aggressively, CAIR's spokesman, Ibrahim Hooper, asserted that the moderate groups do not represent mainstream American Islam. Speaking of CAIR, he said, "We have our views, and we believe our views reflect the mainstream of the American Islamic community." (Oct. 1, 2004)
"I don't need any lesson from CAIR." That's the response of Tom Lantos (Democrat of California) to CAIR's criticism of his legislation proposing the creation of an office in the State Department to "monitor and combat" anti-Semitism worldwide. Specifically, Helal Omeira, the group's San Francisco-area executive director said that "Really, hate crimes and hate incidents aren't mutually exclusive to one group of individuals." (Sept. 28, 2004)
When two country commissioners in Hernando County, Florida, attended a CAIR dinner and accepted awards from CAIR, they got an earful from some of their constituents at a commission hearing yesterday. The St. Petersburg Times gives a taste of the anger Nancy Robinson and Diane Rowden met with, mostly from the pastor and congregants of the Landmark Baptist Church in Brooksville. The Rev. Mike Frazier got things going by accusing them of embracing terrorism by going to the event and when the two started to respond, they were met with a chant of "terrorists, terrorists," until Robinson asked for quiet. Frazier went on to insist that the two government officials "return the awards and denounce terrorism." Rose Rocco asserted, "I've an issue with CAIR having a private party and inviting dignitaries; that should have been done in a public forum." Chip Gripton said that attending CAIR's event was tantamount to committing treason. "You supported and comforted an enemy of the United States." (Sept. 15, 2004) Oct. 29, 2004 update: in "Jihad at the St. Petersburg Times," Erick Stakelbeck details the campaign of intimidation directed against Mike Frazier for his speaking out against CAIR, with an emphasis on the ignoble role played by the St. Petersburg Times.
Mirabile dictu, a newspaper has finally noted CAIR's several links to terrorism. I have been pointing out this connection in conversation with journalists for a year now, sometimes providing them with the reference to the entry on this website with the specifics laid out. But I had no takers, at least not until today. Glenn Sheller, editorial page editor of the Columbus Dispatchpublished an article "Muslim group's conflict with discrimination is uphill fight" (which can be found on the Dispatch website if a paid subscriber; or available to all on google.com's cache), in which he states that "at least three people connected with CAIR nationally have been accused of terrorist ties," he lays out the specifics concerning Randall Todd Royer, Bassem Khafagi, and Ghassan Elashi. Now, will others follow his brave start? (Aug. 31, 2004)
Department of Justice spokesman Jorge Martinez dismissed CAIR's report, Guilt by Association, as "unfair criticism based on a lot of misinformation and propaganda," and in so doing he may have taken an unprecedented step: I know of no prior U.S. governmental criticism of CAIR. On prior occasions, no matter how tendentious and intemperate were CAIR's attacks on the federal government ("unjust" and "disturbing," for example, was how it responded to President Bush's closing down conduit for funding Hamas), the feds sat mutely by. Perhaps a new trend has begun. (July 16, 2003)