Despite all that's going on the Middle East – the Iranian nuclear buildup, the violence in Iraq, the shaking of Erdoğan's rule in Turkey, civil war in Syria, Egypt and Yemen in melt-down mode, Libya unraveling, Tunisia in political crisis – U.S. Secretary of State John Kerry has one main thing on his mind, and that's a Palestinian-Israeli accord. Unbelievably, he is paying a twelfth visit to the region on Jan. 13 to pursue this goal.
As he returns and returns again, senior Israeli diplomatic officials are showing impatience with him. Here are quotes from some, speaking not for attribution and very candidly to Israel Hayom. First, about process:
"We believe that in return for Israel's request to extend negotiations by a year, Abu Mazen [Palestinian Authority President Mahmoud Abbas] will ask more of Israel, such as a [settlement construction] freeze or another prisoner release, and these demands will be backed by Kerry and turned into an American demand, accompanied by a threat. This, while the Arabs have never given anything in return, from the Oslo negotiations until today."
"The negotiations are currently being carried out without papers or documents passing between the sides. This is because the Arabs are refusing to present written documents. The Americans are coming with prepared proposals, they read them and do not leave documents with either side. It is all done verbally. The Netanyahu government is cooperating with Kerry's initiative with the clear knowledge that the Arab side will not accept the agreement and ultimately [Israel] will not be required to make concessions or evacuate settlements."
"Israel is forced to cooperate with the American plan, mainly out of concern that if we reject it, the U.S. will blame Israel for the failure of the negotiations."
Then, more revealingly, about Kerry himself and his team:
"The conduct of the U.S. secretary of state is obsessive. There are those who say that more than wanting to advance peace, he wants to take advantage of the conflict for his political needs. According to this line of thought, Kerry seems to think his path to the White House is via the signing of a Middle East peace agreement."
"Kerry, U.S. Ambassador to Israel Dan Shapiro and U.S. Special Envoy Martin Indyk are wandering around the country, meeting ministers, briefing journalists and creating a feeling that a peace agreement is about to be signed."
Kerry's security plan for the Jordan Valley is "ridiculous and unable to withstand the test of reality."
"Kerry visits here a lot, but he does not display any understanding of what is happening here. The U.S. plans are superficial and not serious. There is no connection between what is said in public about the progress of the negotiations and what is actually happening. It seems that Kerry is just not in touch with reality. He is not an expert, to say the least, on the roots of the conflict, he does not know how to create real solutions and does not even demonstrate proficiency in reading maps that are presented to him."
Comments: (1) Kerry has long had a reputation for trying to bend reality to fit his own thinking. This diplomatic effort would seem to be his most ambitious –and harmful – such indulgence to date. (2) The American administration obsesses over the Palestinians because it, bizarrely, sees this as the key to the region's other problems. (January 9, 2014)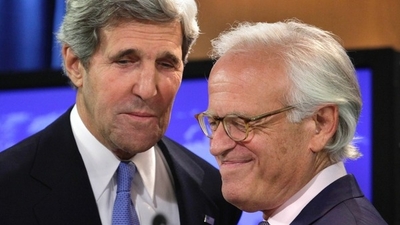 John F. Kerry sharing an thoughtful moment with Martin Indyk.
Jan. 14, 2014 update: Israel's Defense Minister Moshe Ya'alon has added his voice to those exasperated by Kerry and his diplomacy, according to an unsourced account in Yediot Ahronot and made available in English by the Times of Israel. In it, Ya'alon lambasts Kerry's security proposals
as being "not worth the paper it is printed on" and something that won't provide security for Israel. The report also quotes Ya'alon calling Kerry "inexplicably obsessive" and "messianic" in his efforts to coax the two sides into a peace agreement. Ya'alon said Kerry has "nothing to teach me about the conflict with the Palestinians."

"All that can 'save us' is for John Kerry to win a Nobel Prize and leave us in peace," the paper quotes him saying. …

Speaking privately, Ya'alon said an American security plan that could ostensibly facilitate a safe withdrawal by Israel, and which calls for advanced electronic surveillance in the West Bank area instead of an Israeli military presence, would actually "ensure that Ben Gurion Airport and Netanya become a missile target," which only "our continued presence in Judea, Samaria and the Jordan River" will prevent, according to the report.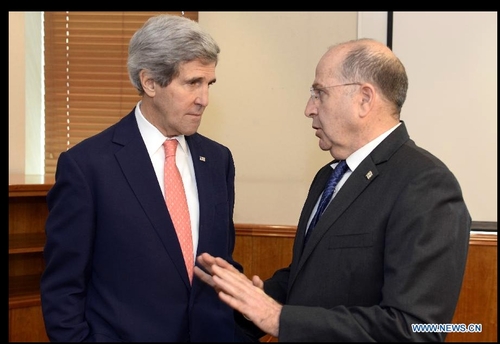 Kerry and Ya'alon meeting on Jan. 3, 2014. Their facial expressions and body language confirm Ya'alon's reported views about Kerry.

The report also quotes Ya'alon speaking to Kerry:
"What are you talking about?" Ya'alon was said to have directly retorted to assertions by Kerry recently that his security proposal would render Israel's eastern border more tranquil that the US-Canada border. "You've given us a plan based on advanced technologies — satellites, sensors, war rooms with TV screens — but with no presence in the field of our forces. How is that technology going to help when a Salafist or an Islamic Jihad terror cell tries to attack Israeli targets?" Ya'alon reportedly wondered. "How are satellites going to quash the rocket-building industry that's developing in Nablus and that will launch rockets at Tel Aviv and the center of the country?"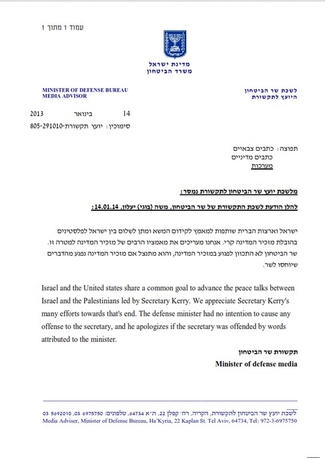 Then, in response to a stinging White House reaction to Ya'alon's alleged comments ("offensive and inappropriate"), the latter issued the following non-apologetic apology: "The defense minister had no intention to cause any offense to the secretary, and he apologizes if the secretary was offended by words attributed to the minister."
Comments:
(1) Yes, Kerry no doubt dreams of a Nobel Prize but even more important is the linkage thesis, the belief that solving the Arab-Israeli conflict makes every other problem in the Middle East easier to solve, something Kerry himself stated four months ago when he declared about the Palestinian-Israeli talks that "a final status agreement is important in enhancing regional security and stability throughout the Middle East."
(2) One wonders how Kerry can continue on with his quixotic quest for a Palestinian-Israeli accord after this devastating appraisal of his motives, knowledge, and talents.
Jan. 15, 2014 update: The Rabbinical Congress for Peace sponsored a letter of support and encouragement to Ya'alon signed by more than 350 prominent Israeli rabbis. It thanked Ya'alon "for his clear and fearless remarks that 'enough is enough'. … At long last there is a cabinet minister who demonstrated what true Jewish leadership is - a man who had the courage to advocate the truth that is stated in the Code of Jewish Law (Orach Chaim, Section 329), that any withdrawal from Jewish territory leads to bloodshed."
Jan. 16, 2014 updates: (1) Herb Keinon of the Jerusalem Post adds that "What Ya'alon said rather inelegantly, many other Israelis – both inside and outside the corridors of power – are thinking."
(2) Two follow-ups reported in Israel Hayom:
Jan. 14: Netanyahu met with Ya'alon "to formulate Ya'alon's apology to Kerry. The meeting lasted four hours. Political sources said Netanyahu did not rebuke Ya'alon at the meeting, but rather brainstormed with Ya'alon on how best to manage the crisis."
Jan. 15: Kerry responded to Ya'alon but not by name: "We just can't let one set of comments undermine that effort, and I don't intend to. I will work with the willing participants who are committed to peace and committed to this process ... So we will continue to work, and I will work undeterred."
Comments: (1) Four hours! One would imagine four minutes. That the meeting lasted so long suggests some deep differences. (2) Kerry's response confirms, yet again, his living in a world of his own making.
(3) Khaled Abu Toameh notes the double standard implicit to the U.S. government bashing Ya'alon but ignoring nearly-daily Palestinian Authority on-the-record denounciations of Kerry in recent weeks. Here is Yasser Abed Rabbo, one of Mahmoud Abbas' closest advisors:
Kerry does not have the right to decide where our borders will be. If the U.S. wants, it can give parts of California or Washington to Israel. Kerry's framework agreement is very dangerous.
He accused Kerry of seeking to "appease Israel by fulfilling its expansionist demands in the Jordan Valley under the pretext of security. He wants to buy Israeli silence over the [Nov. 24] Iran deal."
In addition,
Palestinian officials have also been leaking details about Kerry's latest proposals for reaching an agreement between Israel and the Palestinian Authority. Some have gone as far as accusing Kerry of being biased in favor of Israel, working toward "liquidating" the Palestinian cause and trying to extort the Palestinians.

Tayseer Khaled, member of the PLO Executive Committee, was recently quoted as accusing Kerry of trying to extort the Palestinians politically. Khaled's allegations have since been repeated by other Palestinians.

In addition, anti-Kerry demonstrations have become a common phenomenon in Ramallah and other Palestinian cities in the West Bank and Gaza Strip. At some of these protests, Kerry is often condemned as a pawn in the hands of Israel. At another protest in Ramallah, Palestinians chanted, "Oh Kerry, you coward, you have no room in Palestine."

In Bethlehem several weeks ago, Palestinians took to the streets to protest against Kerry's visit to the city. And when President Barack Obama visited Bethlehem last year, Palestinians hurled shoes at his portrait and chanted, and set fire to his photograph.
Comments: (1) Kerry expects the Israelis and not the Palestinians to be supine for, as the Obama administration makes nice with enemies, that's the role it assigns to allies. (2) This is one more way Kerry is out of touch.
Jan. 17, 2014 update: Michael Curtis helpfully recalls, in the context of the Ya'alon-Kerry dustup, that Oscar Wilde defined a friend as "someone who stabs you in the front."
Jan. 27, 2014 update: Even Barack Obama thinks that Kerry is out of touch with reality, though he puts it more politely than the Israelis. David Remnick paraphrases him from an interview that "Obama told me that in all three of his main initiatives in the region—with Iran, with Israel and the Palestinians, with Syria—the odds of completing final treaties are less than fifty-fifty."
Obama's remark brings to mind the Onion's satirical reaction on July 17, 2013, to Kerry's announcement that he would fix up the Middle East, "Man Who Couldn't Defeat George W. Bush Attempting To Resolve Israel-Palestine Conflict":
Arriving in the Middle East today for top-level negotiations with Palestinian and Israeli officials, a man who could not even devise a way to beat George W. Bush in a head-to-head vote will spend the next several days attempting to bring a peaceful resolution to the most intractable global conflict of the modern era, State Department sources confirmed.

"We are confident that [this person who managed to win just 19 states against George W. Bush, even in the midst of two highly unpopular and costly foreign wars] will be able to establish a framework to bring about lasting peace in the Middle East," said State Department spokesperson Jen Psaki, stating that the diplomat, who was actually deemed by the American populace to be a worse option than four more years of an administration led by a former baseball team owner and Dick Cheney, could provide the leadership necessary to resolve the bitter, bloody conflict that has raged for more than six decades.

"[The individual whose sole goal for more than a year was to make the simple case that he would do a better job than one of the most disliked and poorly rated politicians of all time, and who decisively failed at this singular task] will lay out his bold vision for a road map to peace, and it's one that we believe both Israelis and Palestinians will be very receptive to. Our best hope for a safe, prosperous Middle East lies with [a guy who came in second to a former substance abuser who nearly choked to death on a pretzel]."

Sources throughout Israel and the Palestinian territories said they were optimistic about a peace deal, saying they were eager to hear the ideas of the husband of a powerful food-processing heiress.
Jan. 29, 2014 update: Ya'alon has again criticized the Obama administration, but this time in public and more temperately. Defense News sums up his message as assailing Washington "for disengaging from conflict zones, relinquishing its role as global policemen and succumbing to an interim deal with Iran which he assailed as an 'historic fumble'."
On the US-led drive to reach a two-state peace deal, Ya'alon dismissed as "legend" claims that the Israeli-Palestinian conflict is a main source of Sunni-Shi'a wars and other troubles roiling the region. "There is an argument between us and our friends about the [larger regional significance] of the Israeli-Palestinian conflict. But you can't hang what's happening in the Middle East on this conflict," he insisted.

He also rejected arguments articulated by the US government, most world powers and many experts in Israel that failure to conclude a Palestinian peace deal deters Saudi Arabia and other moderate Sunni states from forging a united front against Iran. "People in the Arab countries don't raise the Palestinian issue; it's only lip service for external consumption. What does the Palestinian issue have to do with the Iranian threat?" …

peace with the Palestinians "apparently won't be realized in my generation." It is way too premature, he insisted, to consider US-crafted security arrangements when Palestinians are unwilling to accept Israel's right to exist in the region as a sovereign homeland for the Jewish people. "You can't talk about security coming from unmanned aerial vehicles and sensors. As long as the Israeli flag does not appear on their map, and Palestine extends from Rosh Hanikra [bordering Lebanon in the north] to Eilat [at the Red Sea]…. As long as they are unwilling to declare an end of conflict and end of claims until the last Palestinian refugee is satisfied, what is there to discuss? This is the essence of the conflict."