I published an article, "America's Shiny New Palestinian Militia," critical of the Office of the U.S. Security Coordinator, informally known as the Dayton Mission. This entry pursues the saga, starting with a summary of recent developments from the Jewish Institute for National Security Affairs:
Fairly authoritative sources have noted that Lt. Gen. Keith Dayton ... has become increasingly marginalized by the Fatah government. Last summer his staff was reportedly no longer directly involved in training or planning and had been "expelled" from the Palestinian Authority (PA) "Strategic Planning Department." Then came news that American DynCorp International's contract for training and mentoring Palestinian forces had not been renewed. Now, another shoe has dropped.

According to Janes' Defence Weekly as reported by wire services, the PA has drafted a plan to end American training and supervision of the force entirely. "Dayton's role would be limited to bringing money and equipment for the security forces. He would not deal with PA operations or deployment," a Palestinian official was reported to have said. "Officials said the PA leadership...determined that U.S. intervention was hampering security force development and undermining the legitimacy of the regime."

We suspect that Lt. Gen. Dayton would retire rather than be in that position, but that would suit the PA as well. He has already done the job they wanted done. He's built their army and now they want to use it as they see fit. We don't blame the Palestinians.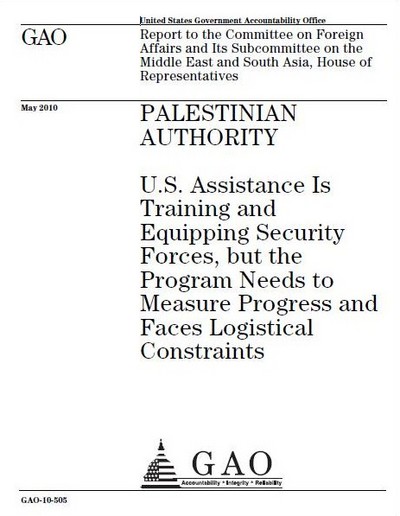 May 14, 2010 update: The U.S. Government Accountability Office has produced a report to congress with a title that reveals its contents: Palestinian Authority: U.S. Assistance Is Training and Equipping Security Forces, but the Program Needs to Measure Progress and Faces Logistical Constraints. It notes that the American taxpayer has spent $392 million on the Dayton mission so far and the State Department wants $150 millon for 2011. The report ignores the larger issues discussed in my article and limits itself to minutia:
Although U.S. and international officials said that U.S. security assistance programs for the PA have helped to improve security conditions in some West Bank areas, State and USSC [the the office of the United States Security Coordinator, i.e., Dayton] have not established clear and measurable outcome-based performance indicators to assess progress. Thus, it is difficult to determine how the programs support the achievement of security-related Roadmap obligations.
May 17, 2010 update: The head of Israel's ground forces, Maj. Gen. Avi Mizrahi, has publicly raised the possibility of the IDF battling with Dayton's army. As reported in Ha'aretz:
Mizrahi said the army and the Palestinian security forces, trained in Jordan by Keith Dayton, an American general, have been cooperating, but that Israeli soldiers still need to know how to fight them if the need should arise. "This is a trained, equipped, American-educated force," Mizrahi said. "This means that at the beginning of a battle, we'll pay a higher price. A force like that can shut down an urban area with four snipers. It's not the Jenin militants anymore ¬ it's a proper infantry force facing us and we need to take that into account. They have attack capabilities and we don't expect them to give up so easily."
Accordingly, Israeli forces have engaged in a training exercise to confront Dayton's army: "three battalions went from house to house, where they faced Israel Defense Forces soldiers posing as members of the regular Palestinian security forces, Palestinian civilians or reporters."
July 26, 2010 update: A U.S. comptroller's report criticizes the Israeli government, saying that it "harms training of Palestinian security forces in the West Bank" by taking such steps as preventing the establishment of terror warfare units and delaying the transfer of equipment, including small arms, ammunition, and walkie-talkies. To which, Yoni Ben-Menachem replies on Israel Radio (as translated by the Independent Media Review Analysis), that
The Israeli defense establishment is convinced that the great danger lies in the strenghtening of the Palestinian security services. Such strengthening, accompanied by arming with weapons, allows the Palestinians to establish the nucleus of the future Palestinian army. Israel it is known is prepared to have set up alongside a demilitarized Palestinian state without an army that threatens the security, only with strong internal security forces to preserve the Palestinian government. But also until a Palestinian state be established, the assessment of the Israeli defense establishment is that if the Palestinian security apparatuses are too strong it would be a serious danger to Israel's security.

The IDF still remembers how quickly turned the guns provided the Palestinian police at IDF soldiers in the events of the Hasmonean Tunnel in 1996 and the role of armed Palestinian police officers during the second Intifada in 2000. They go, in seconds, from "police" to "armed terrorists." ...

Thus, despite the intense activity of the Palestinian security services against Hamas and Islamic Jihad in the West Bank today and their security cooperation with the Shin Bet and the IDF, Israel is ready to strengthen them only in a controlled manner.
Oct. 14, 2010 update: For a rambling piece on Dayton as his term comes to an end, see "Our Man in Palestine" by Nathan Thrall in the New York Review of Books.
Nov. 19, 2010 update: Dayton retires from the U.S. Army on December 1, leaving the "big risks" he spoke of to another commander to worry about.
Jan. 25, 2011 update: A leaked document reveals that Dayton, in a 2009 conversation with Palestinian negotiator Saeb Erekat, indicated he knew of torture among his recruits. The Associated Press reports that in a meeting with Erekat, Dayton
expressed concern about the behavior of the Palestinian intelligence service, according to the transcript. "By the way, the intelligence guys are good. The Israelis like them," Dayton is quoted as saying. "They say they are giving as much as they are taking from them. But they are causing some problems for international donors because they are torturing people. Hamas does it ..." Erekat responded: "That is not an excuse."
Jan. 18, 2013 update: a Congressional Research Service study by Jim Zanotti, "U.S. Foreign Aid to the Palestinians," reveals that American taxpayers have spent, so far, approximately $645 on the Dayton Mission since 2007, with another $70 million requested for FY2013. Zanotti reports that, "To date, nine full PA National Security Forces (NSF), 39 special battalions (4,987 personnel) and two Presidential Guard (PG) 40 battalions (1,078 personnel) have been trained at the Jordan International Police Training Center (JIPTC)." That makes for a total of 6,065 security forces trained by the U.S. government.
Apr. 23, 2014 update: The Palestinian Authority and Hamas announced today their formation of a "unity government" to end their seven-year split. As the U.S. government has listed Hamas as a terrorist group since 1997, this step raises renewed questions about the wisdom of the whole idea of the Dayton troops as well as their future as a pet project of the American taxpayer.
Jan. 21, 2015 update: Shoshana Bryen provides an important addition to this unhappy story at "The West Bank Army of the 'State of Palestine,' Thanks to the United States."
June 22, 2022 update: More bad news, from Maurice Hirsch of Palestinian Media Watch: "Cops by day, terrorists by night - the PA Security Forces' double role."