I've studied Islam for a long time (forty years next month) but Islamists are constantly surprising me with their practices. In reverse chronological order, this blog occasionally chronicles some of the more colorful examples.
---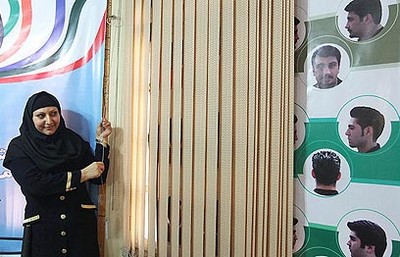 Demonstrating proper Iranian haircuts
Define proper hair cuts for men: The Islamic Republic of Iran has taken upon itself to issue pictures with proper male haircut styles "inspired by the Iranians' complexion, culture and religion, and Islamic law." (July 5, 2010)
Execute soccer fans: "Somali Islamist militants killed two people and arrested dozens of others for breaking a ban on watching the World Cup on television, residents said. They said the masked fighters from the Hizbul Islam group raided houses on Sunday and Monday in the Afgoi district, 30 km south of the capital Mogadishu, after hardline Islamist groups banned Somalis from watching the tournament." (June 15, 2010) July 12, 2010 update: A spokesman for Al-Shabab, Ali Mohamud Rage, claimed credit for two bombings in the Ugandan capital Kampala that killed 74 people, many of them foreigners, in a rugby club and a restaurant as they watched the World Cup finale yesterday. In addition, he threatened more attacks.
Ban women from the backs of motorcycles: Hamas has banned women from riding motorcycles in the Gaza Strip to "safeguard the safety of residents and to maintain the stability of traditions and customs in Palestinian society." Men would no longer be allowed to carry women behind them as they drive their motorcycles. (October 7, 2009) Jan. 15, 2013 update: The mayor of Lhokseumawe, Indonesia, has proposed the same ban on women straddling motorcycles for his town.
Forcibly remove gold and silver teeth: The Somali Islamist group al Shabaab has begun to pull gold and silver teeth from residents in southern Somalia on the grounds that they contravene the Shari'a. Abdi Sheikh reports for Reuters:
Al Shabaab in action, when not pulling teeth.

Residents in Marka say al Shabaab has been rounding up anyone seen with a silver or gold tooth and taking them to a masked man who then rips them out using basic tools. "I never thought al Shabaab would see my denture as a sin. They took me to their station and removed my silver tooth," resident Bashir told Reuters. "I met several men and women whose dentures were being pulled out by a masked man they called a doctor. The doctor used a pincer or his gloved hand depending on the strength of the tooth," Bashir said. "As you smile your silver tooth accuses you. I was at a counter with my friend when three armed al Shabaab ordered me to follow them," he added. "I am afraid they want to make money from taking all this precious metal."
(August 10, 2009)