Sometimes the forces of evil get punished quickly, cleanly, and without outside agency. Schadenfreude permitted.
(This weblog entry has elements in common with, but does not overlap with, my "Stupid Terrorists" article and "More Stupid Terrorists" blog; see them for further entertainment.)
A selection of what are sometimes called winners of the Darwin Award follows:
"Arab attacker killed by his own rock": An unnamed Palestinian teenager hurled heavy stones at Israeli-owned vehicles along a highway in the West Bank on the evening of January 13, managing to hit one car, driven by a resident of a nearby town, Emmanuel. Israeli paramedics then received a report of an unconscious Arab teen badly wounded by the highway and found he had suffered a serious head injury; their efforts could not save his life and he died soon after. A forensic report showed that the cause of his injury was the stone thrown at the Emmanuel man's car, which hit the tire and bounced back at high speed, hitting the teenager in the head, fatally injuring him. (January 17, 2009)
"Al Qaeda bungles arms experiment": U.S. intelligence found that Al-Qaeda in the Maghreb (AQIM) closed a base in the mountains of Tizi Ouzou province in eastern Algeria earlier this month after an experiment with unconventional weapons went awry, perhaps killing forty or more operatives. It appears the cause of the problem was that a sealed area with biological or chemical substances had been breached. London's Sun reported bubonic plague as the cause but a senior U.S. intelligence officer dismissed that possibility without offering an alternative hypothesis. (January 20, 2009)
مصور صحفي تشتعل فيه النار ويصاب بجروح متوسطة خلال تغطيته لمسيرته في غزة: A report in Filastin al-Yawm tells of a Palestinian cameraman, Abd ar-Rahman al-Khatib, covering a public burning in Gaza of the U.S. and Israeli flags, himself got burned on his face, hands, and feet. (January 30, 2009)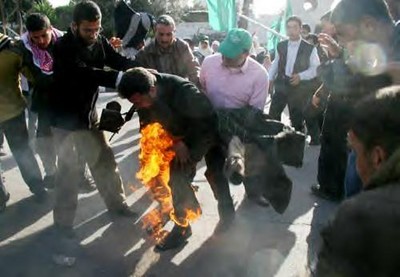 Palestinian cameraman Abd ar-Rahman al-Khatib got burned along witih the U.S. and Israeli flags.
"Terror suspect killed as bomb he was making accidentally explodes": "A suspected member of al-Qaeda was killed Sunday," reports Deutsche Presse Agentur, "when an explosive device he was making went off accidentally in southern Yemen, the defence ministry said. The suspect, identified as Anwar Muhammed al-Taghshi, died instantly as the bomb exploded in his hideout in the al-Wadhea district of the southern province of Abyan, the ministry said in a statement. It said al-Taghshi was on the list of most wanted al-Qaeda members sought by police in Yemen. The suspect 'was preparing the bomb to use it in a terrorist operation when it exploded and killed him instantly'." (May 3, 2009)
"[Crashed] Iran plane was carrying arms for Hezbollah": According to Corriere della Sera, an Iranian Tupolev plane that crashed two weeks ago on its way to Armenia, killing 168, resulted from an explosion of fuses being delivered to Hezbollah. (August 2, 2009)
"Explosion at Islamic school in Indonesia kills 1": Outside the Middle East, yes, but an Islamist tale from Sumbawa Island in central Indonesia, where an instructor showing students how to construct a bomb was apparently killed by a homemade bomb inside an Islamic boarding school. The police found the body of the suspected bomb maker, a 30-year-old man named Firdaus, on a bus it left the school compound. The police also confiscated arrows and machetes; they have taken eleven people for questioning. (July 12, 2011)
"Terrorists Fire in 'Wrong' Direction, Injure Egyptian Woman": A rocket from the Hamas ruled Gaza landed not in southern Israel, as intended, but in a residential neighborhood of Rafah, a city that straddles the border with Egypt. A woman suffered shrapnel wounds and was taken to the local hospital. (August 24, 2011)
"Gaza Terrorist Killed by Own Bomb": Ahmad al-Azameh, 22, a Gaza-based terrorist, was killed by his own bomb while trying to plant the device along the Israel-Gaza security fence separating Israel's southern communities from northern Gaza. (October 10, 2011)
"Rocket Fired From Lebanon at Israel Falls Short, Lebanese Woman Wounded": A rocket sent from Majdal Silim, Lebanon, against Israel, presumably fired by Hizbullah, fell short, hit a home in Houla, Lebanon, a border village, seriously wounding a Lebanese woman and damaging her home. (December 12, 2011)
"Caught in his own blast: an Iranian targeting Israel": Not in the Middle East but carried out by Saeid Moradi, an Iranian in Thailand who was present when a cache of explosives in a safe house detonated. He fled, tried to hail a taxi, but being covered in blood, the taxi driver avoided him. At that point, "he reportedly threw a small explosive device at the car and another at advancing police. While the car was damaged, the second device apparently bounced off a tree and hit the man. His legs were said to have been torn off by the subsequent blast." (Feb. 14, 2012)
"PA Arab throws firebomb at Israeli security forces Tuesday": An unnamed West Bank Arab set himself on fire while attacking Israeli security forces with a firebomb outside Ofer Prison as part of the Palestinian Authority "Prisoners' Day." (April 18, 2012)
"Darwin Award Candidate of The Day": The Associated Press and Agence France Press have each distributed a photograph of a Pakistani Shi'ite today setting the U.S. & Israeli flags on fire, then himself. (May 13, 2012)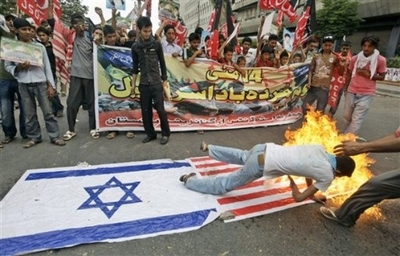 A Pakistani Shiite Muslim protestor falls over a fire, while pouring gasoline on representations of US and Israeli flags, during an anti-Israel rally and in solidarity with the Palestinian people in Karachi, Pakistan, Sunday, May 13, 2012. (AP Photo/Fareed Khan)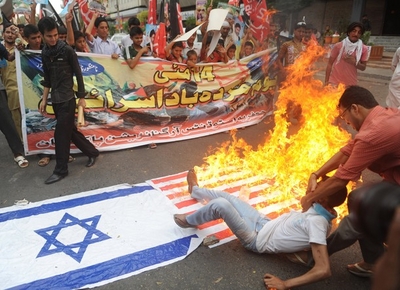 A Pakistani Shiite Muslim demonstrator (foreground) reacts after losing his balance while setting fire to Israel and US flags during a demonstration marking "Nakba" Day (Catastrophe) in Karachi on May 13, 2012. Palestinians traditionally mark on May 15 the "Nakba" when hundreds of thousands of them fled or were expelled from their lands in the war that accompanied Israel's declaration of independence. Rizwan Tabassum/AFP/Getty Images
"America basher's backfire: Killed by flag smoke": Abdullah Ismail, a Pakistani, died on Sep. 17 at Mayo Hospital in Lahore from inhaling the smoke of a burning American flag during an anti-U.S. rally that included an estimated 10,000 protestors. (September 18, 2012)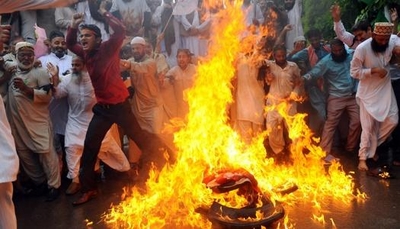 More dangerous than it appears: protesters burn a U.S. flag in Lahore on Sep. 17.
"20 injured in Gaza City during Fatah rally": Ma'an News Agency reports that
Twenty people were injured in Gaza City on Friday as hundreds of thousands gathered to celebrate Fatah's 48th anniversary, a medical official said. Ashraf al-Qidra told Ma'an that 20 people were taken to hospital for treatment after getting crushed among the crowds in al-Saraya square. Several other people suffered electric shocks while trying to attach Fatah flags to electricity poles.
(January 4, 2013)
"Baby boom after Operation Pillar of Defense": This is not instant retribution but something much slower and more positive: Eight months after the Israeli-Hamas war of Nov. 14-21, 2012, dubbed Operation Pillar of Defense by the IDF, which had many Israelis staying inside and away from the rackets coming out of Gaza, 24 female municipal employees at Rishon Letzion, which was hit then by rockets for the first time, are about to give birth. (July 18. 2013)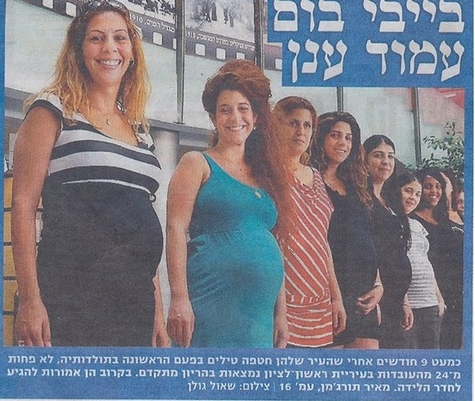 Rishon Letzion women made good use of their having to stay inside eight months earlier.
"Blast near Indian Consulate kills 9 Afghans": Three suicide bombers attacked the Indian consulate in Jalalabad, Afghanistan, by ramming their car into a barrier outside the gate. They managed to do no harm to the Indian consular staff but did kill themselves – which is the instant retribution. Tragically, they also killed at least nine Afghan children studying at a nearby Islamic school. (August 3, 2013)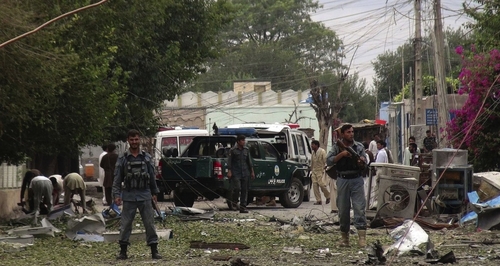 Investigation at the scene of the suicide attack in Jalalabad.
"Al-Qaeda-linked rebels apologise after cutting off head of wrong person": The "Islamic State of Iraq and al-Sham" organization regrets to announce that it decapitated a fellow jihadi extremist named Mohammed Fares, rather than an enemy fighting on behalf of the Assad regime. Richard Spencer explains in The Daily Telegraph (London):
Militant Islamist rebels in Syria linked to al-Qaeda have asked for "understanding and forgiveness" for cutting off and putting on display the wrong man's head. In a public appearance filmed and posted online, members of Islamic State of Iraq and al-Sham, one brandishing a knife, held up a bearded head before a crowd in Aleppo. They triumphantly described the execution of what they said was a member of an Iraqi Shia militia fighting for President Bashar al-Assad.

But the head was recognised from the video as originally belonging to a member of Ahrar al-Sham, a Sunni Islamist rebel group that often fights alongside ISIS though it does not share its al-Qaeda ideology. After inquiries, an ISIS spokesman admitted he was Mohammed Fares, an Ahrar commander reported missing some days ago.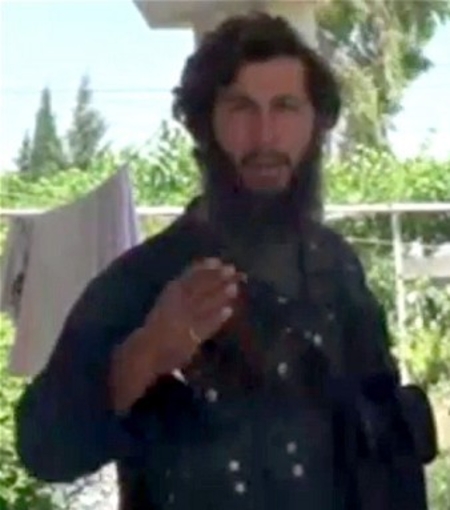 The late Mohamed Fares, a commander of Ahrar al-Sham, decapitated by his ISIS allies.
(November 14, 2013)
Syrian rebel blows self up with RPG: Warning: the self-immolition takes place on camera.
The YouTube title is calls him Free Syrian Army but the many "Allahu Akbar"s make me think he's an Islamist. (December 21, 2013)
"Del Singh: Friend of Islamic terrorists of Gaza - killed by Islamic terrorists in Kabul": Edgar Davidson notes the demise of Dhamender Singh Phangurha (known as Del Singh) while dining at a restaurant in Kabul, killed by a Taliban bomb. Daniel Greenfield then runs with it:
Del Singh in Gaza showing his support for terrorists.

Maybe he wasn't wearing his Gaza marathon t-shirt? ... Del Singh did his best for Muslim terrorists in Israel. Not only did he associate with Labour Friends of Palestine, but he was also a former member of the International Solidarity Movement, better known as I Support Murderers, for their history of involvement in terrorism. "You can call me antisemitic if it makes you feel better but I oppose the current State of Israel and all its stands for," Singh ranted in an old internet comment. ... Sadly Del Singh, while battling the evils of the French and the Jews, appeared to have overlooked the Taliban. Unfortunately for Del Singh, the Taliban didn't overlook him.
(January 19, 2014)
"Suicide Bomb Instructor Accidentally Kills Iraqi Pupils": In the course of teaching a suicide bombing training class today, an instructor for the Islamist group "Islamic State of Iraq and Syria" (ISIS) killed himself and 22 students, plus injured 15 at a location north of Baghdad. As the New York Times report delicately phrases it, the commander "unwittingly conducted a demonstration with a belt that was packed with explosives." While there are no pictures of the self-immolation, a cartoon exists that exactly captures its essence. (February 10, 2014)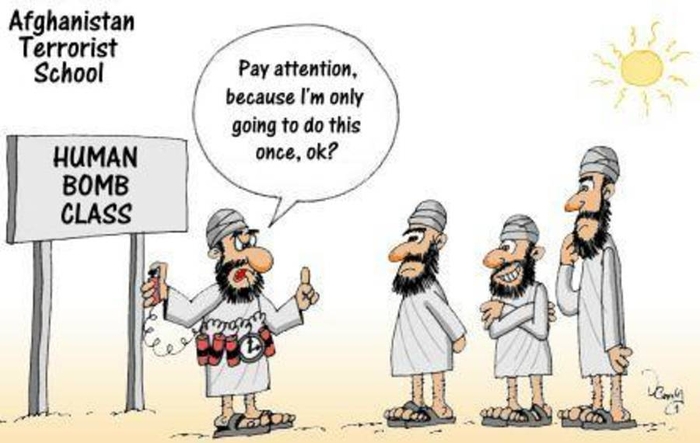 Life sometime imitates art.
"Hamas 'Work Accident' Kills Terrorist, Injures Nine Others": Hamas reports that an explosion today at a house in the Gaza town of Rafah killed at least one terrorist, Ibrahim al-Ghoul, and wounded nine "during a training session in bomb-making." Comment: Between these blow-ups in Iraq and Gaza there might soon be a shortage of terror instructors. (March 8, 2014)
"Egyptian who led 2011 terror attack near Eilat killed by own bomb": Tawfiq Fareej of Ansar Bayt al-Maqdis, an Egyptian responsible for the cross-border terrorist raid in August 2011 that lead to the death of eight Israelis, reportedly died when a car crash set off a bomb in his own car. (March 15, 2014)
"Somali Suicide Bomber Kills Self": A suicide car bomber presumably linked group to the Islamist organization al-Shabab prematurely detonated his explosives as he tried to park near a hotel in Mogadishu, the capital of Somalia, killing only himself. (March 15, 2014)
Many terrorists killed preparing a car bomb: At least 29 Syrian rebels died today in a blast in Homs as they prepared a car bomb for an attack. (Apr. 6, 2014)
Hamas bombers bomb themselves: A blast in the southern Gaza Strip killed three members of Hamas' Al-Qassam Brigades and left four others injured. Hamas sources indicated that they were preparing explosive devices. (May 16, 2014)
Syrian suicide bomber rebel explodes during his funeral: In another unclear case coming out of Syria (see the December 21, 2013 entry above for a first example), what appears to be the funeral procession near Damascus of a white-robed Islamist suicide bomber who got killed before he could self-immolate, he explodes during the funeral, killing many. Warning: Graphic video. (July 1, 2014)
Three men blow themselves up in Egypt: The police in Fayyum report that three individuals were found dead after a huge blast of explosives in what appears to be a weapons factory. (July 4, 2014)
Lebanon rocketeer injures himself: Lebanese Army Intelligence found traces of six Grad rockets in Lebanon directed against Israel about 2 kilometers from the de facto border. According to it, as paraphrased by the Daily Star, one of the rockets "failed to fire and exploded in place, wounding the person handling it. They said traces of blood and a ripped shoe were found at the site." (July 11, 2014)
Hamas knocks out electricity in Gaza: Less lethal but a more widespread injury: a Hamas rocket landed in Kissufim, Israel, where it knocked out the primary wires providing (free!) electricity to 70,000 residents of Khan Younis and Deir al-Balah in Gaza. Although the Israeli government (unbelievable as it sounds) continues to provide electricity to its mortal enemy in Gaza, it decided not to risk the lives of Israel Electric Company employees to fix the power lines. How long will those 70,000 stew? What will their response be? How might this affect the ongoing hostilities? Stay tuned. (July 13, 2014) July 15, 2014 update: Israel blinked first: the government gave permission for IEC technicians, under fire, to restore the power to Gaza. According to an Israel Hayom report, they "were accompanied by Israel Defense Forces soldiers and outfitted with bulletproof vests. They wore special helmets as well to minimize the threat of shrapnel injuries."
"Cairo car bomb kills three": Egyptian state media report that a car blew up from a bomb blast in Giza, killing three. A police officer accused the trio of being en route to carrying out a terrorist operation. (July 30, 2014)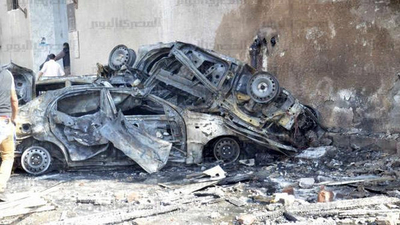 Remains of the Giza car that blew up, killing three.
Hamas member possibly blows self up in a tunnel: Hamas has announced that Al-Qassam Brigade member Ahmad Riyad al-Hadad died during "underground activities," suggesting that he was killed while in one of the organization's terror tunnels. This fits into a context in which Hamas spokesperson Husam Badran stated in August 2014 that "Hundreds of our men were martyred digging the tunnels during the previous lull period. ... The mujahideen of the Al-Qassam Brigades were getting ready in the tunnels." (September 19, 2014)
Mosque worshipers chant death to America, Israel, Jews, get blown up: In Sana'a, the capital of Yemen recently conquered by the Iranian-backed Houthis, the imam at the Houthi al-Hashoosh Mosque today led his congregation in a back-and-forth of toxic slogans:
Imam: "Our belief in Allah will increase after today. We will triumph over their deceit and their arrogance. Allah is with us."

Worshipers: "Death to America. Death to Israel. Curse upon the Jews. Victory to Islam. Allahu Akbar."
At this point, a terrorist wandering through the mosque detonated his bomb, killing at least 142 people and wounding 351. Comment: This is the largest instant retribution I have yet documented. (March 20, 2015)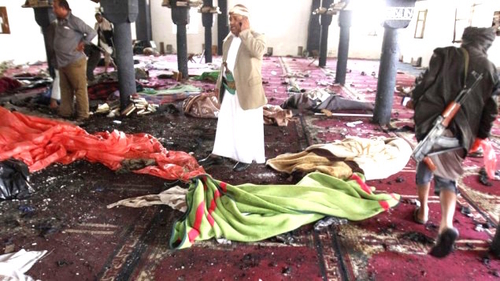 Corpses lie in the Sana'a mosque where toxic sloganeering preceded a bombing.
Two suicide bombers blow themselves up while fighting each other: The Pakistani police suggested this might be a case of divine intervention:
Two would-be suicide bombers have died in Pakistan after an explosive device detonated as they fought each other. ... The two men were killed in an explosion near Khayam Chowk in Sargodha, in the country's Punjab province on Saturday morning. Eyewitnesses claim the men, who were believed to have been wearing suicide vests, were sitting on a bench engaged in discussion before their deaths. It is thought the two men began to fight and an improvised explosive device was triggered.
(June 9, 2015)
Jeep crushes attacker: A violent Palestinian, Abdallah Ghanayem, 21, threw an incendiary device at an Israeli army jeep near Ramallah, which then overturned on top of him, killing Ghanayem. (June 14, 2015)
"AIDS spread among ISIS militants who raped infected Yezidi girl": According to ARA News, an Indonesian member of ISIS passed the AIDS disease to his Yazidi sex slave who then, in the course of being raped by other ISIS members, passed it on to them, including an Egyptian and two Saudis. (June 25, 2015)
Palestinian blows himself up: The Jewish Press has some fun at the expense of a failed Palestinian killer:
Not quite making it into the category of suicide bomber, an Arab terrorist was killed when the bomb he was about the throw blew up on him. On Monday evening, around 11:30 PM, Arabs set up an ambush on the road connecting Negohot and Adorayim in the southern Mount Hebron area, according to a Tazpit report. The Arabs piled up rocks onto the road hoping an Israeli driver would crash into them, at which point they would apparently attack the driver directly.

An Israeli driver from Negohot saw the pile of rocks just in time, and managed to swerve around them. He then called in the army. As an IDF jeep arrived, the IDF soldiers heard a loud explosion. Searching the area, the soldiers discovered the remains of an Arab terrorist who was about to throw a bomb at them.

The explosive detonated prematurely.

Oops.
(September 22, 2015)
Palestinian throws Molotov cocktail, sets himself on fire: A student from Hebron University set his clothing on fire as he threw a Molotov cocktail at Israeli soldiers and border police after Palestinians blocked a main entrance to Hebron. (October 13, 2015)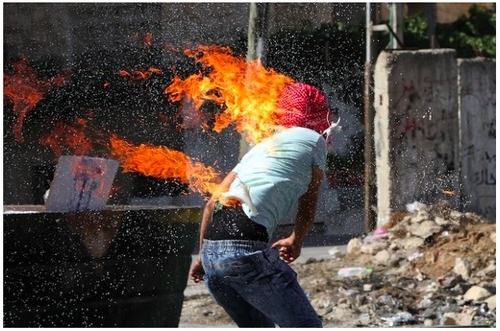 A Palestinian student sets himself on fire while attacking Israelis.
Palestinian blows himself up in Jerusalem: From a Times of Israel report: "A Palestinian man was killed while attempting to attack Israeli Border Police in the East Jerusalem neighborhood of Abu Dis on Saturday night, [Jan. 23,] when the bomb he was carrying apparently exploded prematurely. Initial reports indicated that there were no casualties among the Israeli forces." (January 24, 2016)
Somali blows up airplane, kills only himself: Abdullahi Abdisalam Borle, 55, exploded a bomb on an Airbus A321 belonging to Daallo Airlines over Somalia; sadly for him, though, he fell out of the plane to his death while the pilots managed to land the plane with all aboard alive about 20 miles from Mogadishu. Two other passengers were injured in the blast. Borle is suspected of being an Islamist. (February 5, 2016)
Rocketeers in Gaza: An explosion in Nuseirat, Gaza, on March 12 took place when inexperienced militiamen attempted to fire two rockets at southern Israel. Instead, the rockets exploded while still on the launchers. It is not known how many were injured or killed. (March 12, 2016)
Taliban suicide bomber accidentally triggers suicide vest: Shortly after leaving a Taliban base in Dasht-e-Archi, Afghanistan, on the way to Kunduz for a "martyrdom operation," an Islamist set off his explosives. Making matters worse, this triggered other nearby explosives early, killing himself and eight others. (April 27, 2016)
Islamic Jihad operative killed in Gaza "training accident": Mazen Lulu, 30, an Islamic Jihad member, died in an explosion in the northern Gaza Strip on May 2, apparently while training to kill Israelis. In addition, two other trainees were wounded. (May 3, 2016)
Palestinian throws explosive on himself: Rachel Fireman witnessed the throwing of a Molotov cocktail from her eastern Jerusalem balcony on Aug. 20: "Several Arab youths came from the alley near the steps to our house. They had poison in their eyes, and they threw Molotov cocktails and rocks. The Molotov cocktails all exploded - and one exploded on one of them. His clothing caught fire and he ran away." (August 21, 2016)
ISIS teenage 'Cub of the Caliphate' kills his entire family after his suicide belt accidentally goes off at home in Mosul": An unnamed Mosul teenager recruited by ISIS killed all six of his family members when his explosive belt went off unexpectedly. (November 17, 2016)
"ISIS suicide bomber accidentally kills 12 comrades when his belt explodes while they wished him good luck as he prepared to carry out an attack in Iraq": ISIS jihadis in Diyala, Iraq, were indulging in a "blood party," at which the comrades of a suicide bomber give him a ceremonial send-off. But, sadly, his belt exploded prematurely, killing 12 of them. (June 27, 2017)
Motorcyclists blow themselves up: Two members of Islamic Jihad (Hussein Nasrallah, 25, and Mustafa a-Sultan, 29) were riding a motorcycle when it blew up and killed them in what Islamic Jihad acknowledged to be a "jihad mission." (December 12, 2017)
Hamas fires rocket at Israel but hits home of its own top operative: According to Palestinian media reports, a projectile aimed at Israel instead hit the home in Beit Hanoun of the brother of Hamas spokesman Mushir al-Masri, himself a top figure in the organization. As the COGAT head, Maj. Gen. Yoav Mordechai, pointed out, "Terrorist groups in Gaza ...are destroying the Gaza residents' future." (December 17, 2017)
Hamas jihadi shoots himself: Imad al-Alami shot himself in the head and was taken to hospital. (January 9, 2018) Jan. 30, 2018 update: Alami died of his self-inflicted wounds.
Firebomb kite falls among Gazans: One of the burning Hamas kites meant to land in Israel and burn crops, parks, or houses, was photographed in the background of an Alam-TV interview as it spun out of control and landed in Gaza among the Hamas supporters. (May 17, 2018)
"Explosion in East Jerusalem Caused by Bomb-Making Attempt": The Jerusalem Post explains: "A bomb exploded in the Shuafat refugee camp in east Jerusalem late Wednesday while the explosive device was being assembled, Israel Police said after a preliminary investigation. One person was critically injured in the explosion and was taken to hospital. Police said they found further explosive material in the apartment where the explosion took place and arrested eight suspects who were taken in for questioning." (June 14, 2018)
"Terrorists Harmed by Their Own Explosive": Arutz Sheva explains: "A number of terrorists attempted on Friday evening to approach the security fence with the intention of hurling an explosive device at IDF troops adjacent to Karni Crossing in northern Gaza. The device detonated in Gaza and injured several Palestinians, according to the IDF Spokesperson's Unit. No injuries to IDF soldiers were reported." (July 6, 2018)
"Two Palestinians Killed When Under-Construction Rocket Explodes": The Jerusalem Post explains: Two Palestinians were killed and one was wounded in an explosion on Sunday in a building in Gaza, health officials said. The cause of the blast, hours after a cease-fire between Israel and Palestinian terrorists in the enclave was announced, was not immediately known. Health officials said the two people killed were a father and his son."
Gaza jihadis killed while preparing to attack Israel: The Times of Israel reports that "Two Palestinian terrorists were killed early Sunday in the Gaza Strip by an explosion during preparations to launch a projectile at Israel. The Popular Front for the Liberation of Palestine (PFLP) named the two members of its armed wing as Ayman al-Najjar, 26, and Muhannad Hamuda, 24, both from Jabaliya in northern Gaza. The explosion happened east of Jabaliya, with the PFLP saying the two were killed in the line of duty. Local residents said the men were preparing to fire a projectile when the explosion occurred." (July 29, 2018)
Hand grenade goes off accidentally, kills Palestinian: A Palestinian, Jaber Abu Hemesa, rioting along Gaza's border with Israel east of El Bureij, died when a hand grenade he was holding exploded accidentally. (October 26, 2018)
Jihadi's hands blown off near Hebron: Not many details available here. The news item reads: "A Muslim terrorist blew off hands in a jihadi accident when he was about to throw an explosive device towards IDF soldiers during violent riots in the Arab village of Idhna in the Hevron area. The terrorist, a resident of Hevron, was evacuated to a hospital with serious injuries to his hands." (April 29, 2020)
Village burns its own fields: An arson attempt to burn the fields belonging to the Jewish town of Rechelim literally backfired, burning instead the fields belonging to the Palestinian town of Yatma. (May 17, 2020)
Four jihadis dead in Gaza explosion: "Four Palestinian Islamic Jihad (PIJ) terrorists were killed in a blast in Gaza City late Monday night, citing a PIJ spokesman as confirming that their deaths were caused when bombs they were building, with which to attack Israel, accidentally exploded." (August 25, 2020)
Winds in Tehran: "A man in Iran catches on fire while burning an Israeli flag during a Quds Day protest," reports Al-Arabiya. (May 9, 2021)
Watch: A man in Iran catches on fire while burning an Israeli flag during a Quds Day protest. https://t.co/qv4NUU1OEE pic.twitter.com/9q0Cv6W7zI

— Al Arabiya English (@AlArabiya_Eng) May 9, 2021
Gaza rocket hits West Bank town: Hamas launched a rocket at the Jewish town of Modi'in but missed it, instead hitting the in Palestinian town of Azzun. (May 15, 2021)
Jihadi's explosives kill him: Israeli soldiers thwarted a terrorist attack on Tuesday afternoon in the Jewish community of Hebron , when a heavily armed person, apparently belonging to Palestinian Islamic Jihad, threw firebombs at them. The soldiers opening fire and the explosives he was carrying detonated, killing him. No Israeli casualties were reported. (May 19, 2021)
680 Hamas rockets aimed at Israel fell in Gaza: That's the IDF count: 4,360 rockets launched in all, 3,400 landed in Israel, 280 flew in the sea, and 680 in Gaza. What damage they did to property and people is not known at this time. (May 21, 2021)
Palestinian Molotov cocktail thrower sets himself on fire: This took place near Kibbutz Migdal Oz in Gush Etzion. (September 14, 2021)
הערב ליד קיבוץ מגדל עוז בגוש עציון: זריקת בקבוק תבערה, הפעם נגמר קצת אחרת pic.twitter.com/4bTTOu4fyX

— רועי שרון Roy Sharon (@roysharon11) September 14, 2021
Mistaking an Arab for a Jew: It's not instant retribution but related: Muhammad Harub, 20, a Palestinian from the West Bank, was indicted indictment in a Tel Aviv court for attempted murder and other illegal acts. He allegedly stabbed an apparently Jewish man in Jaffa with a screwdriver for nationalist-ideological reasons. The charge reads:
For this purpose, on September 15, 2021, on the eve of Yom Kippur, the defendant equipped himself with a screwdriver and entered Israeli territory without a permit. In the afternoon, the defendant arrived in Jaffa and began searching for a potential victim to carry out his plan. The defendant, who believed that the complainant was a person of Jewish descent, approached him without the victim noticing, shouted at him at him in Arabic 'Jew, Jew', slammed a bottle of water next to him, and stabbed him with the screwdriver in his upper body, with the intention of causing his death.
It goes on: "During the incident, the complainant told the defendant in Arabic that he was an Arab and not a Jew, but the defendant ignored his words and continued to stab him. The defendant's actions caused the complainant serious injuries, he was rushed to the hospital, hospitalized and needed surgery." (October 6, 2021)
Gaza rocket injures Palestinian, damages UNRWA school: A rocket fired from Gaza toward Israel exploded instead in northern Gaza, next to an UNRWA facility, and injuring a man who was evacuated to a hospital. (April 23, 2022)
Six Gazans die from their own bomb: An improvised explosive device planned for the fence separating Israel from Gaza detonated prematurely, killing 6 and wounding 25 (according to Hamas). The IDF posted an aerial video of the explosion. (September 14, 2023)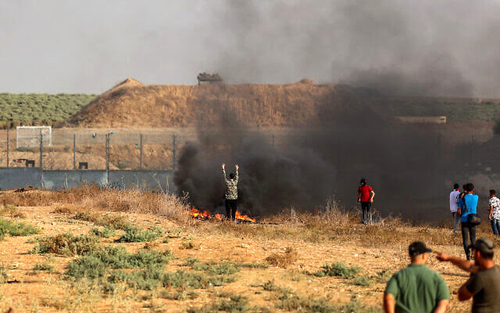 After the IED went off in Gaza.
By the way, the BBC report on this incident, "Explosion near Gaza boundary wall kills five Palestinians," both hides what happened and concludes with this heart-warming tribute to one of the dead:
Wael al-Zard, a local Hamas leader and preacher at the Grand Mosque, lost his son, 18-year-old Baraa. "My heart is sad and my eyes shed tears over the loss of my son, the joy of my heart. But we say, thanks to God, I'm pleased to be the father of a martyr who sacrificed himself for the sake of his homeland. He made me hold my head high."