I published an article some days ago, "Netanyahu as Prime Minister - Déjà Vu?" which expressed my concerns about Binyamin Netanyahu's willingness to stick to the electoral platform that got him elected last month. Two phrases sum up that piece: "the only ones who need to fear an Israeli right-wing government is the Israeli right wing" and "Even as I hope to be pleasantly surprised, familiar patterns do make me worry." This weblog entry updates the story on the prime minister's progress.
Mar. 20, 2009 update: As politicking to form a government furiously runs apace, Netanyahu's Likud colleagues are distressed with his unrelenting efforts to bring in a leftist party. From today's Jerusalem Post:
Prime Minister-designate Binyamin Netanyahu's efforts to bring the Labor Party into a national unity government ignited fury inside his Likud faction on Thursday[, Mar. 19] as MKs blasted the move for both ideological and political reasons. ... some MKs said they felt uncomfortable with Netanyahu trying so hard to avoid forming a homogeneous coalition of 65 MKs on the Right.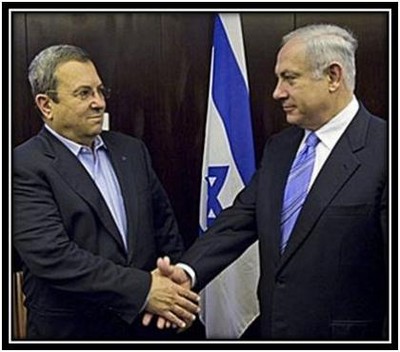 Ehud Barak and Benjaymin Netanyahu, rivals in the 1990s, now allies.

Mar. 25, 2009 update: Here we go again. Netanyahu did sign up the left-wing Labor party to join his coalition and now he announces that his incoming government will be a "partner for peace" with the Palestinians, More fully: "the Palestinians should understand that they have in our government a partner for peace, for security and for rapid economic development of the Palestinian economy." Comment: Why is Netanyahu rehabilitating this discredited, even risible term?
Mar. 25, 2009 update bis: Responding to my earlier critique today, the well-informed Allen Roth justifies the prime miniter-designate's move, writing at "What Is Netanyahu's Plan?" Excerpts (with numbers added by me):
By winning over Labor, Netanyahu has made it difficult for his government to be described as far Right wing. This will come in handy as he fights Israel's battles on the international stage. ...

While Netanyahu could have formed a narrow Right wing government he chose to broaden the coalition so that it will be more stable (in a narrow government a single party could bring the government down) and he will have the structure he needs to take on the enormous challenges facing the State of Israel.

Netanyahu has told One Jerusalem that his priorities are dealing with (stopping) Iran from destroying the State of Israel, guiding Israel through the international economic downturn, protecting a united Jerusalem, and bringing peace to the region. In his estimation these challenges can not be adequately addressed with a narrow ideological coalition. Israel's history suggests he is right.

Netanyahu feels that Israel must show the world that as a united nation they stand behind this new government.

In the negotiations with the other parties Netanyahu has made it clear he will set the policies on Iran, security, the economy,and Jerusalem. They are invited to contribute in support of his policies. His refusal to compromise on these points has been the reason why Tzipi Livini has (so far) refused to join the coalition.
Roth admits that "At the end of the day, only time will tell what kind of government Netanyahu puts in place," but so far, he is impressed by his having "turned heads with his dogged (and seemingly successful) determination to bring in past adversaries on his terms."
To which, my brief replies:
Why be shy to stand on principle? It sends a clear, strong signal to friend and foe alike.

I fail to see how bringing a left-wng party into the coalition adds to its stability, especially when nearly half of that party has opposed joining the government.

Presumably, the government will find support from the opposition on the key question of the moment, the Iranian nuclear buildup; why include it in government decision-making?

Israeil is not united behind the government, as Kadima's staying out makes clear already and the forthcoming assault by the press will soon emphasize.

As I understand it, the deal breaker with Tzipi Livni of Kadima was not policies but her demand to become prime miniister part of the time.
July 6, 2009 update: Netanyahu's wayward policies have prompted some Likud members of parliament to put him on notice, Gil Hoffman reports in the Jerusalem Post.
A long-awaited rebellion against Prime Minister Binyamin Netanyahu by Likud MKs began to emerge on Monday when a group of hawks inside his faction sent him a letter urging him to build in Judea and Samaria and not to agree to the formation of a Palestinian state.

MK Tzipi Hotovely initiated the letter a day after Netanyahu told the cabinet that his government had brought about a consensus on the need for two states for two peoples. Channel 2 reported that half of the Likud faction had signed the letter. The signatories include deputy minister Ayoub Kara and Danny Danon, Miri Regev, Tzion Pinyan, Carmel Shama and Yariv Levin.

"We Likud MKs are turning to you due to reports that you would agree to freeze settlement growth temporarily in parts of Judea and Samaria, despite our promise to the voters to continue building in the settlements," the MKs wrote in the letter. "The Likud has always been in favor of natural development in Judea and Samaria, including during the election campaign."

The letter included quotes from Netanyahu himself supporting natural growth in the West Bank from as recently as May. The MKs lashed out at Netanyahu for supporting the creation of a Palestinian state. …

Netanyahu responded in the meeting that his statements in favor of a demilitarized Palestinian state had led to key diplomatic achievements, including the Quartet calling on the Palestinians to declare an end the Israeli-Palestinian conflict as part of a peace agreement.
July 21, 2009 update: Writing for the American Friends for a Safe Israel, Rael Jean Isaac has penned a deep and scathing assessment of Netanyahu's first four months. Titled, "Character Is Fate" and 2,400 words long, it focuses on Netanyahu's policy speech on June 14 at Bar-Ilan University but goes far beyond that, with an emphasis on "the split between his understanding and his practice."
To illustrate this point, she notes that he insisted in the June 14 speech on demilitarization of the new Palestinian state "with ironclad security provisions" lest it "become another terrorist base against the Jewish state," where demilitarization means no army, no control of airspace, no full control over borders, and no ability to forge military pacts. Then Isaac quotes an earlier speech of Netanyahu's, from May 12, 2002, when he explained why a demilitarized Palestinian state makes no sense. It
will demand all the powers of a state, such as controlling borders, bringing in weapons, control of airspace and the ability to knock down any Israeli plane that enters its area, the ability to sign peace treaties and military alliances with other countries. Once you give them a state, you give them all these things, even if there is an agreement to the contrary, for within a short time they will demand all these things, and they will assume these powers, and the world will stand by and do nothing but it will stop us from trying to stop them…We will thus have created with our own hands a threat to our very existence. What will happen if the Palestinians do what the Germans did after World War I, when they nullified the demilitarized zone? The world did nothing then, and the world will do nothing now as well.
Sep. 30, 2009 update: In contrast to Isaac, I today commend the Israeli prime minister's recent record at "Netanyahu's Quiet Success."
Mar. 3, 2011 update: "Netanyahu may be breaking away from the far-right to the center" writes Aluf Benn in Ha'aretz, perhaps engaging in whistful thinking, perhaps not.
Signs have become plentiful in recent days that Netanyahu is following in [former prime minister Ariel] Sharon's footsteps and breaking away from the extreme right to the center. It began with his address to the Knesset last week, in which he hinted at an interim settlement with the Palestinians that will keep the Jordan Valley in Israeli control, and also dropped the demand that the Palestinians recognize Israel as a homeland of the Jewish people. He continued with the razing of the Havat Gilad outpost, a clear sign to the extreme right.

On Monday, Netanyahu told Likud − like Sharon before him − that he will not continue along the same line in view of the tremendous amount of international pressure.

Now he is saying in closed meetings that "a binational state would be disastrous for Israel" and suddenly Netanyahu sounds like former Prime Minister Ehud Olmert, who in an interview with Haaretz at the Annapolis Conference declared: Two states or Israel is finished. And this is the same Netanyahu who has always denied the demographic threat, regarding it as a scarecrow in the service of the left.

It is clear that the prime minister is looking to the right, and using the tried and tested trick of picking a fight with the settlers. They will block roads, making drivers angry and causing them to hate the extreme right-wing. Netanyahu will appear as someone who cares about the interests of the state and will not sell out those interests for the sake of excitable hilltop youth.

Netanyahu's problem is that the leaders of the world do not believe him. Contrary to Olmert and Sharon, who both had close ties with President George Bush, Netanyahu has a poor relationship with Obama. He will now focus his efforts on convincing the American president to give him a chance. He will try to convince Obama to let him dictate his own punishment by promising to make further pullbacks in the West Bank and pave the way for a Palestinian state.