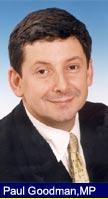 Paul Goodman, the Conservative member of the British parliament from Wycombe, gave what is perhaps the strongest-ever speech by a politician concerning Islamism. His stem-winder is worth quoting at length. In the debate surrounding the Queen's Speech, he began by noting that something is missing in the conventional explanations for terrorism carried out by British Muslims and
that missing something is the ideology of Islamism. As my right hon. Friend the Member for Penrith and The Border (David Maclean) said, Islamism is not Islam. Islam is a religion - a great religion at that and one, it seems to me, as various, as complex, as multi-faceted and as capable of supporting a great civilisation as Christianity. Islamism, however, is an ideology forged largely in the past 100 years, and that word 'ideology' should help to convey to the House a flavour that is as much modern as mediaeval.

Like communism and like fascism, those other modern ideologies, Islamism divides not on the basis of class or of race, but on the basis of religion. To this politician, it has three significant features. First, it separates the inhabitants of the dar-al-Islam - the house of Islam - and the dar-al-Harb - the house of war - and, according to Islamist ideology, those two houses are necessarily in conflict. Secondly, it proclaims to Muslims that their political loyalty lies not with the country that they live in, but with the umma - that is, the worldwide community of Muslims. Thirdly, it aims to bring the dar-al-Islam under sharia law."
Islamists, Goodman goes on,
look back for inspiration to Mohammed's original political settlement, in which the religious and political were, in effect, one and the same. They are, as the phrase has it, 'dreaming of Medina.' They seek to restore the caliphate to a glory that is tinged with nostalgia and longing. Let me give a hard example of what that means and its significance in the context of the Queen's Speech. The Home Secretary was recently and notoriously heckled at a public meeting in Leyton by Abu Izzadeen, another convert to Islam, who was formerly known as Trevor Brooks. He said to the Home Secretary: 'How dare you come to a Muslim area?'

That was not some random insult or interruption; Mr. Izzadeen knew what he was doing. He was asserting that Muslims are in a majority in the part of Leyton in which the Home Secretary was speaking. He was therefore claiming that part of the country as part of the dar-al-Islam. He was saying, in effect, that sharia law, not British law, should run in Leyton. Mr. Izzadeen's version of sharia law would be consistent with dispensations for Muslims from some aspects of British law, the application of a sharia criminal code, special taxes for non-Muslims, a public ban on alcohol consumption and the closure of pubs and bars, and a ban on conversions from Islam to other faiths.

We can, of course, choose to dismiss Mr. Izzadeen as an isolated fanatic, but such a view may be unwise. There is polling evidence to suggest that his views tap into a reservoir of sympathy and support. For example, an ICM poll that was commissioned last February found that four out of 10 British Muslims want sharia law introduced to parts of this country. It is important to note that that almost certainly represents a degree of support for what I would call soft sharia - in other words, for the application of some sharia law in relation to family arrangements alone. None the less, even the implementation of soft sharia would mark, I think for the first time, one group of British citizens living under a different set of laws from other British citizens.

We must consider what the likely future effect would be on domestic Muslim support for sharia, and even for terror, of a further downward spiral events, of further international tensions between Muslims and non-Muslims, of further domestic terrorist incidents - which, alas, there may be - and of racist and xenophobic backlashes against British Muslims. That is the challenge that we all face together.
Goodman then poses three questions to the Labour Government:
The first question is: does the whole Government machine clearly recognise that Islamism is a key element in poisoning relations between Muslims and non-Muslims? The evidence is ambiguous. The Prime Minister has said, crucially: 'The rules of the game have changed'. Individual Ministers, such as the Secretary of State for Communities and Local Government, whom I heard speaking on this matter last week, see the scale of the problem.

However, as a brilliant pamphlet - Martin Bright's When Progressives Treat with Reactionaries - for the think tank Policy Exchange indicated, the foreign policy, Home Office and security establishments are divided on how to deal with the Islamists. Anyone who doubts that those divisions exist should ponder the leaked memos from Government in relation to the proposed visit by Sheikh Yusuf Al-Qaradawi, with which Mr. Bright illustrates his pamphlet.

The second question for the Government is: can they prove to the House and to the country that the proposals in the Queen's Speech on security are inspired by the long-term good of the country, rather than by short-term political manoeuvring? … The Chancellor now tells us that he wants to get tough on security, but, as I pointed out to the Prime Minister this afternoon, only £476,000 has been seized from suspect sources in six years and only four enforcement actions have been taken against Islamic charities - not that I am criticising Islamic charities as a whole, of course. The Home Secretary - that rival to the Chancellor, we read - will no doubt claim that he will be even tougher, but according to a written answer that I received recently: 'There has been no centrally issued instruction to prison governors on the receipt of Islamist publications by prisoners.'-[ Official Report, 26 October 2006; Vol. 450, c. 2126W.] That is remarkable. …

The third and final question for the Government is: if they acknowledge the dangers posed by Islamism, and if their analysis is correct, will they see the necessary action through? The aftermath of the recent remarks by the Leader of the House about the niqab - remarks that I suspect were driven by his own concern about shariaisation - revealed deep uncertainty within the Government. Soon after he spoke out, voices were heard suggesting that his remarks had alienated moderates and driven Muslims into the hands of the extremists; that his words could have been better chosen; and that now was not the right time to have a public discussion about Islamism. I am not so sure. There is a deep problem. Politicians' words can nearly always be better chosen, and now is never the right time, it seems, to have a public discussion about Islamism and integration. Broadly speaking, we have not been having this public discussion since the Rushdie affair, and my main concern about not having an informed, decent, consistent and rigorously thought through public discussion about Islamism centres on the effect that that postponement will have, not only on the non-Muslim majority, but on the Muslim moderates-the moderate and prosperous greater share of Muslims to whom I referred earlier.
Goodman noted at the start of his speech that more than 9,000 of his constituents are Muslims, making up almost 11 percent of his electorate, meaning that he represents more Muslim voters than any other Member of Parliament of his party. "I therefore necessarily see one of my most important duties as a constituency MP and, indeed, more widely, as being to help to do what I can to create a moderate, prosperous and integrated British Muslim majority." With Islamists in the driver's seat, however, trouble looms ahead:
The leadership of the Muslim community that I know best, in High Wycombe, is moderate and sensible. The community makes a huge contribution to the town. It is well integrated into both the main political parties and it produced the first Conservative Asian mayor in the country - Mohammed Razzaq - in the 1980s. However, it is clear that nationally, and especially among the alienated young, the moderates are not making the running; the Islamists are making the running. The moderates are in a position strikingly similar to that of the Social Democratic and Labour party in Northern Ireland, which has, in the past 15 years, been outpaced, outwitted and outsmarted by Sinn Fein-IRA, with consequences that are still fully to be seen. Deferring the debate further will only allow this process to continue. When it finally takes place, which it will, it will probably be noisier and nastier than would otherwise have been the case. It is essential that the moderates grasp that the main threat of the Islamists is as much to them as to anyone else.
The country has a choice:
we can either take an approach that tends to lurch from pacification in the wake of future highly charged public rows, such as the veils controversy, to panic in the wake of future terrorist attacks, which we are, alas, told are only too likely to happen, or we can rise to the challenge in an informed, decent and consistent way. In facing the challenge, Opposition Members must acknowledge and be mindful of the fact that Ministers have a responsibility that none of the rest of us at present has to bear. George Orwell once wrote of the 'deep, deep sleep of England, from which I sometimes fear that we shall never wake till we are jerked out of it by the roar of bombs. 'On 7/7, we heard the roar of bombs in London. I sometimes worry that the deep, deep sleep that Orwell described in the 1930s is still here in relation to Islamism in sections of the Government, parts of the political and media establishment, the House and the country. This is one of the most urgent problems facing us, and if we are in that deep, deep sleep, it is time for all of us to wake up.
Comment: It is careful, intelligent analyses of this sort that lead me to think that even the United Kingdom has a chance to avoid dhimmitude and Eurabia. (November 15, 2006)
Apr. 17, 2007 update: Goodman, the Conservative Member with the largest number of Muslim constituents, looks at relations between Muslims and non-Muslims in Britain during a speech in a House of Commons debate on Integration and Cohesion in Britain. He notes that his first speech had diagnosed the problem and this one offers ideas for a cure, ideas summed up in a paragraph:
the origin of such a cure lies in strengthening the unwritten social contract that exists between Muslims and non-Muslims in Britain. Under that contract, non-Muslims are obliged to recognise that Islam is now a permanent presence in Britain, that British Muslims have lower life chances than the non-Muslim majority as a whole, and that those life chances must be raised as part of any programme of social justice. In turn, Muslims are obliged to face up to the fact that Dhiren Barot, Richard Reid and the perpetrators of 7/7 claimed to act in the name of Islam, however unjustified that claim is, and recognise that the separatist ideology that I described earlier must not merely be condemned—it must be actively challenged, confronted and rooted out.
Comment: Throughout this speech, as his earlier one, Goodman constructively demands that ministers and fellow legislators face up to difficult realities. Will they?