History News Network introduction:
Donald Trump's first 100 days have seen the appointment and termination of decorated general Michael Flynn from the Defense Intelligence Agency, the eclipse of former Breitbart News executive Steve Bannon, a steady decline in the relationship with Russia, the bombing of Syria, a failed attempt to repeal and replace Obamacare, and two failed attempts to impose a ban on certain groups of immigrants. This wasn't exactly what Trump promised.  On the plus side he succeeded in appointing a religious conservative to the Supreme Court, fulfilling his commitment to evangelicals, while issuing executive orders that many conservatives approved.

We wondered what conservative historians make of Trump's debut.  Here's what they [Larry Schweikart, Daniel Pipes, Victor Davis Hanson, Paul Gottfried, Brad Birzer, and Robert Merry] told us.

---
Donald Trump as president hardly differs from Trump as candidate: a blowhard who insouciantly breaks with customs and laws, delighting his fans and infuriating the rest of the world, sometimes getting it right but more often proving ineffectually amateurish. The great question is whether he will learn from his many mistakes and turn into a more conventional, respectable, and intelligent president – or whether he will continue in the same mold through the whole four-year period. I am pessimistic. However, if he is egregious enough and Republican members of Congress sick enough of him, we could well have a President Pence.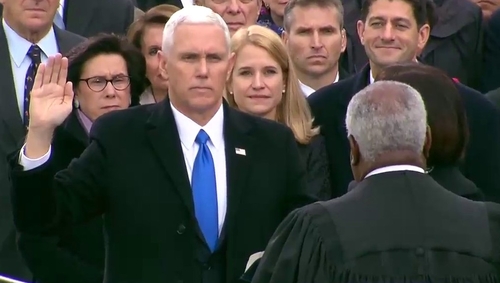 Mike Pence sworn in as vice president.
In my field, the Middle East, the new administration has strikingly ignored Trump's campaign assertions about such matters as the Iran Deal, moving the embassy to Jerusalem, and staying out of Syria's civil war. This makes prediction of its future steps particularly difficult.