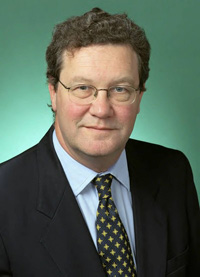 Australia's Foreign Minister Alexander Downer.
In a possibly unprecedented move in any Western country, Australia's Foreign Minister
Alexander Downer
turned down a Saudi request to send funds to help the Islamic Society of South Australia build a new mosque in Park Holme, a southern suburb of Adelaide. He did so in the context of concerns that funding from the Middle East would help spawn radical Islam. "Obviously we don't want to see any extremist organisation penetrate into Australia," he said. Pia Akerman writes in
The Australian
:
The Foreign Minister said the Government had discussed funding of mosques in Australia with the Saudi Government "in particular." He said: "This is of course a matter that goes back well before 9/11. "There has been concern internationally, not specifically to Australia, about some elements in Saudi Arabia which is the heartland of Wahhabism and Sufism [DP: he probably means Salafism] ... trying to spread that particular extremist interpretation of Islam. "Historically the Saudi Arabian Government has provided funding [to overseas mosques], I'm not saying there's anything illegitimate about that ... but we can obviously express a view to the Saudi Arabian Government."
Comment: This extraordinary step needs to be studied and emulated elsewhere. (January 9, 2007)
Nov. 26, 2008 update: For a parallel case, see my weblog entry, "Russian Orthodox Churches in Saudi Arabia?"
Oct. 19, 2010 update: Even more surprisingly, Norway's Foreign Minister Jonas Gahr Støre turned down Saudi funding for a mosque on the grounds that the kingdom lacks religious freedom. Could this be the start of a trend?
June 20, 2015 update: The half-million or so Saudi diplomatic cables released by WikiLeaks point, among many other things, to the kingdom's intense interest in influencing Islamic politics in Australia.
Dec. 6, 2015 update: Sigmar Gabriel, the German vice-chancelor, warned Riyadh against funding "Wahhabi mosques."
July 29, 2016 update: French Prime Minister Manuel Valls has raised the idea of prohibiting foreign funding of mosques "for a period to be determined."