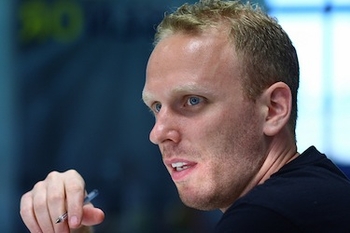 Max Blumenthal.
Max Blumenthal, like others on the far-Left, jumped on the July 2011 Norwegian massacre of 77 dead and 319 injured to impugn the counter-jihadi right. His screed, "
Anders Behring Breivik, a perfect product of the Axis of Islamophobia
" included this sentence:
The rhetoric of the characters who inspired Breivik, from Pam Geller to Robert Spencer to Daniel Pipes, was so eliminationist in its nature that it was perhaps only a matter of time before someone put words into action.
In other words, we three were to blame for the massacre. A year later, Blumenthal returned to the same theme, this time focusing on just me:
To his shame, Pipes earned eighteen citations in the manifesto of Norwegian terrorist Anders Behring Breivik, the self-proclaimed "counter-jihadist" standing trial for the murder of seventy-seven people, mostly teenagers. Drawing heavily on sources like Pipes to justify his actions, Breivik said he carried out the slaughter to punish Europe for succumbing to "Islamicization" and multiculturalism.
Never mind the fundamental inaccuracies of these statements – that (1) Geller, Spencer, or I ever engaged in "eliminationist" rhetoric and (2) ignoring that Breivik cited leftists about as much as rightists and Muslims as often as counter-jihadis – what's important is that Blumenthal exploited Breivik's murderous rampage to score cheap points against fellow American analysts.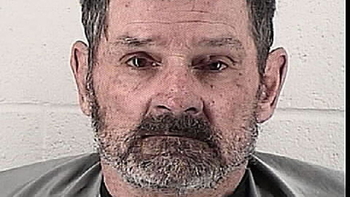 Frazier Glenn Miller.
In his glee, however, Blumenthal forgot that he too is vulnerable to such charges, that two can play the game of gotcha.
Ron Radosh
notes at
PJ Media
that Frazier Glenn Miller, 73, accused of killing three people yesterday at two Jewish venues near Kansas City, wrote the following at
vnnforum.com
, a Neo-Nazi website (also available
here
):
Jew journalist Max Blumenthal exposes and explains this attempt by a foreign government Israel, to buy the presidential election for the neo-con, war-mongering republican establishment.
Daniel Greenfield suggests that Miller referred here to "a Blumenthal interview on Putin's propaganda channel RT, which he has since defended, in which he claimed that Netanyahu was targeting Ron Paul and Obama." (That interview, from January 2012, can be seen on YouTube.)
Greenfield found in total 382 results for "Max Blumenthal" on vnnforum.com. One discussion is titled "Max Blumenthal is insightful & sometimes funny." Participants at Stormfront, the premier American Neo-Nazi site, mentioned Blumenthal 80 times, often approvingly.
Breivik, it is now clear, intentionally sought to discredit counter-jihadis like me; but Miller gives every appearance of being a true believer inspired in part by Blumenthal's ravings. And so, applying Blumenthal's own standards to him, I wrote the headline of this weblog entry as "Antisemite Max Blumenthal Incited the Murder of Three in Kansas."
Next is for Blumenthal's fellow leftists to denounce him and shun him. But will they? (April 14, 2014)
Apr. 15, 2014 updates: (1) For more details on Miller's many connections to Blumenthal, see the Washington Free Beacon's research at "Kansas KKK Shooter Cited Max Blumenthal Alleged murderer ran a pro-Nazi, pro-Blumenthal online forum."
(2) Oh, the poor dear.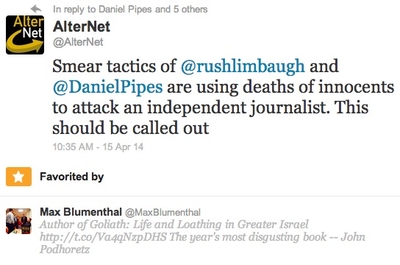 Max Blumenthal favorited a tweet about himself.
Apr. 18, 2014 update: A researcher who goes by "StopHate" has collected at "Examining Extremism in the Wake of the Kansas JCC Violence" a copious and important sequence of tweets by Max Blumenthal and his associates that solidifies the case for his partial responsibility for the Kansas City-area bombings. Some of his points:
"In the wake of the deadly anti-Semitic shootings in Kansas, Max Blumenthal sought to capitalize on the tragedy by claiming that it was "conservatives" who wanted to defund DHS staff devoted to protecting America from extremists. However, it was soon revealed that Max himself sought to defund DHS funds devoted to protecting Jewish Institutions from attacks. … Blumenthal mocked the idea that Jews were an at risk group despite FBI statistics showing that they are by far the largest target of hate crimes out of any religious group in America."
Blumenthal worked for Al-Akhbar, "a Lebanese newspaper which was proudly supportive of Hezballah, the group widely believed to be responsible for the bombing of a Jewish Community Center in Argentina, killing scores of innocent civilians. When asked how he felt to work with a newspaper supportive of such a violent anti-Semitic terror group, he responded that he was 'proud'."
Blumenthal re-tweeted an attack on "Jewish Supremacism in the 20th century" by one David Benedetti. In another tweet, Benedetti wrote to a Jewish writer this horrifying passage: "Your grandmother made a nice lampshade."
"One of Max Blumenthal's collaborators, David Sheen, is an avowed Judeophobe who in a series of shocking tweets revealed his hatred of Judaism and the Torah and the Talmud, believing them to be anti-gentile. David Sheen features prominently in Max Blumenthal's new book, Goliath, as well as Blumenthal's videos."
"Both Max Blumenthal and David Sheen are heavily involved in the Mondoweiss website. … Mondoweiss is a blog characterized by its obsession to demonizing Israel. However, sometimes it can even veer into dark anti-semitism. The 'Sad Red Earth Blog' has documented a series of shocking statements, since deleted, by Phil Weiss. Weiss has admitted that when he hears the Jewish name of a Jewish legislative assistant, he feels 'anger towards him' and that 'The Hebrew sounds as bad in Miriam's ear as German did back in the 50s, when people hated the Germans'."
"there is evidence that the JCC killer may have had contact with a prolific Mondoweiss commentator by the name of Rehmat before the shootings."