Palestinians have claimed the recently released science-fiction movie Avatar as a metaphor for their own plight, dressing up as the movie's gentle, simple Na'vi people who lived in a paradise until a greedy, brutal, Western industrial force invaded their lands in the search for resources. (Despite being set in the 22nd century, plot and characters are stereotypical American.)
Here's an Associated Press news item from today: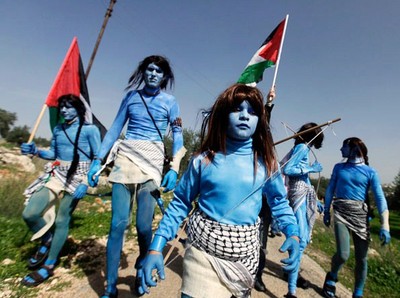 Palestinians dressed up as the Na'vi from the sci-fi film "Avatar."
Palestinian protesters have added a colorful twist to demonstrations against Israel's separation barrier, painting themselves blue and posing as characters from the hit film Avatar. The demonstrators also donned long hair and loincloths Friday for the weekly protest against the barrier near the village of Bilin. The demonstrators compared their struggle with the Na'vi race portrayed in Avatar, who find themselves having to defend their people and homeland against foreign invaders.
Clever, even if the comparison distorts reality in just about every way. Some of those ways: The Arab-Israeli conflict (which is much larger than the Palestinian-Israeli conflict) ranks as the 49th most lethal among conflicts since 1950. Zionists attracted Arab immigration by virtue of their economic dynamism. Palestine before the Zionists was no paradise but a place universally seen as backward, poor, and oppressed, with Western visitors to Jerusalem describing it as "ruined," "contemptible," "debris-filled," " desolation and misery," rotting away from boredom, desertion, and neglect," and "a pauper village" (that last one comes from Mark Twain). Palestinians per capita receive far more foreign aid than any other population on earth. (February 12, 2010)
July 1, 2013 update: The Palestinians, or some vague representation of them, are back on the big screen! No longer the gentle Na'vi this time, but as the dreaded Zombies who threaten humanity in Brad Pitt's US$200 million feature film, World War Z. Sonny Bunch collects opinions on the ambiguous but central scenes concerning a wall around Israel today at "World War Zionism?" As he sums up the reactions, "The anti-Israel set is really freaking out about the implications of those scenes while the pro-Israel set is cautiously embracing the picture."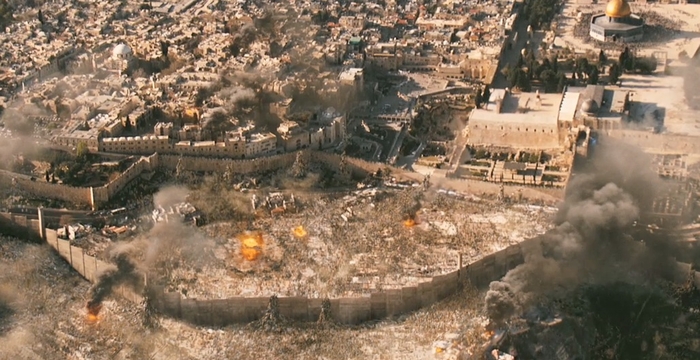 A scene from the Zombies' attack on Jerusalem, understood by some as a stand-in for Palestinians.
July 21, 2013 update: The presentation of Israel in World War Z, reports the Times of Israel, "has sparked outrage in the … Arab world, where bloggers and moviegoers have slammed the film as a love song to Israel."