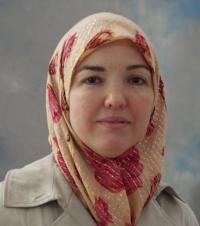 Ingrid Mattson, president of the Islamic Society of North America.
The title raises one's curiosity – "
Islamic leader urges Jews be wary of fundamentalists
" but it is the quotes in the
Boston Globe
story that takes one's breath away.
Ingrid Mattson
,
apologist for Wahhabism
and president of the Islamic Society of North America (a key component of the "Wahhabi lobby") spoke at Harvard University on March 12 and gave American Jews some unsolicited advice. "Right-wing Christians are very risky allies for American Jews because they are really anti-Semitic. They do not like Jews." And therefore, she implied, Jews should stay away from Evangelicals and other pro-Israel Christians.
She adds that many American Jews have an "existential fear that somehow [Muslims are] a threat to Israel." One wonders why that should be the case, given the antisemitism among Muslims so rampant that it compares to that in Nazi Germany in the 1930s. Almost at random, here is a statement at hand, from Abdessalam Yassine, Morocco's leading Islamist thinker, in 2000:
The Jews are the enemy incarnate. They are intimately linked to many of the evils of the world from Morocco, to Palestine, to Western imperialism. The Jew personifies and exemplifies the very psychology of modern man, who bears responsibility for the abject state of the world and the Muslims.
Daniel Pearl is beheaded in Pakistan, Ilan Halimi is tortured and murdered in Paris, Mahmoud Ahmadinejad wants Israel to be wiped off the map and is building nuclear weapons to do this – and Jews should put all that aside and listen to the dulcet tones emanating from Mattson speaking at Harvard?
And if one restricts oneself to what Muslims are saying at American universities, what was it, again, that was being shouted outside the lecture hall at the University of California-Irvine, where I spoke earlier this year, by Mattson's fellow Islamists? "It's just a matter of time before the state of Israel will be wiped off the face of the earth."
And as for the value of Christian Zionism to Israel, I have put it this way (in "[Christian Zionism:] Israel's Best Weapon?"): "other than the Israel Defense Forces, America's Christian Zionists may be the Jewish state's ultimate strategic asset."
Comment: (1) The Wahhabis are nothing if not brazen. (2) Mattson's gross characterization of Christians fits into a growing pattern of what I call Islamist anti-Christianism. (March 14, 2007)