That's the unlikely title of article by Yaakov Katz in today's Jerusalem Post. He explains:
While Israeli soldiers can't fight in the war in Afghanistan, Israeli drones can. Starting next week, five NATO member countries will be operating unmanned aerial vehicles produced in the Jewish state in anti-Taliban operations in the Central Asian country. Next week, officials from the German military will arrive to take delivery of an undisclosed number of Heron UAVs, made by Israel Aerospace Industries. … In December, the Royal Australian Air Force took delivery of several Heron systems, joining Spain, France and Canada that already operate the platform.
Comments:
(1) "Linkage" – the idea that the Middle East cannot be fixed until the Arab-Israeli conflict is resolved – may be nonsense but it is striking to find that the Israeli military does have a role in distant Afghanistan.
(2) That such advanced countries as Germany, France, Canada, and Australia rely on Israeli technology confirms the creativity and brilliance of this start-up nation. (January 21, 2010)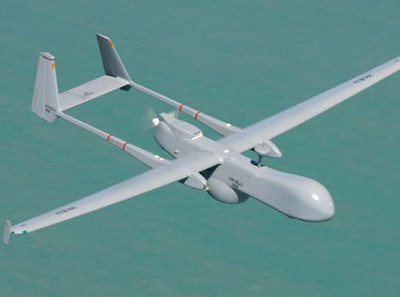 A Heron UAV, made in Israel, flown by five militaries over Afghanistan.