I have held off commenting on the chilling murder of the four Armanious family members on Jan. 11, 2005, in Jersey City, New Jersey, not being sure of its motive. I held off despite the New York Post on Jan. 16 drawing a connection between the massacre and the father's anti-Islamic Internet comments; and, one day later, WABC noting that a cousin of the slain family had worked as a translator for the prosecution in the trial of Lynne Stewart (the leftist radical lawyer accused of helping Omar Abdel Rahman, the Egyptian Islamist leader, to get his messages out to his terrorist acolytes).
But today comes news from Robert Spencer at Jihad Watch explaining what happened, and I can stay silent no longer.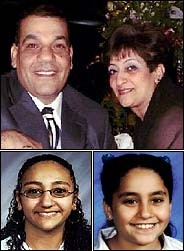 Hossam Armanious and Amal Garas, top, and their daughters, Sylvia, left, and Monica.
First some background: The Armanious were immigrants from Egypt, refugees from the anti-Christian situation there. Thinking they had reached security in the United States, they began to exercise their religion and their freedom of speech in a way unimaginable in Egypt. They spoke their minds and even engaged in efforts to convert Muslims. Based on information from a "close friend" of Hossam Armanious, the father, Spencer explains:
The Armanious family had inspired several Muslims to convert to Christianity — or thought they had. These converts were actually practicing taqiyya, or religious deception, pretending to be friends of these Christians in order to strengthen themselves against them. … It was these "converts" who knocked on the door of the Armanious home. Of course, the family, not suspecting the deception, was happy to see the "converted" men and willingly let them in to their home. That's why there was no sign of forced entry. Then the "converted" Muslims did their grisly work.
The friend goes on to explain that many Copts see the family's murder as a warning to Copts in the United States:
The nature of the warning? The murders send a signal from the Muslims to the Copts: we are going to behave here the same way we behaved in Egypt, and the First Amendment and American law enforcement will not protect you. Don't expect America to keep you safe from us. The oppression and harassment you thought you had left behind in Egypt has now come to you.
Spencer concludes that the Armanious's fate is akin to Theo van Gogh's murder in Holland, an indication that Muslims in the United States "do not, as we are supposed to believe, unanimously accept the parameters of American pluralism. That at least some are willing to enforce Sharia penalties right here, right now."
Comment: Assuming Spencer's information is accurate, it raises a most alarming prospect of the importation of Shari'a to America. I suspect, however, that government, media, academy, churches, and others will prefer not to see this horrifying development for what it is. (January 20, 2005)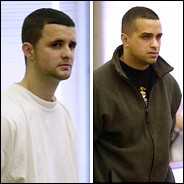 Edward McDonald, left, and Hamilton Sanchez, arrested for the Armanious family homicides.
Mar. 5, 2005 update
: Two former convicts, Edward McDonald, 25 (who rented an upstairs apartment from the Armanious family), and Hamilton Sanchez, 30, were yesterday
arraigned in Hudson County Superior Court
on four counts of felony murder.
In other words, the crime had nothing to do with Muslim-Christian tensions. Edward J. De Fazio, the Hudson County prosecutor, implicitly addressed this issue at a news conference: "I'd like to make one thing perfectly clear. The motive for these murders was robbery. This is a crime based on greed, desperate need of money by the two men charged with these murders." De Fazio then provided a detailed account of the crime.
Not everyone accepted his account, as the New York Times explained:
For many Jersey City Muslims and Copts who had lived in peace for years but who feared that the case might lead to the kind of sectarian strife that has plagued their communities in Egypt for centuries, there were expressions of relief that two men - neither Egyptian nor Muslim - had been charged in a murderous robbery. But for others, seven weeks of raw nerves, insults and mounting tensions were not dispelled. Some Christians refused to believe the official version of what happened, and some Muslims demanded an apology for what they called unjustified suspicions and verbal abuse by the Coptic community. For such antagonists, little had changed, and it was unclear what it would take, or how long, to heal the wounds.
Dec. 12, 2005 update: I listed in an article today, "No American Muslim Terrorists? [A Reply to Spencer Ackerman]," the Armanious family murders as an instance of Islamist terrorism, aware that this view is at odds with the findings of the police in New Jersey, who on March 3, 2005 arrested Edward McDonald and Hamilton Sanchez, both drug dealers, for the homicide. I did so consistent with this blog and my article, "Denying [Islamist] Terrrorism," both based in large part on information Robert Spencer that reported at "Inside information on the New Jersey murders."
However, after my article appeared this morning, Spencer posted the following update on his website:
UPDATE 12/12/05: A new article by Daniel Pipes leads me to make this clarification: I do not know the quality of the information I was given by these sources. This has all been an extremely puzzling experience. I was approached with this evidence; I did not seek it out. It was confirmed by several parties. I presented it in good faith without ever saying (as some have charged) that it was necessarily accurate or true. But the circulation of this story—before and after I got it—explains why the Copts were so angry with Muslims in New Jersey at the time. As far as I know, the police examined this evidence and found it wanting. I do not know what the motives were of the friends of the Armanious family who told it to me and insisted on it, and continued to do so after the two thugs were arrested who were charged with this crime. I still have many unanswered questions. But I have nothing to go on.
Unknown to me, then, Spencer no longer has confidence in the information he made public. Like him, I am unsure to make of this horrid murder. We should learn more when McDonald and Sanchez go on trial.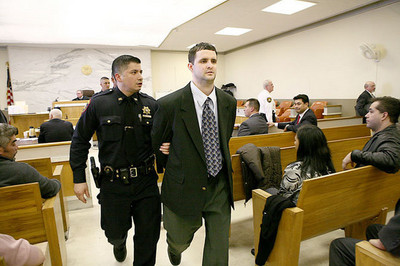 Edward McDonald led away on March 20, 2008, after being found guilty of 29 counts.

Mar. 21, 2008 update: The trial of Edward McDonald has ended in Hudson County with his jury conviction on 29 counts of felony murder, burglary, robbery and weapons possession. However, he was acquitted of murder. In other words, after eleven days of deliberations, the jurors found McDonald responsible for the killings because they occurred during the commission of a felony, but determined he did not kill the victims with his own hand. This verdict represents a compromise, according to Michaelangelo Conte of the Jersey Journal: "After the jury was dismissed, one member of the panel said some jurors believed the confession and others did not. That's why there wasn't a guilty verdict on the murder charge to Monica."
McDonald faces up to four consecutive life sentences at his sentencing on June 5. Indeed, Hudson County Prosecutor Edward DeFazio hopes McDonald will "spend the rest of his natural life in prison." McDonald's alleged accomplice, Hamilton Sanchez, now awaits trial.
The Jersey Journal account summarizes the prosecution's case:
McDonald, the family's upstairs tenant, had been tied to the murders because he used the Armanious family's ATM card to withdraw about $2,900 after the killings. On March 3, 2005, McDonald gave a videotaped confession saying he and Sanchez were wearing masks and gloves when they knocked on the Armaniouses' door around 7:30 p.m. on Jan. 11, 2005. When Garas answered, McDonald pointed his gun at her and they pushed their way in, he said.

They gathered Garas and her daughters together and bound, gagged and blindfolded them, McDonald said. When Armanious arrived, they trained the gun on him and "told him not to move and that we have his family," McDonald said, adding that he too was bound, gagged and blindfolded. They ransacked the home, gathering money, piling up jewelry, and getting Armanious' ATM card and PIN number. McDonald said Armanious gave them the card without resistance.

That's when Monica "pulled the thing off her face—she seen all of us," McDonald said on the tape. After some inaudible words, McDonald is heard saying "everybody had to die." McDonald said he stabbed Monica to death after Sanchez dragged her into a bathroom and that Sanchez killed the rest of the family in separate rooms. The bodies were found three days later.
Comment: The felony murder does not leave me convinced, if only, as defense attorney Paul Feinberg kept arguing through the trial, because McDonald's confession came under dubious circumstances and not a single piece of forensic evidence ties him or Sanchez to the crime. The jury's verdict does not close the doubts in my mind.
July 2008 update: Hudson County Superior Court Judge Kevin Callahan sentenced McDonald to consecutive 75-year sentences, or 300 years in all.
June 10, 2011 update: An appellate court has upheld McDonald's 300-year prison sentence. Responding to his appeal, the ruling stated "Suffice it to say, the aggregate sentence does not shock the judicial conscience."
Feb. 11, 2013 update: Two men from Jersey City, 25 and 27, roommates, and members of the Coptic Orthodox church, were recently found buried in a back yard in Buena Vista, New Jersey, with their heads and hands severed from their bodies. One Yusuf Ibrahim, 28 and an immigrant from Egypt, has been arrested and is in custody for the murders. As a news report delicately puts it, "Privately some wonder if it had something to do with the victims' religion."