Pictures of the very first Airbus 380 flying from Dubai to New York City show a smiling attendant at the first class bar. Yes, a Persian Gulf airline serves alcohol. But what's really of interest is the plump bagel sitting on the right side of the counter, under a glass top. Bagels are, of course, the Jewish ethnic food that legend holds goes back to 1683 and the defeat of the Turkish army at Vienna. How curious to find them on a maiden A380 voyage of Emirates airline. Incidentally, those bagels are a relative bargain, with a one-way first-class Dubai-New York ticket costing just shy of US$7,000. (August 15, 2008)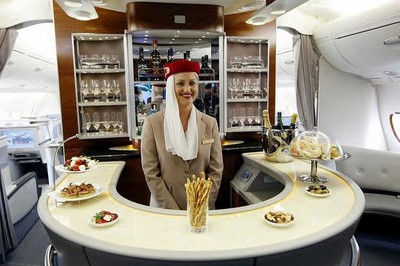 "Der Spiegel" published this picture to illustrate its story on the maiden Airbus 380 flight from Dubai to New York.
Sep. 1, 2008 update: Also challah in Abu Dhabi. The attached picture was taken at Al-Sultan Bakeries on As-Salam Street in December 2007.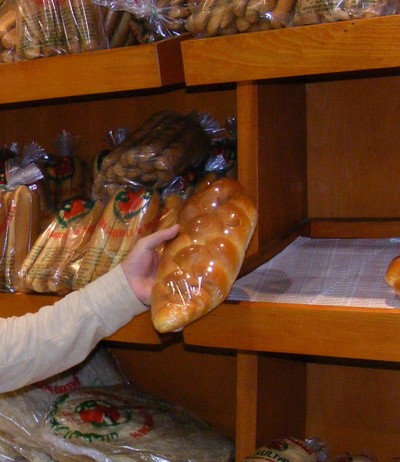 Challah at Al-Sultan Bakeries, As-Salam Street, Abu Dhabi.
Feb. 14, 2016 update: I ate a Bagel schmear in Abu Dhabi today.

Amusing to find the Yiddish word "schmear" in use at The Bagel Bar in #AbuDhabi. Also available: lox & cream cheese. pic.twitter.com/8sS9uvHQBa
— Daniel Pipes دانيال بايبس (@DanielPipes) February 14, 2016
Nov. 23, 2022 update: Qatar is providing kosher bagels (but no other kosher foods) for World Cup fans.