MEMRI has commendably included Pakistan in its coverage and today it published an excellent piece by Tufail Ahmad with the slightly windy title, "Editor of Leading Pakistani Paper: 'If, in Order to Resolve Our Water Problems, We Have to Wage Nuclear War with India, We Will' – Water Disputes Between India and Pakistan – A Potential Casus Belli." The article looks at the very serious issue of Indian control over increasing percentages of Pakistani water (a problem eerily paralleled, incidentally, by Turkey and Syria vis-à-vis Iraq; see "Iraq Suffers as the Euphrates River Dwindles").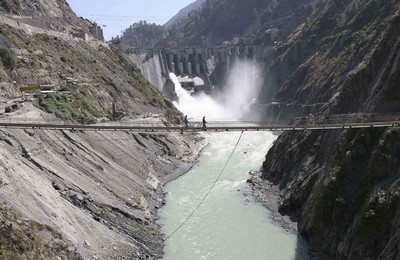 India's Baglihar dam, opened in October 2008, prompts the greatest fears about water in Pakistan.
In the course of the analysis, Ahmad notes that religious and political commentators in Pakistan often frame the issue in terms of an international conspiracy involving the Jews and Israel." Here are some extracts:
Majeed Nizami, editor-in-chief of Pakistan's influential Urdu-language newspaper Roznama Nawa-i-Waqt: Pakistan faces "Three Satans," being India, the United States, and Israel.

The pages of Roznama Ausaf have also mentioned Israel, saying "with the aid of Israel, India also managed to build a fence on the working boundary and on the Line of Control [in Kashmir]. It was with Israeli help that India installed sensitive equipment on the working boundary and Line of Control to monitor the movement of Kashmiri freedom fighters."

Gen. (ret) Hamid Gul, former chief of Pakistan's Inter-Services Intelligence: "Two states came into existence in 1947 and 1948: one, Pakistan; two, Israel. The two are threats to each other. Ultimately, only one of them will survive."

Hafiz Zahoorul Hassan Dahir, chairman of the Indus Basin Water Council, accuses India of working "in cooperation with the Jewish lobby" on its water projects to stifle the Pakistani economy. Dahir has also said that "with the cooperation of the Jewish lobby, India has opened a battlefront of water war aimed at making Pakistan's fertile lands barren." Indeed, he gets specific: "A consortium has been set up in cooperation with the Jewish lobby, three other nations, two multinational firms, one trans-national NGO, secret agencies of three countries, including the Research & Analysis Wing (RAW) of India, are involved."
Many readers will ask, "Why Israel?" Does India, with its billion citizens, really need to rely on tiny Israel for its water policy, or its whole foreign policy toward Pakistan?
I documented this lack of concern with Indians in my 1996 book, The Hidden Hand: Middle East Fears of Conspiracy, pp. 129-30:
Hindus should be a major concern [to Muslim conspiracy theorists]. In contrast to their more tolerant attitude toward Judaism and Christianity, Muslims look at Hindu beliefs and practices with revulsion. The Hindu confrontation with Islam goes back a thousand years; today, 100 million Muslims live tensely in India among 700 million Hindus (in contrast, 2 million Palestinians live among 5 million Jews.) Muslim Kashmir's attempt to slough off the control of Hindu India has made that province an emotional flashpoint for Muslims everywhere. India and Pakistan have already gone to war three times and continue to skirmish (in the dramatic but obscure "Glacier War"). India had a prominent role in the splitting of Pakistan in 1971 and the emergence of an independent Bangladesh. Looking to the future, the two states' nuclear capabilities may well end in the first-ever exchange of atomic weapons.

Despite this record, Hindus very rarely turn up as conspirators in Muslim eyes. In December 1992 extremist Hindus swarmed over a sixteenth-century mosque, the Babri Masjid, and demolished it by hand, brick by brick, to clear the space for a Hindu temple. Muslims across India responded with fury at the mosque's destruction, leading to thousands of deaths. This incident did lead to retribution (the Saudi authorities reportedly banned Hindus from employment in their country) but not to conspiracy theories. Iran's leaders interpreted the Babri incident not as the cutting edge of a Hindu plot against Islam but as "another chapter . . . of the great conspiracy fomented by the United States, the West, the Zionist enemy, and their client regimes in our Islamic world."

in general, Hindus are not conspirators in their own right, merely agents of Zionist-imperialist plot. As Sayyid Qutb noted, although "the intensity of the struggle between the Hindu idol-worshippers and Islam is vividly apparent, . . . it does not equal the viciousness of world Zionism." Confirming this, when Hindus are mentioned as conspirators, they are often linked to one or other of the main culprits. Thus, the murder of a prominent Shi'i in Pakistan provoked suspicions of "Hindu and Jewish agents" being behind the crime.
But why do Indians not scare Muslim conspiracy theorists? The answer comes on pp. 133-34 of the same book:
The West developed two traditions of grand conspiracy, a mainly right-wing version concerned with Jews and a mainly left-wing version fearful of secret societies. Each phobia ascribes its nemesis a very long and impressive lineage. …

With only slight modifications, Arabs and Iranians imported intact these two European traditions of grand conspiracy; as a result, the conspiracy theories developed in Russia during the 1890s remain surprisingly potent in today's Middle East. Indeed, just as anti-Semitic and antisecret society ideas fell out of the European mainstream, they gained strength in Muslim lands. This gives the Middle East a time-warp quality. Europe's phobias of a century back persist there, as if preserved in amber. Just as Marxists remain mired in the economic battles of mid-nineteenth-century Britain, Middle Easterners are yet entangled in distant European anxieties about Jews and secret societies.

Middle Easterners tend to accept the intellectual baggage that accompanies these two mythic forces, no matter that it contradicts their own traditions. Never mind that Muslims once saw Jews as weak and vestigial; now, under Western influence, they fear Zionists as potential rulers of the world. In contrast, the historic fear of Hindus has faded. "Imperialism" now applies only to Europeans and Americans, not to Mongols or Russians. Never mind the historic Muslim idea that "unbelief is one religion": now they see Zionists and imperialists each out for themselves, ultimately seeking total power.
In Conspiracy: How the Paranoid Style Flourishes, and Where It Comes From (1997), I estimate that nearly all conspiracy theories concern Jews, Israel, Freemasons, Britons, and Americans, or some 6 percent of the world's population. In other words, Indians, whether they attack mosques or build dams, are part of the neglected 94 percent. (July 20, 2009)