In the half years since publishing my dirge for Jewish nationalism, "Zionism's Bleak Present," things are looking better. Here follow updates, chipper and downer, on the topic: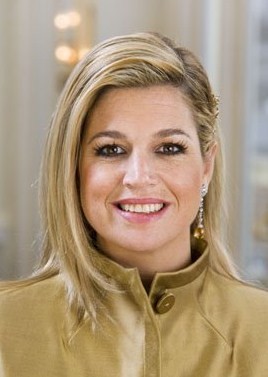 Princess Máxima of the Netherlands does not speak for the majority.

Princess Máxima of the Netherlands may have won acclaim for her statement that "The Dutch identity does not exist," but a poll shows that 66 percent of Dutch subjects disagree with her that there is no such thing as "Dutch identity." (Mar. 26, 2008)
Yoram Hazony, in a remarkable analysis, explains the causes of Zionism's problems in "Israel Through European Eyes." His essay is in two parts (with a hint with a third part, on responses, to come): a theoretical introduction about Thomas Kuhn's ideas in The Structure of Scientific Revolutions and an application of his notion of paradigm shift to European attitudes toward Israel.
In very brief, Kuhn argues that progress in science happens not incrementally but by a whole new way of looking at things, such as the Copernican understanding of the solar system. Hazony suggests that European attitudes toward Israel are undergoing just such a paradigm shift:
the old paradigm, which is the one that granted Israel its legitimacy in the first place. The modern state of Israel was founded, both constitutionally and in terms of the understanding of the international community, as a nation-state, the state of the Jewish people. This is to say that it is the offspring of an early modern movement that understood the freedom of peoples as depending on a right to self-protection against the predations of international empires speaking in the name of a presumed higher authority.[
The new one traces back to Immanuel Kant's 1795 manifesto, Perpetual Peace: A Philosophical Sketch, in which he
issued a famous and explicit attack on the ideal of the nation-state, comparing national self-determination to the lawless freedom of savages, which, he said, is rightly detested as "barbarism," and a "brutish debasement of humanity."
Hazony sees Kant's dream of an international order gaining in Europe at the expense of the nation-state, thereby accounting for the rage at Israeli nationalism as a form of "barbarism." Read the piece in full - it helps understand something that otherwise mystifies. (July 14, 2010) Aug. 17, 2010 update: I look at Hazony's theory in greater depth today at "Immanuel Kant vs. Israel."
"Remarkable Israel," a brief blog of mine, offers an upbeat look at Zionism. (June. 13, 2011)
Udi Label of Ariel University is also upbeat in a Yedi'ot Aharonot article, "In praise of rightist Israel":
Several processes are slowly making Israel's Jewish society more conservative. This is not just a result of demography, which is working in favor of the haredim and traditionalist Jews and against the seculars. We are dealing with a plethora of cultural tendencies that have nothing to do with births.

The Jewish bookshelf is sweeping many groups and is turning into an element that holds ideological, not only cultural, influence on those joining the trend. The "Jewish new age era," a sort of counter-reaction to the "candle era" of the peace children, is lifting geographical boundaries. Samaria is suddenly turning into a site that belongs to "every Jew." Workshops and trips there constitute the settlers' "quiet revolution." Even celebrities who "discovered" the synagogue at the heart of Tel Aviv are starting to arrive. Meanwhile, the Russian and Ethiopian communities, as well as residents of the periphery, are mostly holding clear hawking views, despairing over the chance to see peace from the Palestinians, and are eager to see us using our power and producing deterrence. Territorial concessions are not perceived as a move that would affect the end of the conflict.

Similar phenomena are taking place among some groups within Israel's leftist camp; the moderate Left, known as "activist" in the past, which lives in "border areas." The Gaza-region kibbutzim, which in the past granted the leftist Meretz party many Knesset seats, are showing ongoing support for Lieberman's positions ever since the current government's establishment. No less surprising: Even among these leftists, a majority characterizes the settlement enterprise as Zionism in every way. Meanwhile, Meretz and Labor, which produced "Oslo," are turning into niche parties. Kadima, which is led by people formerly associated with the Right, is the only dovish element with aspirations to take power.

Jewish perception and heritage are penetrating civics studies and the military and national service. The education minister is bringing awareness of Hebron to Tel Aviv. Moreover, members of the religious Zionist community are increasingly active in academia and in the film industry; they produce culture and convey their messages. Israelis are becoming more spiritual. And no, this is not the spirituality associated with the flower children. It is the kind of spiritually associated with Rabbi Kook. It comes with love for the land and great belief in the ban on renouncing it.
(July 9, 2011)
Miko Peled may beat Avraham Burg in the contest of going from Zionist royalty to anti-Zionist fanaticism. Today his book, The General's Son: Journey of an Israeli in Palestine, is published. (June 15, 2012)
Happy Israel" is the title of my article today in the Washington Times. You can't get much more upbeat that that. (June 5, 2013)
Aug. 7, 2013 update: I wrote in the 2007 article that prompted this blog that "due to high birth rates, the once-tiny Haredi community constitutes 22 percent of Israel's current first-grade class; add to this the roughly equivalent number of Arab first-graders and a sea-change in Israeli politics can be expected about 2025."
Well, things have sped up. According to forecasts published yesterday by Israel's Central Bureau for Statistics, in 2019, 57 percent of new students will be either Haredi or Arab. In number terms, out of 182,000 students entering the education system between now and 2019, 40,000 will be Arab and 63,000 Haredi. The CBS forecasts that in 2019, 41 percent of students will attend mainstream state schools, 14 percent in state religious schools, 19 percent in Haredi schools, and 26 percent in Arab schools.