Israel's Prime Minister Binyamin Netanyahu gave an important speech worthy of discussion when he addressed the Institute for National Security Studies in Tel Aviv on June 29. The following excerpts are from the official translation on the prime minister's office website:
An historic change is taking place in our region, with major repercussions for Israel's security and the security of the entire world. The Sykes-Picot agreement which, almost a century ago, defined the borders in our region, has come to an end. … we are now looking at many years of conflict and instability.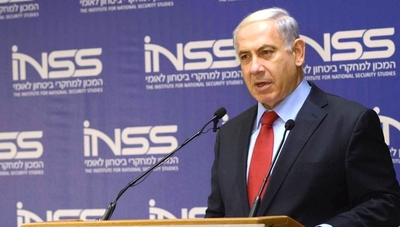 Binyamin Netanyahu speaking at the INSS.
I agree that Sykes-Picot, a secret agreement between the British, French, and Russian governments in 1916, is likely defunct. But it is one thing for me as historian and analyst to make this point and quite another for a sitting prime minister to do so. It's probably not wise for the head of a government, who has enough on his hands, to engage in such public speculations. They can harm him more than help him.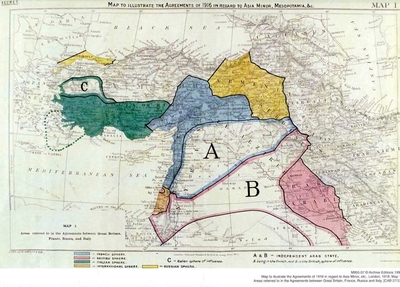 The map dividing up the Middle East that accompanied the Sykes-Picot agreement of 1916.
in the long-term, in decades, half a century, certainly a century, radical Islam will decline … because it does not allow for individual freedom and entrepreneurship, which has been the basis of economic development, certainly in the past several centuries. It will decline because it will be defeated by the information technology revolution which will make it very difficult for these regimes and movements to maintain long-term control over the minds of young people.
Again, I agree with this prediction and again I doubt that a political leader should make such predictions. Economic development and the information revolution are both very important, to be sure; but (1) some Islamists succeed at these (think of Fethullah Gülen) and (2) the failures of Islamism run far deeper and more terribly than these two points. What about its brutality, its family cruelty, its infeasible penal code, and its imperialist aggressions?
However, similar things could also have been said during the 1930s regarding the fate of Nazism in its battle against the Free World. Nazism was indeed defeated. However, 60 million people, including one third of our people, perished before the forces of freedom and progress defeated it. Therefore, as likely as I believe the ultimate decline of Islamic fanaticism to be, we must prepare now for the four great challenges it poses.
Well said. Those four challenges are:
To protect Israel's borders, and specifically to "build a security fence in the east, build it gradually from Eilat to join the fence we have already built over the past two years on the Golan Heights." Fences elsewhere – along Israel's borders with Egypt, Gaza, Lebanon, Syria, and the West Bank – have proven their value, so it logically follows to invest in one along with Jordan too.

A portion of Israel's fence running along its border with Egypt.

To stabilize the area west of the Jordan River security line: "In this area of the West Bank no force can guarantee Israel's security other than the IDF and our security services." This means that "in any future settlement with the Palestinians, Israel will have to maintain long-term security control of the territory along the Jordan River." While sticking to the two-state solution, Netanyahu is very much altering it here, denying a future Palestinian state control over its own borders. No doubt, Israelis are right not to trust the Palestinian leadership.

To build an axis of regional cooperation. The current fighting opens an opportunity for "enhanced regional cooperation" such as strengthening Jordan and supporting Kurdish aspirations for independence. Smart for Netanyahu publicly to endorse these two actors in the hopes that they in turn will publicly turn to Israel.

To prevent Iran from becoming a nuclear threshold state. As in recent years, this remains Israel's paramount security concern.
Comments: (1) Going back to 1999, I have often criticized Netanyahu but the excellent analysis in this speech suggests a steady hand at the helm. (2) All the more important to have an American ally that understands security concerns when the Obama administration is clueless. (July 2, 2014)
July 2, 2014 update: A number of readers have protested my describing the Obama administration as "clueless," insisting that it is malign more than ignorant or incompetent. But this misunderstands what I meant by clueless: I meant mistaken, wrong-headed, foolish, ineffectual; I did not mean to ascribe reasons, whether malign or incapable.