The good news is that my formulation that "militant Islam is the problem, moderate Islam is the solution" is finding wider and wider acceptance. The bad news is the massive confusion over who is a moderate.
Illustrative of this problem are gullible pieces by Rachel Zoll and Carol Eisenberg, both of the Associated Press, as well as a gushing Toronto Star article, all celebrating a supposedly moderate website, www.MuslimWakeUp.com, and the new organization it is sponsoring, the Progressive Muslim Union of North America. Eisenberg's first paragraph sets the tone:
They looked like any group of hip, young New Yorkers hanging at the Starlight Diner on West 34th Street. But this was no ordinary social hour. Crowded elbow to elbow around a long table strewn with coffee cups were 18 men and women, mostly in jeans and T-shirts. They were thoroughly Muslim and thoroughly Western. And they were brainstorming ideas to transform Islam in America.
Her article goes on to indicate that some of the worst Islamist and leftist extremists in the United States will have important roles in the organization. Names that stand out are those of Salam Al-Marayati of the Muslim Public Affairs Council, his former colleague Sarah Eltantawi, and Hussein Ibish, previously at the American-Arab Anti-Discrimination Committee.
Comments: (1) If these are the progressives, who are the regressives? (2) Separating the true moderates from the fakes is the monumental task ahead. (October 20, 2004)
Nov. 15, 2004 update: Today is the official launch of the Progressive Muslim Union. The press release marking this event makes the right noises:
PMU has been formed in recognition of the urgent need for greater and more coordinated articulation of the pluralistic and compassionate sentiments of vast sections of the community. ...

Our goal is to celebrate Islamic traditions that encourage free inquiry and multiple, competing and mutually respectful readings of the faith, which valorize free choice rather than an atmosphere of compulsion in religion, and which maximize the range of options for the faithful.
But the real agenda seeps through the sweet talk:
PMU will defend the Muslim community from the calumnies of those who seek to insult and degrade Islam and/or the Muslim community, in particular the relentless campaign of defamation from some evangelical preachers, like Jerry Falwell and Pat Robertson, or from supporters of the extreme right in Israel, like Daniel Pipes.
Al-Marayati, Eltantawi, and Ibish have long pretended not to see the difference between those (like Falwell and Robertson) against Islam the religion and those (like me) against radical Islam the totalitarian ideology, no matter how many times I make this distinction. The misrepresentation of my position is further proof that PMU is just another group apologizing for extremism, even if a bit more elegantly wrapped than the Council on American-Islamic Relations and the Muslim Public Affairs Council can manage.
It bears remembering that at first, CAIR and MPAC were also seen as moderates; and just as it has taken years for their true colors to be discerned, so will it take time for PMU's real nature to be perceived. But it will be.
Nov. 16, 2004 update: In his column on New York City, the Times' Clyde Haberman repeats the Associated Press' mistake, though he does at least inject a note of skepticism:
It was impossible, too, not to notice a conspicuous absence in the discussion yesterday. Is it possible to talk about Islam in the post-9/11 world without a single reference to the dread T-word? Nowhere in the group's mission statement or in the members' remarks was terrorism mentioned. Why is that?

"We're not going to equate Islam with terrorism," Ms. Eltantawi said. "You can see this entire effort as a response to terrorism, if you like," but the emphasis is more on "an enlightened and positive expression of our faith in this country," she said. "I think that is far more of a contribution than being defensive about the word terrorism in our founding mission statement."
Also today, as though wanting to substantiate my point about PMU being made up of assorted extremists, it came out with a statement that deems the U.S.-led attack on Falluja a "war crime."
Nov. 19, 2004 update: The PMU posted its advisory board today and it's a mixed group. Some of its more offensive names include the boorish and fanatical Ali Abunimah, the obscure fake-moderate Ziad Asali, and the famous fake-moderate Tariq Ramadan.
Nov. 25, 2004 update: The fur is flying. At altislam.com, one devoté of CAIR calls the PMU "a bunch of self-declared leftist fanatics who have no idea what Islam is," and others have equally choice words for the new organization.
Nov. 29, 2004 update: Writing in the Jerusalem Report, Jennifer Friedlin falls hook, line, and sinker for the PMU spiel about being part of "a new wave of Islamic reform" that is "open, tolerant, [and] self-critical." She does so even though the quotes she garnered show the organization's true nature. Here is Omid Safi, one of PMU's four co-founders: "Earlier Islamic [reformist] movements were almost uncritically adoring of anything Western," referring to such Muslim thinkers as Indian poet Muhammad Iqbal and Pakistani scholar Fazlur Rahman. "People no longer take the collective experience of the West as a paradigm to be aped."
Dec. 14, 2004 update: In an article asking the question of the hour, "Who is a moderate or progressive Muslim?" Abdus Sattar Ghazali (himself an Islamist) takes a look at the PMU and gives some more evidence about its narrow, reactionary quality. He tells of its
bumpy start as many invited to join its advisory board either declined the request or were dropped because of their support to Bush administration's policies in Iraq. Among those who are dropped from the advisory board are Seeme and Malik Hassan, founders of Muslims For Bush website. Their son Mohammad Ali Hassan wrote an article entitled: The Muslim World's Savior (refering to Mr. Bush), that included this sentence:"I believe Bush is bringing liberation not war." Another person not included in the board is Fareed Zakariyya who wrote in Newsweek (August 5th, 2002) that the invasion of Iraq is "the single best path to reform the Arab world." Nawaal al-SadawI, an Egyptian writer, was also dropped. She has campaigned for the enforcement of the hijab (head scarf) ban in French public schools.
Feb. 7, 2005 update: More evidence of PMU's Islamist nature comes today, at a Los Angeles event, "And Then They Came For Me," co-sponsored by (among others), CAIR, MPAC, and PMU. This Interfaith Communities United for Justice and Peace rally is billed as a response "to the violation of the civil rights of Muslims."
March 18, 2005 update: Living up to its reputation for being more hip than the other Islamist organizations, the PMU sponsored a woman in hijab, Amina Wadud, lead an Islamic prayer service at a New York City church today. The event was widely panned. Two comments quoted by the Associated Press especially caught my attention:
Particularly controversial was Wadud's periodic substitution of the Arabic word for God, Allah, with the pronouns, he, she and it, arguing that God's omnipresence defied gender definition. "All she is doing is twisting the interpretation of Islam to suit her needs. This is blasphemy, pure and simple," said Mohammed Nussrah, a Brooklyn native whose family is Algerian. Nussrah, a member of a local Muslim group named the Islamic Thinkers, added: "If this was an Islamic state, this woman would be hanged."
The Chicago Tribune provides an even more outraged response from this Nussrah:
Only a handful of protesters showed up outside the event, and they conducted a counter prayer service on the sidewalk, led by a young American man who would only give his name as Nussruh. "These people do not represent Islam," said the clearly furious Nussruh. "If this was an Islamic state, this woman would be hanged, she would be killed, she would be diced into pieces."
The Associated Press goes on with another quote:
Yvonne Haddad, a professor of Islamic studies at Georgetown University, said [American Muslim] ... efforts are unlikely to win support abroad. "People in America think they are going to be the vanguards of change," Haddad said. "But for Arab Muslims in the Middle East, American Muslims continue to be viewed on the margins of the faith."
Haddad is wrong; American Islam is the vanguard of change and Arab Muslims in the Middle East will soon understand that they cannot ignore what is happening, even in a church in New York.
March 21, 2005 update: Another PMU-CAIR link turns up in this statement by Muqtedar Khan:
I am ... an advisory board member of the Progressive Muslim Union and support many of their goals. But I have also been a member of the advisory Shura conducted by CAIR to plan its future ten years.
May 13, 2005 update: Yet another sign of PMU's close connection to CAIR: The Washington Times today ran a profile of Kamal Nawash, head of Free Muslims Against Terrorism and organizer of tomorrow's "March Against Terror." Gathering opinions of Nawash and the march, reporter Jon Ward asked CAIR spokesman Ibrahim Hooper for an opinion but Hooper "referred questions about Mr. Nawash to Hussein Ibish of the Progressive Muslim Union." Likewise, Andrew J. Baroch of VOA News writes that, "While he declined comment on the rally, Mr. Hooper endorsed statements issued by another group called the Progressive Muslim Union of North America."
Comment: They – CAIR and PMU, Hooper and Ibish – must really be tight, as I have never before noted the ever-voluble Hooper let someone else speak for him.
May 20, 2005 update: Salam Al-Marayati today, at a conference at the University of California at Los Angeles, complained that, "In Washington the moderate Muslim is the one who comes to tell you what you want to hear," an interesting point worthy of reflection. He then gave his five criteria for a moderate Muslim:
That the person "renounce violence as a method of change."
That they support women's rights "within an Islamic framework."
That they accept the positions in the Quran that Jews and Christians "are people of the book, people of earlier revelations," not infidels.
That they be committed to supporting democracy in the Middle East.
And lastly that they be committed to advancing discussion.
To assess these criteria, compare them with the ones I set out at "Do you believe in modernity?"
June 5, 2005 update: This afternoon, Khaled Abou El Fadl, whom I have dubbed the "stealth Islamist" delivers the keynote speech at a PMU event on women-led prayer, followed by a discussion moderated by Sarah Eltantawi and including Hussein Ibish.
July 1, 2005 update: Muqtedar Khan has resigned from PMU's advisory board with a scathing public letter. He denounces this "progressive" organization for its "extremely oppressive, abusive and hateful" environment, its "empty claims of openness and tolerance for different perspectives," and its "set of moral principles randomly acquired from Marxism and/or postmodern cultural trends."
Hmm. What happened to the "group of hip, young New Yorkers" who formed PMU to meet "the urgent need for greater and more coordinated articulation of the pluralistic and compassionate sentiments"?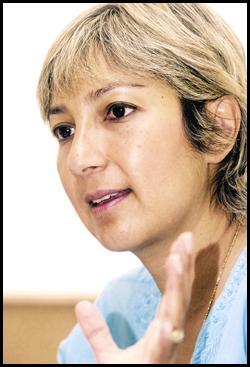 Zuriani "Ani' Zonneveld, PMU executive director

Aug. 26, 2005 update: Abdus Sattar Ghazali (quoted above) breaks the news that three more PMU stars have joined Muqtedar Khan in exiting the organization, they being Omid Safi, Hussein Ibish, and Sarah Eltantawi. Their joint letter is far more politic than Khan's, restricting itself to vague generalities and wishing the PMU well. Ghazali, who has about as little regard as do I for the PMU but from the opposite vantage point, has a good laugh at its expense, recalling (as I did in the previous update) the wildly favorable publicity it received from the mainstream media on its launch a scant nine months ago.
Oct. 10, 2005 update: Omid Safi makes known today that he, along with "most of the Board of Directors, resigned from PMUNA in Summer 2005," then gives his thoughts on the collapse of PMU and concludes by noting ruefully that "some Muslim-haters such as Daniel Pipes and Robert Spencer will interpret this as the imploding of the progressive movement." Well, no, Safi, you have it wrong as usual; Spencer and I are not Muslim-haters but Islamist-haters. And we do not see PMU's demise as affecting the "progressive" movement. Rather, it marks the demise of the "Islamists who pretend to be progressive" movement.
Sep. 7, 2006 update: The PMU might seem defunct, but in a long interview on August 24 and today, its executive director, the Malaysian singer Zuriani "Ani' Zonneveld, 43, who lives most of the year in Los Angeles, speaks lyrically of its past and future.
Jan, 14, 2010 update: Something called "Muslims for Progressive Values" co-issued today a "Statement on Women's Rights – Against Domestic Violence, Acid Attacks, Honor Killings, Female Genital Mutilation, and Forced Marriage." There seems to be continuity with the old Progressive Muslim Union, including Ani Zonneveld as founder and director and some members of the advisory board, such as Reza Aslan.
Oct. 29, 2014 update: In an article today (carrying the trite title, "Fighting for the Soul of Islam"), Zonneveld announces that MPV has existed since 2007 and "given birth to six chapters in the U.S. - Los Angeles, Atlanta, D.C., New York, Chicago and Columbus, as well as independent affiliates in Canada, France, Chile, Australia and Malaysia." Comment: Apparently, the leadership of MPV learned from the PMU's unhappy experience and is staying in the background.
June 19, 2016 update: Ani Zonneveld (who identifies herself as "Imam; Founder and President, Muslims for Progressive Values") published today an open letter to a long list of Islamists:
Dear Yasir Qadhi, Hamza Yusuf, Council on American-Islamic Relations (CAIR), Islamic Society of North America (ISNA), Islamic Circle of North America (ICNA) and fellow homophobic Muslim religious leaders of America:
She goes on, in a piece titled "Reality Check: What American Muslim Organizations Really Did For The LGBTQI Community," to ridicule CAIR's claim to have "stood shoulder-to-shoulder with the LGBTQI community," calling this typical of the group's double speak. After providing three proofs, she attacks:
When the Quran speaks of hypocrites, those who pretend to speak of truth, I never thought I would live to see the best of them all. Even Da'esh has more integrity than you. As twisted as Da'esh's belief system is, they, unlike you, are transparent, honest in representing their true beliefs. ...

Yes, this is your twisted version of Islam and it is not that much different than Da'esh's ideology. It is your "Islam" that has traumatized so many gay Muslims, that has alienated, ostracized and demonized them to the point of self-hatred. Self-hatred leads to mental health and suicidal tendencies, not an un-common by-product of your hate-filled theology toward homosexuals, a by-product exhibited in the killing at Pulse. ...

Our challenge to Zaytuna Institute, religious schools and imams of every mosques in America — for once and for all: End the teaching of demonizing homosexuality in the name of Islam in your curriculums and your sermons. Teach compassion, mercy, justice and peace. At its core, that is the message of the Qur'an and all its Prophets.
Comments: (1) Maybe this second iteration is, in fact, progressive. (2) Gone are the games of footsie with CAIR, replaced by excoriating venom.