Building on my analysis at "Israel's Arabs, Living a Paradox," here are occasional, noteworthy developments concerning that population:
A report from Tira, Israel, by Edmund Sanders in the Los Angeles Times about "Arab citizens in Israel bemoan lack of policing" captures the paradox of Israeli Arab life:
When residents of this once-sleepy Arab village gathered to protest recent gang-style shootings in their community, anger quickly focused on the Israeli police. Residents raised signs reading, "Police are terrorists." Local leaders recited a familiar list of complaints: Police treat Arabs like second-class citizens; they fail to prosecute many criminals and don't seize enough illegal weapons; they can't be trusted.

Given the animosity, the protesters' next demand was somewhat surprising. They called for the Israeli government to assign more police to Tira. "There's no other solution anymore," Tira Mayor Mamoun Abdul Hai said later of this 22,000-resident community. "We can't handle it anymore. We don't have the money and resources to do it ourselves."

A recent increase in killings and gang violence in Israel's Arab cities and towns is forcing Arab Israelis to rethink past resistance to welcoming police into their communities. Arab Israeli communities last year accounted for 67% of the 135 homicides nationwide, 70% of attempted homicides and 52% of all arson attacks, according to government figures. Yet Arabs represent only about 20% of Israel's approximately 8 million people.
(October 29, 2012)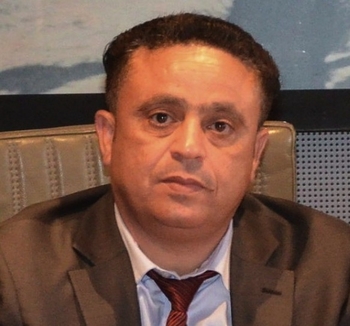 Aatef Karinaoui wants to bring a new tone to Israeli Arab politics.

Oct. 30, 2012 update: "A would-be new leader of Israel's Arabs urges full integration with Israel: Bedouin politician Aatef Karinaoui launches a Knesset bid, slamming Arab MKs and calling for an 'Arab Spring' to provide a fresh direction for his community." That's an article in the Times of Israel by Philippe Assouline describing the emergence of Aatef Karinaoui, marking a new and hopeful development on the Israeli Arab scene.
Nov. 12, 2012 update: Faina Kirshenbaum, a member of parliament from Yisrael Beytenu, delivered an unusual scathing indictment of Israeli Arabs at a recent conference:
Arabs in Israel want equal rights, but do not contribute to the state. To receive equal rights they must contribute to the country like every other citizen and do three years of [military or civilian] service in their communities. ... They do not pay taxes, more or less, and receive large funds from the government. They pay 400 million shekels in taxes but receive at least 11 billion shekels in government-provided benefits.
Dec. 19, 2012 update: The Associated Press finds that, despite Israeli Arab grievances about practical issues, Aatef Karinaoui's party "party isn't finding much traction."
Jan. 1, 2013 update: (1) Israel's Central Bureau of Statistics released some population numbers on the secular New Year. The total Israeli population totals 7,981,000, of whom 75.4 percent are Jews and 20.6 percent are Arabs, which translates to about 1.6 million people.
(2) Efraim Karsh takes aim at the notion that deprivation is the root cause of Israeli Arab discontent: He notes the widespread
conviction that Arab resentment and distrust of the Jewish state were corollaries of socioeconomic deprivation and that with growing affluence, such feelings would be supplanted by their opposites. The fact that Arab enmity had not given way, but on the contrary had intensified, was thus seen as proof that the 'Arab sector' had been a victim of official discrimination and had yet to receive 'its equal share of state resources'.

Unfortunately, this theory is false in general, and especially false in this particular case. In the modern world, it is not the poor and the oppressed who have led the great revolutions and/or carried out the worst deeds of violence; rather, it is militant vanguards from among the better educated and more moneyed circles of society. So it was with the Palestinian Arabs - in both mandatory Palestine and the state of Israel. The more prosperous, affluent, and better educated they became, the stronger and more vociferous their leaders' incitement against their state of citizenship, to the point of open rejection of the fundamental principles underpinning its very existence.
Karsh then backs this up with substantial research and argumentation.
Jan. 23, 2013 update: Aatef Karinaoui's party, Al-Amal li-Taghyir ("Hope for Change") gained no traction at all among Israeli Arabs in yesterday's election who voted, as always, for the rabid established parties. Jan. 30, 2013 update: Final, unofficial figures from the Jan. 22 elections list dozens of parties getting between 884,631 votes and 461 votes; Hope for Change is not listed here, pointing to its complete failure.
July 9, 2013 update: Despite Hope for Change's failure, a new Arab party, this one with a Christian identity, has appeared on the Israeli scene, called Habrit Hahadashah ("The New Alliance"). Founded by Bashara Shlayan, 58, of Nazareth, it favors service in the military and recognizes Israel as the home of the Jewish people.
Comment: (1) Christian Arabs in Israel number about 120,000, making up 1.5 percent of the total Israeli population of 7.8 million, limiting its direct prospects in advance. (2) Were the party to take off, it could potentially influence Muslim Arabs too, though this scenario requires taking two major leaps of faith.
July 26, 2013 updates: Increasing numbers of Israeli Arab youth, including some Muslims, are doing voluntary military or non-military service.
Nov. 22, 2017 update: A new poll commissioned by Israel Hayom and conducted by the New Wave Research Institute (with 426 Arab Israelis respondents aged 18 and up, no Druze), finds 65 percent defining themselves as not religious and 35 percent religious; 46 percent identify as Israeli Arabs, 42 percent as Palestinian Arabs, and 3 percent as Israelis. And then the stunning result: 60 percent are "very proud" or "fairly proud" to be Israeli, while 37 percent are "not proud" to be Israeli.
Jan. 3, 2018 update: Israeli Arab attitudes toward the Jewish state could be worse. But they could also be better. Research by Arik Rudnitzky and Itamar Radai of the Dayan Center finds:
Most Arab citizens (60%) relate positively to Israeli citizenship and to current living conditions in Israel. In contrast, a considerable portion - at rates ranging from one-quarter to one-third of the respondents (by varying demographic categories) - holds very critical views on these matters. Basic demographic variables such as age, religious affiliation, and level of education have a decisive influence on the personal position of Arab citizens. Young people and those with a low level of education tend to adopt a suspicious and critical attitude toward the situation in the country, toward state institutions and toward government policy. On the other hand, the survey found a direct correlation between age and level of education and the adoption of positive stances and feelings. It is made apparent that the integration into the education and labor markets of the working-age groups (between 23 to 59 years of age, as defined in the survey) has additional effects. For example, the higher the level of education of a respondent, the more he or she tended to report feelings of personal freedom, stability, and even a sense of belonging to the State of Israel. It should be noted, however, that in certain areas, especially on the issue of equality, those with higher education are more critical of the situation in the country. There is no doubt that in addition to their assessment of the standard of living in Israel and the advantages of Israeli citizenship, they tend to judge from a deeper perspective the essence of equality towards the Arab citizens of Israel.
Dec. 23, 2020 update: "Are Israeli Arabs Finally Moderating?" is the title of my article today concerning Mansour Abbas and Ra'am..
May 19, 2021 update: The riots by Israeli Muslims over the past nine days has shaken up Israeli Jews in an unprecedented way. Gershon Hacohen starkly expresses these worries in an article titled "Israel's Existential Struggle." Excerpts:
The Israeli government and politicians are afraid to characterize the hordes of Arab rioters rampaging across Israel's cities and towns as an enemy. After all, they are fully-fledged Israeli citizens. ...

it is difficult for many Israeli Jews to acknowledge the mass Arab violence for what it is and what it portends: a nationalist (and Islamist) rising stemming not from the lack of rights or opportunities but from the rejection of a minority status that is regarded as unlawful domination by an alien invader who must be supplanted. In this respect the current explosion, far more than its October 2000 predecessor, throws Israeli Jews back to November 1947, when they had to fight for their sovereign existence.

Far worse. For many Jews, the sights of burning synagogues and religious seminaries, desecrated Torah scrolls, ransacked shops and plundered homes, not to mention the wanton violence inflicted on peaceful citizens, just because of their being Jews, echo painful memories of dark periods in recent Jewish history: from the 1903 Kishinev pogrom, to the 1938 Nazi Kristallnacht, to the 1941 Baghdad Farhud. ...

That Israeli Jews now have to fear for their physical safety, if not for their lives, while moving around their own towns and cities, at a time when their state possesses a formidable security system and one of the world's most respected armies, is not only an unacceptable personal and national humiliation but a total loss of sovereignty that puts the entire Jewish national revival at risk.

One cannot emphasize too strongly the urgency of reasserting the state's authority and governability without delay, first and foremost by clarifying in no uncertain terms the Arab minority's prerogatives and boundaries in the Jewish state. This is nothing short of a war for national existence.
May 10, 2022 update: "Poll: 75% of Arab citizens believe Jews have no right to sovereignty in Israel" points to continued problems.