The Israeli Prime Minister's Office has released the following statement:
Today (Thursday), 29.9.05, will mark five years since the start of the current round of Palestinian violence, during which 26,159 terrorist attacks were perpetrated against Israeli targets, in which 1,060 Israelis were murdered and 6,089 were wounded.
That comes out on average to 5,232 attacks a year or 14.33 per day, every single day. One can only speculate how many more thousands of attacks were prevented. For anyone not living in Israel or Iraq, this figure staggers the imagination. (September 29, 2005)
Jan. 2, 2006 update: 2005 was the year of the truce (tahdiya), with Islamic Jihad, the Popular Resistance Committees and Fatah's Al-Aksa Martyrs Brigades announcing a self-declared cessation of hostilities effective January 22. So, that means no attacks on Israelis, right? Well, not exactly. The Prime Minister's Office released an annual summary of terror activities and counted 2,990 attacks after the truce was declared. Looking on the bright side of things, that's down from the over five thousand a year previously.
Dec. 4, 2007 update: With 2007 coming to a close, the Israeli authorities have tallied up the rocket attacks from Gaza and report over 2000 of them, according to Deutsche Presse-Agentur, or about 200 a month or a 6-7 a day. That number spikes at times; today, the number of Qassam rockets and mortars that landed on Israeli territory came to 21.
Jan. 3, 2008 update: Shin Bet, the Israel Security Agency, issued a 23-page report, Palestinian Terrorism: Statistics and Trends in 2007, that finds Palestinians carried out 2,946 terror attacks against Israel in 2007, 9 fewer than in 2006 and 127 fewer than in 2005. Kassam rocket attacks stayed around the same. Mortar fire increased from 55 shells in 2006 to 1,511 in 2007. That's down from the 2000-05 period documented above, but not by much.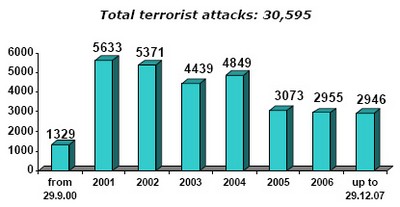 Breakdown of Terrorist Attacks, 2000-2007, from the Report "Palestinian Terrorism: Statistics and Trends in 2007"
What really stands out, however, are the many fewer Israeli casualties: just 13 were killed in 2007. This drop results in part to prevention of successful suicide bombings: 60 in 2002, 6 in 2006, and just one in 2007. Israeli intelligence is a wonder.
Nov. 7, 2019 update: Shin Bet announced over 400 attempted terrorist attacks so far in 2019, or roughly 1½ per day. That's about 10 percent of what it was 15 years ago, a huge improvement.