The Islamic religion contains within it a deep assumption that a land conquered and settled by Muslim becomes part of an inalienable Islamic patrimony, a waqf; should it then fall under non-Muslim rule, that is an unnatural and intolerable circumstance that eventually must be reversed. For example Bernard Lewis noted in The Muslim Discovery of Europe (New York: W. W. Norton, 1982), p. 182 the Muslim reaction to the early modern loss of territory in Spain and the Balkans: these were "Islamic lands, wrongfully taken from Islam and destined ultimately to be restored."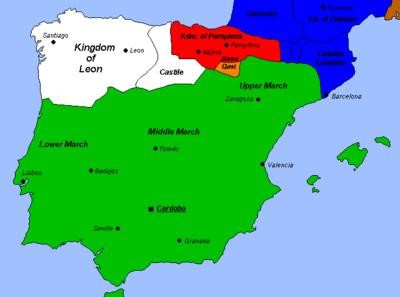 The Caliphate of Cordoba (green) in about the year 1000.
Even centuries after the
reconquista
of 1492, Muslims continued to long to recreate Muslim Andalusia. Like Palestinians today, refugees from Spain kept the keys to their abandoned houses as a palpable symbol of their intent to return home. The
Saudi Gazette
reports that some
descendents of refugees from Muslim Spain
living in Morocco still commemorate the fall of al-Andalus with "symposiums, Andalusian music and shows portraying the sufferings of their ancestors."
Of late, proponents of recreating Al-Andalus have become more outspoken; "Despite the passage of over five hundred years, the memory of Islamic rule in Spain has become increasingly part of the discourse in radical Islamic circles," Jonathan Dahoah-Halevi notes in a Jerusalem Center for Public Affairs publication,"Al-Qaeda: The Next Goal Is to Liberate Spain from the Infidels." (In fact, his title is not quite accurate, for it's not just Al-Qaeda that raises this topic.) He documents this phenomenon:
Osama bin Laden: "All in all, we request of Allah ... that the umma should regain its honor and prestige, should raise again the unique flag of Allah on all stolen Islamic land, from Palestine to Andalus.
Ayman al-Zawahiri: "The return of Andalus to Muslim hands is a duty for the umma in general and for you [North Africans] in particular."
Safar al-Hawali, a prominent Saudi sheikh, in a letter to George W. Bush: "Imagine Mr. President, we still weep over Andalusia and remember what Ferdinand and Isabella did there to our religion, culture and honor! We dream of regaining it."
Abu Musab Abdul Wadud, commander of the Algerian "Salafist Group for Prayer and Combat" (GSPC), calls Algerian Muslims the "grandchildren of Tariq bin Ziyad," the Muslim general who lead the conquest of Iberia.
Ansar al-Islam in the Muslim Sahara, Land of the Veiled Ones: "Al-Andalus is before our eyes, and with Allah's help we will take back the Land of Islam and what was plundered from our forefathers, no matter how long this takes."
Muhammad Mahdi Akef, leader of the Muslim Brethren in Egypt, mentions the fall of Andalus in parallel with the loss of Palestine, Iraq, and Afghanistan.
Hamas has called on Palestinian children to help restore the city of Seville in Spain to Muslim rule.
Comments: (1) This drive at re-reconquista cannot be appeased politically. Dahoah-Halevi, a former advisor to the Israeli Ministry of Foreign Affairs, correctly points out that "Neither the Spanish withdrawal from the Coalition's war against the Iraqi insurgency, nor proposals for a Spanish dialogue with Hamas, have abated in any way the anti-Spanish hostility coming out of radical Islamic movements in recent years."
(2) That some Spaniards feel a certain sympathy for the Muslim claim will only encourage it.
(3) This dream could well grow to the point that, in some years, it inspires major terrorism and acquires security and political importance. (October 11, 2007)
July 2, 2014 update: Gianluca Mezzofiore of the International Business Times reports that
Syria-based Jihadists have vowed to retake Spain - "the land of our ancestors" - in a video shot in Castilian Spanish that emerged on YouTube from a Syrian pro-government account. In the footage, a young fighter introduces another "friend and brother" saying that "we're going to speak in Spanish". The second militant, wearing a kefiah scarf around his head, says: "We are in the Holy Land [Syria], the land of Islam and I tell and warn everyone: we are living under the Islamic flag and we will die for it until we open those locked lands from Jakarta to Andalusia. And I say: Spain is the land of our ancestors and we will open it with the power of Allah".
Aug. 17, 2014 update: The Islamic State (known also as ISIS) has plans too to re-take Al-Andalus, Soeren Kern documents today for Gatestone. It has launched a social media campaign of posters with images of famous Spanish landmarks and monuments emblazoned with Arabic slogans such as, "We are all the Islamic State" and "Long Live the Islamic State." It produced a video in which a jihadi speaking in Spanish with a heavy Arabic accent says "I say to the entire world as a warning: We are living under the Islamic flag, the Islamic caliphate. We will die for it until we liberate those occupied lands, from Jakarta to Andalusia. And I declare: Spain is the land of our forefathers and we are going to take it back with the power of Allah."
Spanish Interior Minister Jorge Fernández Díaz has stated that "Spain forms part of the strategic objectives of global jihad. ... We are not the only ones but we are in their sights."