A pattern exists in which Palestinians attack and even murder the foreign groupies and apologists who join them in their dream of eliminating Israel, or at least of building an independent Palestinian state.
In addition to the specific examples that follow, verbal and physical abuse of women, including rape, has emerged as an "ongoing and widespread" problem whenever Israeli and foreign females volunteer in the West Bank, as revealed in mid-2010 series of articles in Ha'aretz, News1.co.il, and Zionism-Israel.com.
Comment: These murders neatly fit into the culture of death that characterizes Palestinian society; in addition to its suicide factory, its celebration of terrorists, and its emphasis on "martyrdom," it also devours its admirers.
For a complementary weblog entry, dealing with the same topic but concerning non-Palestinians in the region, see my "Middle East Extremists Attack Their Supporters." (April 15, 2011)
---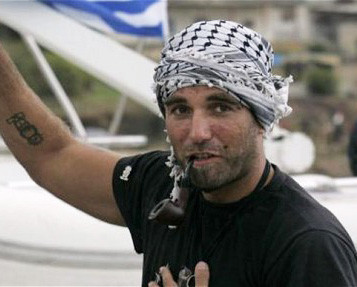 Vittorio Arrigoni, an Italian would-be Palestinian.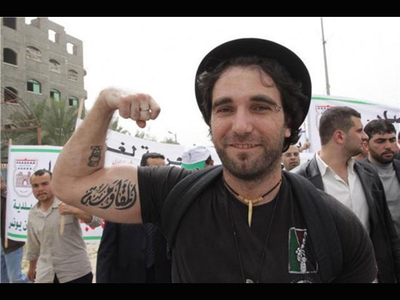 The tattoo on Arrigoni's arm says "Resistance" in Arabic, the war-slogan of the Iranian regime.
Khaled Abu Toameh notes the two recent incidents at Palestinian universities and explains on them in "Palestinians: We Hate You, Even If You Support Us":
Over the past two decades, Palestinians, like most Arabs, have been subjected to a large-scale campaign of incitement against Israel and the US. This is a campaign that is being waged through the media, especially Arab and Islamic TV stations, the internet, mosques and the rhetoric of leaders and politicians. As a result of the ongoing incitement, some Palestinians and Arabs are no longer able to distinguish between those who support them and those who stand against them.
He notes the implications of this myopia:
The two incidents once again prove that peace is impossible unless Palestinians stop inciting their people against Israel and Jews. Ironically, the Palestinian Authority, which is engaged in daily contacts with Israel, publicly supports anti-Israeli boycott campaigns. If those who support the Palestinians no longer feel safe visiting Palestinian universities and cities, the Palestinians need to realize that the incitement is making them lose even their closest friends and allies.
(October 3, 2014)