I published a book, The Hidden Hand, with St Martin's Press in 1996 and had a good experience with the house. Which gives me the more reason to be appalled to see the message that St Martin's corporate successor, Palgrave Macmillan, sent out today, "Debating Israeli Apartheid Week":
In conjunction with the 9th Annual Israeli Apartheid Week, take a look at our featured titles from our distribution partners Pluto Press, I.B. Tauris Publishers and Zed Books, bringing attention to this moment of the Palestinian struggle.
Comment: (1) This is another sign, as if more were needed, of the corruption of Middle East studies. (2) I am breaking all relations with Palgrave Macmillan. (March 11, 2013)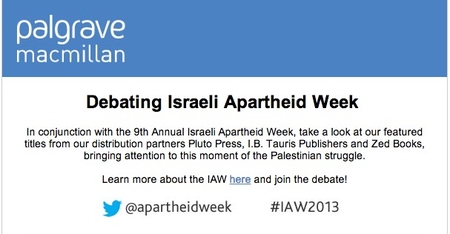 (The "learn more" link above takes the reader directly to the "Israel Apartheid Week" website.)
Mar. 12, 2013 update: Amy Bourke, Corporate Communications Manager at Palgrave Macmillan, wrote me the following note today under the subject line "Palgrave Macmillan response":
Dear Mr Pipes

Palgrave Macmillan would like to express our regrets for the e-mail sent in error on Monday morning.

While many of our authors have published seminal works debating various aspects of the Israeli/Palestine conflict, and Palgrave Macmillan is committed to promoting scholarship, research and debate on this difficult topic, we would never endorse one particular political point of view. The wording used in the e-mail is unacceptable, and the e-mail does not represent the views of Palgrave Macmillan, distribution partners or its employees.

The e-mail was sent without having gone through the usual checks and processes, for which we sincerely apologise. We are working with the team involved to find out how this happened, and to ensure it does not happen again.

I hope you will include our response on your blog – do not hesitate to call me if you have any questions.

Kind regards

Amy

Amy Bourke
Corporate Communications Manage
Palgrave Macmillan, Scholarly
Congratulations to Palgrave for its quick and complete reversal. I am happy to renew ties to this important publishing house.