The West faces a growing problem with aliens it does not want but cannot deport. It has two quite different aspects. One concerns illegals who arrive without documentation, so there is no proof which country they come from. Here is a recent report on the situation in the Canary Islands in the Washington Post, as thousands of Africans land on the beaches:
Those who reach the Spanish islands often immediately turn themselves in. Under Spanish law, authorities have 40 days to determine the nationality of detained illegal immigrants and send them home. If they can't find that out in that period—and many immigrants make a point of arriving with no identification and remaining stubbornly silent in the face of questioning—they are turned over to the Red Cross and allowed to stay. Many find ways to make it off the Canary Islands and get to Europe proper.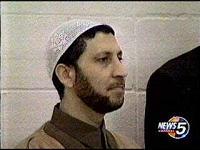 Fawaz Damra, former Cleveland imam.
The other dimension concerns immigrants who for reasons of criminality or terrorism are no longer welcome. For a case in point, note the saga of
Fawaz Damra
, 44, the former Cleveland imam who was convicted in 2004 of lying on his citizenship application because he omitted his links to the Palestinian Islamic Jihad, served time in prison and under house arrest, and was stripped of his U.S. citizenship. He has now been locked up in a Michigan jail for seven months with no end in sight.
Lawyers for Damra and the Bureau of Immigration and Customs Enforcement have been unable to find a country willing to take Damra, who agreed to be deported following a trial and conviction where he was linked to terrorist groups. "If there was progress, he'd be gone by now," said Robert Birach, Damra's attorney. "We haven't gotten a country yet to say yes." ... After being denied entry to Canada, he agreed to be sent to Qatar, the United Arab Emirates, Sudan, Egypt or the Palestinian territories.
As the numbers of un-deportable aliens increase, solutions will likely emerge, somewhere between release into the general population and incarceration. Will a Liberia-like place in Africa be created in which to place them? Special administrative districts which they cannot leave but where they can lead normal lives? Or some other arrangement? For example, Bill West points out that the U.S. government "can deny visas to any country/entity that refuses to take back its own deportee citizens." (July 14, 2006)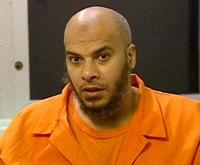 Mahmoud Jaballah.

Oct. 17, 2006 update: In another twist on this theme, the Federal Court of Canada upheld the government's case against Mahmoud Jaballah, an Egyptian member of Al-Qaeda who had a role in the East African embassy bombings of 1998, even as it forbade deporting him to Egypt, on the grounds that it practices torture. His continuing presence in Canada "without restraint" would endanger Canadians but he cannot be returned to his home country given the risk of his being tortured there. The former principal at a Toronto Islamic school, the Salaheddin Islamic Centre, can be deported to Egypt only when conditions there improve; he could be sent to some other country that does not practice torture, an unlikely prospect given his having been ruled a terrorist.
Jan. 5, 2007 update: Damra was yesterday deported to the Palestinian Authority. Meanwhile Jaballah is facing house arrest.