Many media heavyweights– the BBC, Agence France-Presse, The Guardian, New York Times, Washington Post, CTV – pretend Tel Aviv is the capital of Israel. Even the Obama White House had a hard time figuring out where that capital city might be.
But the Cartographic Section of the United Nations' Department of Peacekeeping Operations goes a step better than them all. If amateurs pretend Tel Aviv is Israel's capital, the pros at UNDPO assert that Israel has no capital at all.
That, at least, is the implication of the map it posted (dated January 2004 but only noticed by me today) which has a distinct symbol (a five-sided star in a circle) for what it terms "national capitals." For the full map, click here.
A close-up shows that Damascus and Amman both bear this five-sided star symbol, whereas no city in Israel does, notably neither Jerusalem nor Tel Aviv.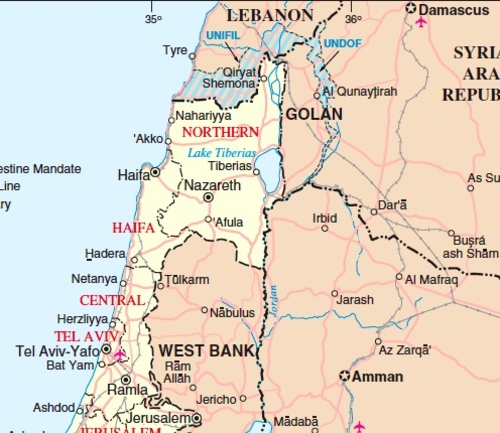 Close up of the UN Department of Peacekeeping Operations' map.
Comments:
(1) The very term "national capital" implies that the national government decides its capital. Only Israel lacks this privilege.
(2) There can be no doubt in any one's mind where the capital of Israel is located. Should a reminder be needed, here is Israel's parliament, called the Knesset, seat of the country's sovereignty, in Jerusalem.

Israel's parliament, the Knesset. Is. In. Jerusalem.
(3) This little map offers yet one more proof of the unreality that dominates the United Nations. (September 13, 2017)