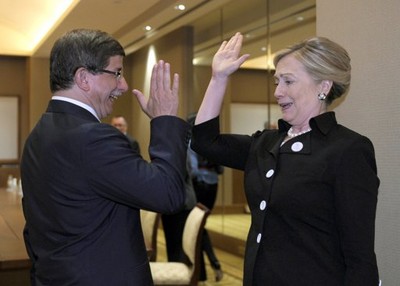 Disgraceful.
Here is the Associated Press caption for the above picture: "Secretary of State Hillary Rodham Clinton gives Turkey's Foreign Minister Ahmet Davutoğlu a high five at the start of their bilateral meeting at the Emirates Palace Hotel in Abu Dhabi, United Arab Emirates, Thursday, June 9, 2011."
And here is my comment: Clinton should be ashamed of herself, horsing around like this with the representative of a hostile state whose government is just three days away from elections. This sends precisely the wrong message of endorsement by the U.S. government. (June 9, 2011)
June 9, 2011 update: A reader, Rebecca Moulds, offers a limerick for the occasion:
There once was a woman named Hillary
Whose actions were frightfully sillery.
She did the high five,
And that ain't no jive.
She shamed us all, just like her Billary.
June 10, 2011 update: Another limerick, from reader Kepha Hor:
A high-minded couple named Billary
In assets took more than their fill-ary!
If their name were Nixon,
The Times would be fixin'
To put their fair necks in the pillory!
Also: A Turkish contact points out that my phrasing above, "the representative of a hostile state" rings differently in Turkish than in English. So, let me be clear: I see the ruling Adalet ve Kalkınma Partisi (AKP) as the hostile element. But given that the AKP has the support of roughly half the population, plus the country's small and diminishing pro-American element, I conclude that many Turks are indeed hostile to the United States that Hillary Clinton represents.
June 13, 2011 update: A reader, Olcay, points out the occasion for the high-five and I reply at "High Five for Davutoglu's second child."