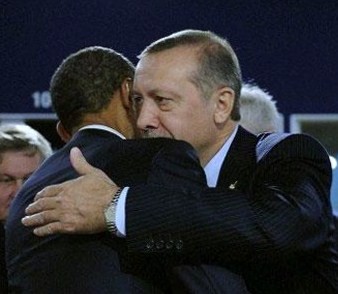 Obama (facing away) and Erdoğan.
Hillary Clinton's high-five
in June with her Turkish counterpart, Ahmet Davutoğlu, prompted me to write that she "should be ashamed of herself, horsing around like this with the representative of a hostile state."
What to say in November with Barack Obama hugging his counterpart, Recep Tayyip Erdoğan? Perhaps that this is dumb and disgraceful. Erdoğan needs to be taken to the woodshed, not embraced. (November 3, 2011)
Dec. 3, 2011 update: I don't know if Vice President Joseph Biden hugged Erdoğan but here is a description of their palsy two-hour session together as Erdoğan received them at his private residence while recuperating from a medical procedure: "Mr. Biden and his aides put on slippers and were introduced by Mr. Erdogan to his son, daughter and son-in-law."