The Scripps Howard Research Center at Ohio University released an unsettling poll today. Here is the question it asked of about one thousand Americans:
There are also accusations being made following the 9/11 terrorist attack. One of these is: People in the federal government either assisted in the 9/11 attacks or took no action to stop the attacks because they wanted to United States to go to war in the Middle East.
To this, the replies came in as follows:
Very likely: 16 percent.
Somewhat likely: 20 percent.
Not likely: 59 percent.
Don't know: 5 percent.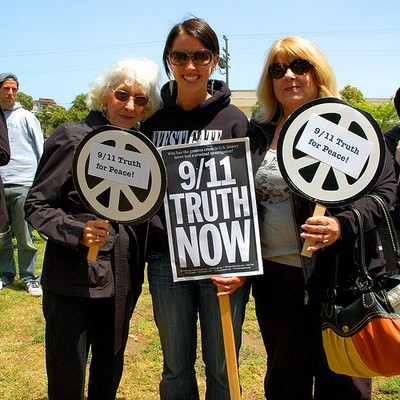 9/11 "truthers" in action.
In other words, about one-third of the sample believed it likely that the Bush administration had been in some fashion complicit with 9/11. Worse, that number is steadily growing. University of Florida law professor
Mark Fenster
comments: "What has amazed me is not that there are conspiracy theories, but that they didn't seem to be getting any purchase among the American public until the last year or so. Although the Iraq war was not directly related to the 9/11 attacks, people are now looking back at 9/11 with much more skepticism than they used to."
If accurate, this statistic represents a staggering indictment of the intelligence and good sense of the American population; it also has potentially great political consequences.
But I am not too worried. As I noted in my 1997 book, Conspiracy: How the Paranoid Style Flourishes, and Where It Comes From, "A survey of conspiracy theories in American public life shows that these tend to come disproportionately from two broad groups of people: the politically disaffected and the culturally suspicious." I went on to argue that the former, and especially blacks and the hard right, constitute real political forces, while the latter, including a host of presidential candidates and popular culture, wallow in conspiracism for its own sake. Louis Farrakhan and Timothy McVeigh represent the former, Lyndon LaRouche and the Kennedy "assassinologists" represent the latter.
In this context, I view the 9/11 "truthers" akin to the "Kennedy assassinologists.". Note some similarities between the two groups: both
respond to a very prominent tragedy in the United States;

derive predominantly from the culturally disaffected;

otherwise are politically normal;

involve believers in the intrigue and mental gymnastics of a highly elaborate and technical puzzle;

lead to an impassioned if not obsessive fascination;

find a growing resonance and respectability in the general population;

are non-political in inspiration but have political implications.
In the end, just as Kennedy assassination buffs never amounted to much politically, so, I predict, will the 9/11 types remain isolated and innocuous in the United States. In contrast, outside the United States, and especially in the Muslim world, the "Truther" ideas have had and will continue to have real impact. (August 2, 2006)