Over a decade ago, in "Hot Spot: Turkey, Iraq, and Mosul," I focused on remarks in May 1995 by then-Turkish president Süleyman Demirel in which he called for a change in Turkey's borders with Iraq at the expense of Iraq. I also provided a sketch of the history of this territorial dispute going back to 1920 and the Treaty of Sèvres, concluding that "While the [1995] controversy quickly disappeared, it raised an issue that could return."
Much has changed in the intervening period – to start, Saddam Hussein gone from power in Baghdad, Islamists in office in Ankara – but the Turkey-Iraq border remains a hot spot. And the issue has returned, with Turks in high places are again talking about invading northern Iraq.
Things began to heat up on July 14, when a Turkish military vehicle hit a Kurdistan Workers Party (PKK) landmine, killing five soldiers; a day later, seven soldiers and one village guard were killed in clashes with the PKK. In all, the PKK has killed approximately 208 Turkish security force personnel since June 2004.
On July 16, the high-level Anti-Terror High Council (TMYK) held an extraordinary meeting. On July 17, Prime Minister Recep Tayyip Erdoğan signaled an intent to take tougher measures against the PKK: "We are running out of patience." And today, Louis Meixler reports for the Associated Press on the foreign policy implications of these developments in "Turkey signals it's prepared to enter Iraq":
Turkish officials signaled Tuesday [July 18] they are prepared to send the army into northern Iraq if U.S. and Iraqi forces do not take steps to combat Turkish Kurdish guerrillas there — a move that could put Turkey on a collision course with the United States.
Turkey is facing increasing domestic pressure to act after 15 soldiers, police and guards were killed fighting the guerrillas in southeastern Turkey in the past week. "The government is really in a bind," said Seyfi Taşhan, director of the Foreign Policy Institute at Bilkent University in Ankara. "On the one hand, they don't want things to break down with the United States. On the other hand, the public is crying for action."

Diplomats and experts cautioned the increasingly aggressive Turkish statements were likely aimed at calming public anger and pressing the U.S. and Iraq to act against the Turkish Kurdish guerrillas. But they also said Turkish politicians and military officers could act if nothing is done. …

Turkey's NTV television and Hürriyet newspaper reported the government has told the military to draw up plans for a push into northern Iraq and to advise on the possibilities such an incursion could lead to a clash with Iraqi Kurds or U.S. troops. Any operation was unlikely before the end of August, when the current military chief of staff is replaced by an officer widely regarded as a hard-liner, NTV said. …

Prime Minister Recep Tayyip Erdoğan appeared to confirm reports that the military was ordered to draft plans when he said Tuesday: "We know how to take care of (terrorism) on our own... Our competent units are making preparations and will continue to do so." Erdoğan's spokesman, Akif Beki, refused to comment, but referred to a statement Monday by government spokesman Cemil Çicek. Çicek called on Iraqi and U.S. forces to take stronger action against the rebels and warned that if they did not, "Turkey is going to use its international rights until the very end."
Comment: The Middle East's many unsettled borders, most of them dating to the post-World War I era, remain a rich source of potential conflict. This was a major reason, for example, for the outbreak of the Iran-Iraq war in 1980. (July 18, 2006)
July 20, 2006 update: More details on the planned attack emerge from an article by Oliver Poole in London's Daily Telegraph, which states that the Turkish military "is now drawing up plans for either an air or ground assault." Those plans reportedly range "from limited artillery barrage and airstrikes to attacks by commando forces." The article also quotes Erdoğan saying that "Whatever step needs to be taken will be taken."
In contrast, Suna Erdem in The Times (London) emphasizes the U.S. reaction, paraphrasing a statement, issued by the embassy in Ankara, to the effect that "Turkey had a right to defend itself against Kurdish rebels but warned against unilateral action across the border." This report also includes a quote from Erdoğan ("There is no point in endlessly discussing the issue. Our security forces are getting on with their task. Whatever steps need to be taken will definitely be taken") and notice of his displeasure with alleged U.S. double standards for supporting Israel against Hizbullah and Hamas but not Turkey against the PKK.
Finally, we learn of this exchange: "Turkey has rights arising from international and domestic law and it will use those rights to the full," said Cemil Çicek. The American ambassador protested, to which Erdoğan replied that a foreign ambassador has no say in Turkey's military decisions.
Aug. 1, 2006 update: Middle East Newsline reports that the Turkish Army has reconnaissance units in the Kandil mountains of northern Iraq, where some 5,000 members of the PKK are said to be. Fuad Hussein, an adviser to Kurdish President Masoud Barzani, provided details: "We got some information that there is some movement on the border between Iraqi Kurdistan and Turkey, and it seems some Turkish soldiers entered Iraqi Kurdish villages near Zakho. It is obvious that over the last two or three weeks, the Turkish Army has brought large numbers of soldiers to the Iraqi Kurdistan border." No clashes were reported but the Turkish military appears to be preparing for a massive operation in Iraq.
Aug. 24, 2006 update: According to the Cihan News Agency,
Turkish jet fighters have commenced air strikes against the outlawed Kurdistan Workers Party (PPK) bases in northern Iraq. F-16 jets carried out air strikes against targets in the Kanimasi and Snaht regions in northern Iraq. Army officials stated that the F-16 jets which took off during the night had inflicted serious casualties on the PKK. In addition to the air strikes, Turkish security forces are continuing their operations along the Iraqi border.
Comment: These must be about the most under-reported hostilities in the world today.
Sep. 28, 2006 update: Iraq's President Jalal Talabani took advantage of a visit to Washington to warn the country's neighbors - Syria, Iran, and Turkey – to stop meddling. He told National Public Radio two days ago that if interference from Iraq's neighbors continues, the "Iraqi people will support the opposition of other countries and try to make troubles for them as they have for us," then repeated the threat on al-Hurra television. His comments prompted a reply yesterday from Turkey's Prime Minister Recep Tayyip Erdoğan, who denounced them as "an ugly statement" that he hoped Talabani would "correct. … Those are not well-thought expressions. We have lived together with Iraqi people for centuries and we will continue to do so from now on."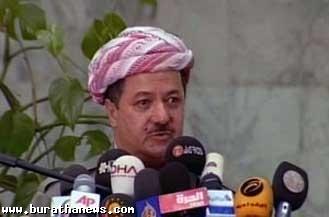 Mas'oud Al-Barazani, president of the Iraqi Kurdistan province.

Apr. 18, 2007 update: Mas'oud Al-Barazani, president of the Iraqi Kurdistan province, gave an interview on Al-'Arabiya television on April 6, 2007, and made available today by MEMRI, in which he picked up on this theme and expressed a bellicose attitude toward Ankara:
Interviewer: Don't the Kurds fear Turkey?

Al-Barazani: No.

Interviewer: How come? If Kirkuk is annexed to you, the Turks will not be at all happy. They are constantly declaring that they will not let the Kurds annex Kirkuk.

Al-Barazani: For our part, we say that we will not let the Turks intervene in the issue of Kirkuk.

Interviewer: How do you intend to prevent them?

Al-Barazani: How do they intend to prevent us?

Interviewer: They constitute a military force. They have a huge army.

Al-Barazani: I am not afraid of their military power. No matter how strong it may be, it cannot compare to that of Saddam.

Interviewer: But they also have great diplomatic power.

Al-Barazani: I am not afraid of their military or diplomatic power, because they are interfering in matters that do not concern them, in the domestic affairs of another country. Kirkuk is an Iraqi city with a Kurdish identity. All the historical and geographic facts prove that Kirkuk is part of Iraqi Kurdistan, which is itself part of Iraq. Therefore, Kirkuk is an Iraqi city with a Kurdish identity, and Turkey has no right to interfere in this matter. If Turkey allows itself to interfere in the matter of Kirkuk, we will do the same with regard to Dyarbakir and other cities in Turkey.

Interviewer: Is that a threat?

Al-Barazani: Not a threat, but an answer to the question what will happen if Turkey interferes. What right does Turkey have to interfere in the matter of Kirkuk?

Interviewer: Because of the Turkmen in the city.

Al-Barazani: There are 30 million Kurds in Turkey.

Interviewer: You don't interfere when it comes to the Kurds?

Al-Barazani: We don't, but if they allow themselves to interfere in the issue of Kirkuk because of a few thousand Turkmen, we will intervene for the sake of the 30 million Kurds in Turkey.

Interviewer: Do you think it will come to that?

Al-Barazani: I hope not, but if the Turks insist upon interfering in the issue of Kirkuk, I am ready to bear the consequences, and I will not allow them to implement their plan in Kirkuk.
Apr. 24, 2007 update: An article in Milliyet by Serpil Yılmaz remind that Turkey's influence can expand through non-military means as well. As the article's summary puts it, "Turkey does $5 billion in trade annually with northern Iraq; Turks have $2 billion worth of contracting work; professor Doğramacı's company is building a university in Sulaimaniye similar to Bilkent University."
Perhaps the last point is the most interesting:
Sulaimaniye is getting a university similar to Bilkent, which is Turkey's first private university. Founder of Bilkent University and the Tepe group İhsan Doğramacı, who was born in Arbil [Irbil], is heading the "Sulaimaniye University Campus" project on a 370,000 square meter construction site at a cost of $260 million. …20,000 students will be educated here. Expected to be completed by 2010, the university project employs 1,200 personnel from almost every province in Turkey.
The article provides many other details.
Oct. 31, 2007 update: I update and extend this weblog entry today at "[Mosul and] Iraq's Next War."
Nov. 1, 2007 update: A Washington Post article today, "For Kurds In N. Iraq, A Familiar Foreboding," complements my article of yesterday.
From their mountain bases, Turkish forces have been shelling the rugged terrain around the tiny hamlet of Deshtetek, Iraq, for months "in an effort to root out Kurdish guerrillas. An immense Turkish flag, its white crescent and star gleaming in the sun, is painted on the mountainside." That flag would seem to suggest a certain Turkish claim on northern Iraq.
Unstated but implied in my column above is that Mosul offers Turkey an abundance of petroleum. A gathering of elders in the Kurdish village of Kashan found a widespread belief that this is the real motive behind Turkish attacks on northern Iraq.
Jan. 4, 2011 update: Three years later, the threat of a Turkish military invasion of Iraq has receded, replaced by Turkey soft power (as foreshadowed in the Apr. 24, 2007 update, above). Here is the introduction to "Resurgent Turkey Flexes Its Muscles Around Iraq," an 1,900-word article by Anthony Shadid in the New York Times:
A Turkey as resurgent as at any time since its Ottoman glory is projecting influence through a turbulent Iraq, from the boomtowns of the north to the oil fields near southernmost Basra, in a show of power that illustrates its growing heft across an Arab world long suspicious of it. Its ascent here, in an arena contested by the United States and Iran, may prove its greatest success so far, as it emerges from the shadow of its alliance with the West to chart an often assertive and independent foreign policy.

Turkey's influence is greater in northern Iraq and broader, though not deeper, than Iran's in the rest of the country. While the United States invaded and occupied Iraq, losing more than 4,400 troops there, Turkey now exerts what may prove a more lasting legacy — so-called soft power, the assertion of influence through culture, education and business.
And a few statistics: "Trade between the two countries amounted to about $6 billion in 2010, almost double what it was in 2008, Turkish officials say. They project that, in two or three years, Iraq may be Turkey's biggest export market." The Turkish presence is especially strong in the Kurdish region:
About 15,000 Turks work in Erbil and other parts of the north, and Turkish companies, more than 700 of them, make up two-thirds of all foreign companies in the region. Travel requirements have been lifted, and the consulate in Erbil issues as many as 300 visas a day. A Turkish religious movement operates 19 schools in the region, educating 5,500 students, Arabs, Turkmens and Kurds mingling in a lingua franca of English.
But it extends to other part of the country:
The pipeline from Kirkuk, Iraq, to Ceyhan, Turkey, already carries roughly 25 percent of Iraq's oil exports. The Turks have signed on to the ambitious $11 billion Nabucco gas pipeline project, which may bypass Russia and bring Iraqi gas to Europe. Turkish companies have two stakes in oil contracts, and two more in gas projects, potentially worth billions of dollars. In a land of oil, no place has more than Basra.

Turkish ships offshore provide 250 megawatts of electricity a day. Turkish companies have refurbished the Sheraton Hotel in Basra and are helping to build a 65,000-seat stadium. The Turkish national air carrier is planning four flights a week from Istanbul to Basra; only one is offered now, by Iraqi Airways. Vortex, Crazy Dance and other amusement rides in Basraland are Turkish. So are the sweets sold there.
The influence extends to popular culture:
Posters of Turkish television serials — from "Muhannad and Nour" to "Forbidden Love" — sell by the tens of thousands. The action series "Valley of the Wolves" is a sensation, the lead actor lending his name to cafes. His own posters are computer-altered to show him in traditional Kurdish or Arab dress — grist for a graduate school seminar on the adaptability of cultural symbols.