I participated yesterday in a conference about the eastern Mediterranean at the Begin-Sadat Center for Strategic Studies (BESA) just outside Tel Aviv; and because Tel Aviv is the diplomatic center of Israel, its events attract a good number of diplomats. Yesterday was no exception, with a foreign minister and other diplomats from several eastern Mediterranean countries, including Albania, Cyprus, Egypt, Greece, and Turkey.
My 15-minutes talk (which can be seen here in its entirety) surveyed the role of Islamism in the region. In the question-and-answer period, Turkey's newly-appointed ambassador, Kemal Ökem, vigorously protested points I had made about his country (especially a guarded comparison of Erdoğan and Saddam Hussein). I defended these, then challenged Ökem (in a video that can be viewed here):
Pipes: I started going to Turkey in 1972. I studied Turkish, not very successfully, but I did study it. I've gone back many times. And at this point, I dare not go back to Turkey because I am critical, as you may have heard, of the government and, in particular, I supported the July 15th coup [a position] which is absolutely an outrage in Turkey. And so, I dare not go back to Turkey. And so, let me ask you, Mr. Ambassador, would it be it safe for me to go to Turkey and spend some time there or just go through the airport? You have a great airline that I would love to use but I dare not use it. Would I be safe going to Turkey?

Ökem: If you say that you support the failed coup attempt that killed 250 Turkish civilians and if you that say you support the kind of organization which we call a terrorist organization, which is a religious cult by the way, and trying to export something, if you say that, I would rather advise you not to go there because you be an accomplice, considered an accomplice. [laughter]

Pipes: That's what I was expecting.

Ökem: It's an expected answer but it's legitimate answer. I mean, I would advise you to find good legal advice before you travel to Turkey.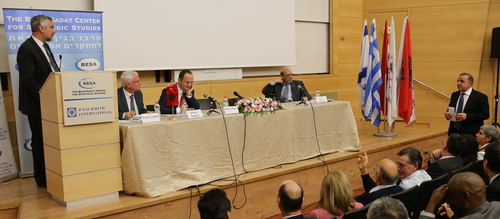 Kemal Ökem (standing right) and me (standing left) in discussion. (Credit: Yoni Reif)
The name of that "terrorist organization" was not spoken, but Ökem was referring to the so-called Fethullahçı Terör Örgütü, or FETÖ (Fethullah Terror Organization). To the rest of the world, it's the Hizmet movement founded by Fethullah Gülen, a former close and important ally of Erdoğan's until the two of them split. No one else sees it as violent, much less terroristic. Erdoğan's accusation that it organized the July 2016 coup attempt is noxious and absurd.
This ambassador's statement has several interesting implications:
Left unspoken was what would happen to me, were I foolish enough to venture to Turkey, so I'll make it explicit here: as someone deemed an accomplice of FETÖ, I would be jailed without charges and held for who-knows-how-long.
This is despite my having a long record of being critical of the Gülen movement. For example, the Middle East Quarterly, a journal I publish, ran so important a critical article on Hizmet by Rachel Sharon-Krespin in 2009 that it was translated and prominently featured by the leftist Turkish daily Cumhuriyet.
An arch critic of the Soviet Union, such as my father, Richard Pipes, had no problem visiting Russia in the still-repressive post-Stalinist era. In other words, Ankara, a member of NATO and a formal ally of the United States, imposes a higher level of thought control than did the U.S.S.R.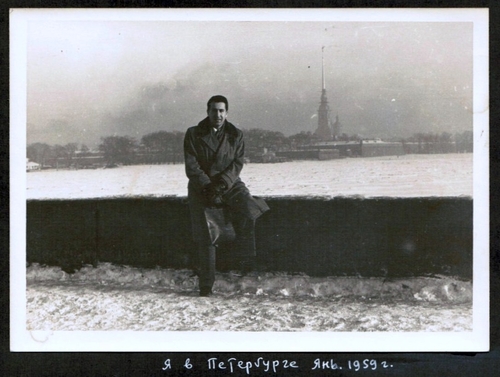 My Cold Warrior father, Richard Pipes, could visit Leningrad in 1959.
Turkish Airlines would seem to be the only airline whose passengers must pass an ideological test if they hope to complete their journey without danger of getting thrown in jail.
I have visited Turkey, one of my favorite destinations, 10 times over 45 years, with the final trip in 2012. I shall miss the country. Like tens of millions of Turks, I look forward to celebrating the early termination of the Erdoğan regime. (February 22, 2017)
Mar. 10, 2017 update: In an odd coda to my encounter, the Dutch prime minister, Mark Rutte, told the Turkish foreign minister, Mevlüt Çavuşoğlu, to stay away and not campaign in the Netherlands: "Don't show up!" were his precise words. Rutte then added that "if you still decide to come, you won't have a chauffeur driven car, no escort, no support."
Mar. 14, 2017 update: Burak Bekdil echoes my analogy, writing today that "Turkey increasingly looks like Saddam Hussein's Iraq."
May 25, 2017 update: In an article on the AKP, Cengiz Çandar concurs: "The AKP of today has nothing to do with the party founded in 2001, a year before it took power. From now on, the AKP will resemble more Saddam Hussein's or Bashar al-Assad's Baath parties. It will be a 'one single party' of 'one and only one leader'."
July 18, 2017 update: I tell the story of Süleyman Gökçe giving me trouble in Sofia, Bulgaria, at "Another Turkish Ambassador Confronts Me."
Sep. 6, 2017 update: Steven Cook of the Council on Foreign Relations also avoids Turkey and gets badgered by Turkish diplomats:
The abuse of Americans in Turkey, which has compelled experts like myself to avoid visiting the country, has taken place alongside violence or threats of violence against Americans in the United States. ... In addition, Turkish diplomats have sought to create a hostile environment for those who research and write about Turkey. The embassy in Washington routinely sends staff to take video of public events addressing Turkish politics. The embassy's justice counselor once accosted me in an elevator after an event at the Woodrow Wilson Center for International Scholars because he did not like something that I said. After exiting the building, he chased me down the street yelling at me. Turkey's consul general in Chicago used a clip of Professor [Henri] Barkey and me laughing during an event and posted it on Twitter claiming that we were laughing about the 249 people who were killed during the failed coup. Given the political atmosphere in Turkey, what the consul general did was nothing less than an incitement to violence. This is all part of an effort to undermine the ability of American scholars and journalists to work in Turkey.
Oct. 8, 2017 update: The Turkish government today stopped issuing routine visas to Americans. So, nearly all my co-nationals have joined me in being excluded from Turkey. Welcome, guys!