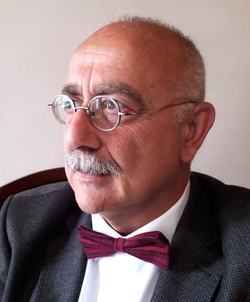 Sevan Nişanyan.
Sevan Nişanyan, a Turkish linguist and intellectual of Armenian heritage, has been found guilty of blasphemy and sentenced to prison. In an interview with Liana Aghajanian in
Ianyan
, he explains the background to this charge:
Q. ... you said you argued that hate speech is only criminal if it actually puts the rights or security of a vulnerable group in jeopardy. You wrote the blog post in response to the furor around the film [İnnocence of Muslims]. What in particular struck a chord in you and compelled you to write about it? Did you expect the commotion it caused?

A. There was an uproar here last year over that cheapo Muhammed film, and several top politicians close to the prime minister took the opportunity sound out a new law on Hate Speech, which was meant to curtail "disrespect" of Islamic values. I thought then (and I still think now) that's a serious threat to public freedoms here. That urged me to discuss the idea of "hate speech" and its limits.

I must confess that this article by Daniel Pipes was the immediate source of inspiration for my note. I am not a fan of either Mr. Pipes or Fox News. But I felt they had a good point here.
That's a reference to my article, "A Muhammad Cartoon a Day," published on Sep. 21, 2012, at FoxNews.com. Comment: Learning about my role in this travesty, I have contacted Nișanyan and am trying to help with his release. (May 25, 2013)
Aug. 8, 2013 update: Sam Nunberg of the Middle East Forum's Legal Project explains Nișanyan's plight in the Washington Times.
Jan. 2, 2014 update: Nişanyan entered prison today. Just before turning himself in, he posed in a bathtub with a glass of wine and told the world, "The state cannot ruin my spirits, even if I have to serve 8½ years in jail."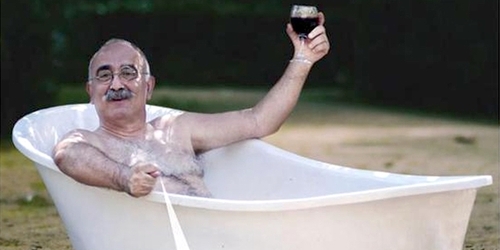 Sevan Nişanyan, defiant.
June 21, 2014 update: Nișanyan reiterated the role of my article in his incarceration:
A silly film lampooning the Prophet Mohammed, The İnnocence of The Muslims, stirred emotions in Turkey, as in the rest of the Muslim world, in September 2012. The government of Prime Minister Erdoğan took this opportunity to propose a "Hate Speech Law" that would effectively criminalize disrespect of Islam. I felt the urge to comment.

The immediate trigger was this article by Daniel Pipes published in Fox News a few days earlier. I disagree with Professor Pipes in most issues, but on this matter I felt he was right on target.
July 14, 2017 update: Nisanyan tweets that "The bird has flown away. Wishing the same for the remaining eighty million." (Turkey has a population of 80 million.)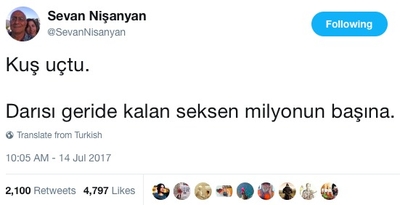 July 20, 2017 update: Details on Nişanyan's escape from prison have emerged:
Nisanyan was put in an open prison, where inmates are allowed to leave the jail premises on certain days. Nisanyan used this right to escape. He simply did not return to prison this time. Following his Twitter post July 14, Justice Minister Bekir Bozdağ hurriedly made a statement that an arrest order had been issued for the escapee. Prison officials, meanwhile, faced disciplinary procedures. ... Nisanyan's whereabouts remain unknown, but this outstanding intellectual is believed to be no longer in Turkey.
Sep. 28, 2017 update: Nişanyan, now 60, granted a written interview about his circumstances to National Public Radio.
he said his time in prison was "extremely boring." "I was treated decently, but very strictly," he wrote. "Turkey has turned into a veritable madhouse in the last few years. I feel relieved and liberated for getting out of that insane pressure chamber." ...

Even while he was in jail, new convictions piled up. He was sentenced to another 13 months for insulting Islam's Prophet Muhammad in a September 2012 blog post about hate speech, which referred to Islam's founder as "an Arab leader who claimed he contacted Allah hundreds of years ago." Nişanyan wrote that "making fun of" the prophet as a historical figure "is not hate speech." "It is an almost kindergarten-level test of what is called freedom of expression," he wrote. ...

Nişanyan told NPR he hopes to win asylum and live out his days on the Greek island of Samos in the Aegean Sea, from which he can look across the water and see the hills of his hometown. "I am not a particularly nostalgic person, but being near Sirince has certain practical advantages when it comes to organizing tours, workshops, conferences, etc."
(Click here for Nişanyan's remarkable role in restoring the village of Sirince.)
Nov. 24, 2018 update: Nişanyan has in fact been living on Samos since July 2017. He has published a book, Halim ile Selim, that, according to an article in Ahval, "discusses the existence of god(s), atheism, the religious foundations of morality, the relationship between reason and belief, and the future of religion in the contemporary world."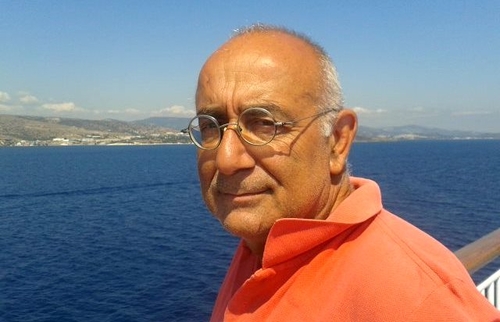 Nişanyan's free. Is that the coastline of Turkey in the background?
May 23, 2019 update: "Writer Sevan Nişanyan Granted Armenian Citizenship." He received his passport from the Armenian ambassador in Athens. "I take pride in being a member of a peaceful and civilized nation that has withstood the tribulations of history by its labor alone."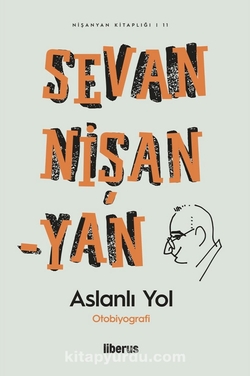 Oct. 27, 2021 update: I learned today, on Twitter, about Nişanyan's autobiography.