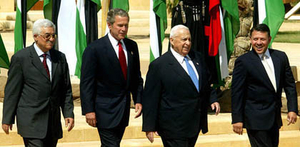 The principals: Abbas, Bush, Sharon, Abdullah.
With high expectations, "
The Middle East Peace Summit at Aqaba
" took place today. It included PA "Prime Minister" Mahmoud Abbas, Jordanian King Abdullah, Israeli Prime Minister Ariel Sharon, and U.S. President George W. Bush. It was premised on the assumption that Palestinians, given the right conditions and incentives, would end their violence against Israel and accept the Jewish state as their neighbor.
This event brings the "Eastern Question" to mind. That comprised a great argument over control the Middle East; it was the most complex, intense, and high-stakes diplomatic issue of the long nineteenth century (1789-1914), involving dozens of regional and international actors. The Arab-Israeli conflict is its worthy successor, going on for decades, focused on one main issue (in this case, the existence of Israel) even as it changes, and absorbing some of the era's finest diplomatic minds.
The Arab-Israeli conflict has witnessed a number of major turning points, usually resulting from wars, treaties, proclamations of independence, or changes in leadership. It has also had so many false starts – in particular, diplomatic plans that went nowhere. In fact, there have been so many of these that they fill a four-volume study titled Futile Diplomacy (by Neil Caplan, Frank Cass, 1983-97) – and it covers only the years 1913-56.
The Aqaba summit and its absurd premise, I predict with complete confidence, will be utterly forgotten – other than its entry in a future volume of Futile Diplomacy. (June 4, 2003)