| | |
| --- | --- |
| Salahuddin Shoaib Choudhury | |
| | |
| | |
| --- | --- |
| | Mithal al-Alusi |
| | |
On November 29, 2003, the Bangladeshi journalist Salahuddin Shoaib Choudhury was arrested as he was about to board a flight to fly to Israel to attend a writers' symposium, where he intended to call for Jewish-Muslim understanding. Charged with "sedition," he has been held in prison since then. In August, the Bangladeshi High Court rejected his request for release on bail, permitting the authorities to jail him indefinitely. In a moving article in the Jerusalem Post, Michael Freund dubbed him a "Prisoner of Zion" – like the Soviet refuseniks jailed because of their determination to reach Israel. Freund also notes that the U.S. ambassador to Bangladesh, Harry K. Thomas, Jr., has not lifted a finger for Choudhury but instead pandered to his hosts with blather about America standing proudly with Bangladesh "in a mutual dedication to the ideals of freedom and liberty." (More accurately, State's annual report on human rights year states the Bangladeshi government's human rights record in 2003 "remained poor, and it continued to commit numerous serious abuses.")
On September 10, 2004, the Iraqi politician Mithal al-Alusi actually did visit Israel, attending a conference at the International Policy Institute for Counterterrorism in Herzliya. The New York Sun reported on Oct. 5 that the former chairman of Iraq's de-Baathification committee is about to be arrested for violating a 1969 Baathist law that made travel to Israel treason. Worse, Alusi now fears for his own and his family's lives, having been threatened by terror groups and the country's intelligence services. He told the Sun that he was quietly advised to leave Iraq within two days but will not do so. "I will not give in to the Baathists or the Islamists. I made a choice to visit a country in the region, and I stand by that choice." If the police come to arrest him, he told the New York Times, "I will cooperate with the system."
Comments: (1) Sedition and treason: when will the Muslim world come to terms with the existence of Israel? When will it allow its citizens the right to travel where they wish? When will its journalists and politicians benefit from the same dignities as their counterparts elsewhere in the world?
(2) Things are far worse now than a generation ago. Note the example of Sana Hassan, the aristocratic Egyptian graduate student at Harvard who picked up and lived in Israel for several years and even wrote a memoir of her stay, Enemy in the Promised Land: An Egyptian Woman's Journey into Israel. All this took place well before Sadat's 1977 visit to Jerusalem made visiting there acceptable for Egyptians but she never paid a price for her actions. Indeed, I was in touch with both Sana and her Cairo-based immediate family at that time and so far as I recall, none of them feared for her safety.
(3) Choudhury and Alusi are heroes whose well-being must be of concern to all. Freund offers some good suggestions how to help Choudhury; in the case of Alusi, the vast Western influence in Iraq needs to be mobilized on his behalf. (October 6, 2004)
April 30, 2005 update: Wonderful news, from Richard l. Benkin: Choudhury won his release from prison today at about 7 p.m. Dhaka time. Choudhury is not bitter; he told Benkin that his seventeen months in prison "will have been worth it" if it spurs the government of Bangladesh to return to its traditional principles of tolerance and democracy.
Benkin, who took up the cause of Salah Uddin Shoaib Choudhury with selflessness and dedication, deserves the highest praise for this accomplishment, which is his. He made mountains move; in particular, he arranged for Repr. Mark Kirk (Republican of Illinois) to meet with the new Bangladeshi ambassador to Washington, Shamsher Chowdhury, and accompanied him to the meeting.
May 9, 2005 update: Amazing news, concerning Mithal Al-Alusi: Although his car was attacked in February 2005, killing his sons, Ayman, 30, and Jamal, 22, Al-Alusi not only persevered, founding the Democratic Party of the Iraqi Nation, but he attended a conference of the American Jewish Committee a few days ago in Washington, D.C. On receiving the organization's Moral Courage Award, he addressed nearly 1,000 people at its annual dinner, receiving thunderous applause and a standing ovation. "It is a great honor for me to be here on behalf of all Iraqis who are fighting against terrorism. … Thank you, America. Without your help, nothing could have changed in Iraq."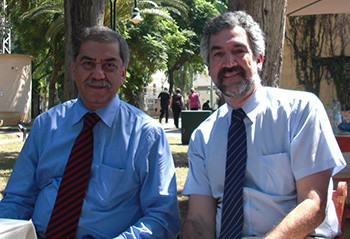 Miithal Al-Alusi and Daniel Pipes at the ICT conference, Herzliya, Israel, on Sep. 10, 2008.
Sep. 14, 2008 update
: I had the privilege of meeting Mithal Al-Alusi at the Institute for Counter-Terrorism's world summit this past week (See our picture together.) Now comes news from the new Iraq that his colleagues in the parliament have voted to
strip him of his legal immunity
because of his crime of "visiting a country that Iraq considers an enemy", in breach of a law they said had been retained since the rule of late dictator Saddam Hussein. Announced the minister for parliamentary affairs, Safaaeddine al-Safi: "In the name of the government and prime minister, we reject this visit which violated the law and provoked the feelings of the Iraqi people. The government will take all legal measures against this person." Safi also indicated that the government of Prime Minister Nuri al-Maliki would seek Alusi's prosecution. Added Hussein Falluji, a Sunni Arab parliamentarian, "Parliament also voted to prevent him from travelling out of Iraq or attending any more sessions."
In this context, it bears noting that Iraqi parliamentarians condemned their president, Jalal Talabani, and called on him to resign in July 2008, when he shook hands with Israel's defense minister, Ehud Barak, in Greece.
Comment: The prosecution of Alusi perfectly represents how deeply Iraq remains mired in the ways of the past, and how the Western occupation will come and go like a summer squall, with little lasting impact.