I will intermittently post items here in reverse chronological order to document how, despite its terrorist associations and legal tribulations, the Council on American Islamic Relations (CAIR) is gaining acceptance among the gullible, the ignorant, or the foolish as a legitimate "civil liberties group." (But, bad as things are now, it is quite inconceivable that Nihad Awad, the head of CAIR, could serve, as he did in 1996-97, on an advisory panel to a White House commission headed by Vice President Al Gore, and least of all one dealing with aviation safety and security.)
_______________
Not only did the Transportation Security Administration institute special lessons for his staff on the hajj, but it actually posted on its own website CAIR's praise of this step. Comment: I wonder when TSA will begin posting on its website my critiques of CAIR. (December 28, 2006)
| | |
| --- | --- |
| | U.S. Senator Barbara Boxer (Democrat of California) |
| | |
U.S. Senator
Barbara Boxer
(Democrat of California) bestowed her
"Outstanding Service" award
to Basim Elkarra, head of CAIR's Sacramento Valley office, in recognition of his efforts "to protect civil liberties and to build bridges among diverse communities in California." (December 18, 2006)
Dec. 29, 2006 update
: In what
Newsweek
calls "a highly unusual move," Senator Boxer
rescinded the award
to Elkarra. Her staff sent it out without her awareness, then after becoming aware of
Joe Kaufman's criticism of her
, she took another look. What she learned caused her to express "concern" about CAIR's past statements and actions, according to her spokeswoman.
Comment
: Hats off to Kaufman, who recently started a
CAIR Watch
and has been one of the organization's more persistent and effective critics.
Jan. 6, 2007 update
: The
Los Angeles Times
provides some background on
Boxer's reversal
: "Boxer, who said she was unaware of the initial decision by her office to honor Elkarra, said independent research by her office later revealed troubling information about the organization. 'It's the volume of things, not any one thing,' she said. "There's a long list'." Radio station KCBS is
more specific
: "While investigating the accusations, Boxer learned two former CAIR members were sentenced to prison for crimes related to terrorist groups, according to her communications director, Natalie Ravaitz. Ravaitz said CAIR had also refused to label Hamas and Hezbollah as terrorist organizations." KCBS also quotes Elkarra to the effect that Boxer's rescinding the award threatens the lives of Muslims: what she did
empowers the extremists. Just recently we saw a video that came out, talking about open season on Muslims. It's all over the Internet and people are bragging about killing Muslims. This has to stop. It's unacceptable. Islamophobia is real, it's here and we have to make sure our elected officials speak out against it.
After the thwarting of a major London-based terrorist plot against aircraft, with whom does the FBI hold a press conference at the National Press Club in Washington, D.C.? Why, CAIR, of course (plus other unsavory organizations, such as the All Dulles Area Muslim Society, the Muslim Public Affairs Council, the Arab American Institute, and the American-Arab Anti-Discrimination Committee. (August 11, 2006)
| | | |
| --- | --- | --- |
| | CAIR's caption to this photograph: "Ghazi, Dr. Rifai, Ahmed Rehab, Sheikh Kifah with O'Hare Airport's Chicago Field Officers and Chiefs (US Customs and Borders Protection)." | |
| | | |
No doubt, travelers through
O'Hare International Airport
in Chicago, the world's second busiest airport, will be reassured to know that the local CAIR leadership was given a
tour of U.S. Customs and Border Protection operations
there. A CAIR press release relates:
The group walked through Customs and Borders operations beginning at the point of entry for passenger arrival to customs stations, agricultural screening, and the interview rooms. The agents described the "Passenger Lookout Override" system that was implemented two months ago, in which a passenger who has the same or a similar name as a person with a suspicious record can be distinguished from the actual suspected person.
(June 26, 2006)
A press release boasts that "CAIR Offers Training on Islam for Marines, DHS Personnel." It offered "cultural and religious sensitivity training" at the Marine Corps University in Quantico, Virginia, AND sensitivity training at the Fairfax, Virginia, office of the U.S. Citizenship and Immigration Services. (June 1, 2006)
| | | |
| --- | --- | --- |
| | Sheema Khan, former head of CAIR's Canadian office | |
| | | |
"Alhamdulillah," begins the
CAIR-Canada press release
, pleased that the
Canadian Security Intelligence Service
recently invited its former chair, Sheema Khan, "to give a lecture to its personnel on the experience of Canadian Muslims after 9/11." She apparently delivered; John Dunn, director general of communications for CSIS, said that "Dr. Khan's thought-provoking presentation has helped Service employees to better understand the perspective of Canada's diverse and growing Muslim community regarding the world after 9-11." (May 12, 2006)
"CAIR-FL Trains FBI Agents on Islam and Muslims" in Florida. "Approximately 15 law enforcement agents, including members from the FBI and the Florida Department of Law Enforcement, attended the workshop that examined basic Islamic beliefs and concepts, common stereotypes of Islam and Muslims, and ways in which to improve interactions with the Muslim community. Agents were able to ask questions throughout the two-hour CAIR-FL presentation." (May 9, 2006)
CAIR issued a press release announcing that Undersecretary of State for Public Diplomacy and Public Affair Karen Hughes
hosted a conference call with American Muslim leaders, including a representative of CAIR, to discuss the latest audiotape issued by Osama Bin Laden [on April 23]. CAIR Governmental Affairs Director Corey Saylor told Hughes the tape sought to exploit legitimate Muslim grievances and issues to further Bin Laden's own twisted and un-Islamic agenda.
Comment: If Bin Laden is exploiting "legitimate Muslim grievances," how is his agenda "un-Islamic"? I can't make sense of that but no doubt it will help guide the State Department. (April 25, 2006)
A CAIR board member, Ahmad Al-Akhras, spoke (according to a CAIR press release) "to more than 1000 cadets, staff and faculty at the U.S. Military Academy at West Point, N.Y." as part of the academy's "Diversity Lecture Series." He "also participated in an evening session at which he was able to answer questions on a variety of issues related to Islam, Muslims and international events." (April 13, 2006)
The American Civil Liberties Union of Florida has elected the head of CAIR, Parvez Ahmed, to its board. As the CAIR press release explains, "CAIR and the ACLU have cooperated on a number of issues at the national level." (March 8, 2006)
The consulate at the U.S. embassy in Cairo is sending recipients of its e-mails to CAIR for information on Muhammad. Here is the complete e-mail as it was sent out, blanking only the name of the recipient:
Subject: Muhammad: Legacy of a Prophet ( Free book + DVD )
From: consularcairo@state.gov
To: xx
Sent: Monday, February 20, 2006

A lively, thorough, and revealing portrait of Muhammad - taking viewers to the world of 7th century Arabia to examine the life and history of the man whom Muslims consider to be the last prophet ...

To order your FREE DVD, please visit: http://www.cair-net.org/Muhammad/default.asp
The U.S. Institute of Peace has had a soft spot for Islamists before (see my critique of the organization at "The U.S. Institute of Peace Stumbles"), but now it has gone further and endorsed CAIR. In a special report written by Qamar-ul Huda (whom I encountered when he agitated against me speaking at Brandeis University in November 2003), "The Diversity of Muslims in the United States," Huda totally whitewashes CAIR, re-writing its press releases except for the mildest possible reference in the last paragraph about what critics say of the organization. To add to the disgrace, Huda joins Nihad Awad of CAIR as a member of USIP's Advisory Committee on U.S.-Muslim World Relations. (Feb. 1, 2006) Mar. 21, 2006 update: The members of that U.S.-Muslim World Advisory Committee met yesterday with Secretary of State Condoleezza Rice, Under Secretary of State for Public Diplomacy Karen Hughes and top officials of the National Security Council, according to a CAIR press release. It goes on to inform that "The meetings focused on issues such as the American Muslim community's role in outreach efforts to the Islamic world, how to address growing levels of Islamophobia in the West, Muslim condemnations of terrorism and religious extremism, and proposals for joint initiatives. Muslim participants included representatives from the Council on American-Islamic Relations (CAIR), Islamic Society of North America (ISNA), Muslim Public Affairs Council (MPAC), Center for the Study of Islam and Democracy (CSID), and the Islamic Center of America in Michigan."
The Broward County Board of Commissioners has appointed CAIR's Florida director, Altaf Ali, to the Broward County Diversity Advisory Council. In this capacity, states a CAIR press release, Ali "will collect and analyze information on ethnic and cultural issues, and disseminate reports to the Broward County Commission and other interested parties. The council will also develop conferences, seminars and other community-based programs designed to promote ethnic and cultural understanding in the County." (Nov. 29, 2005)
The Department of State is up to its old foolish ways. Tonight, Secretary of State Condoleezza Rice hosted an iftar dinner, and who did she invite but Nihad Awad, the head of CAIR. (Oct. 25, 2005)
Rabbi David Weizman of Congregation Beth Shalom in Clearwater, Florida, invited Ahmed Bedier of CAIR's Central Florida office to speak at the Conservative synagogue's Yom Kippur service yesterday. Bedier took the occasion to stress similarities in Judaism and Islam (noting, for example, that both Jews and Muslims were fasting that day). According to Shannon Tan of the St. Petersburg Times, "Fascinated, the group of more than 35 people peppered Bedier with questions. Why the name Ramadan? Are there religious differences between the Shiites and the Sunnis? Are all Muslims Arab? When you say praise Allah, is Allah God? What are your prayers like? … What does the Koran say about the afterlife for Jews and Christians who don't accept Allah as God?" Leslie Freedman was in the audience and commented afterwards, "It was wonderful. I loved his openness." Bedier replied that he plans to invite rabbis to speak at local mosques. "I would like to continue to reach out to other Jewish congregations in the area," he said. "We have to build those bridges of understanding." (Oct. 14, 2005) Dec. 19, 2005 update: Is CAIR now a regular presence at synagogues? Maurice Schoenbrum arranged yesterday for Temple Beth El in Salinas, California, to host Safaa Ibrahim, executive director of the Bay Area chapter of CAIR. Jan. 27, 2006 update: Now a synagogue in Woodland Hills, California, is inviting CAIR in. Rabbis David Baron of Temple of the Arts and Steve Jacobs of Temple Kol Tikva will join Ra'id Faraj of CAIR (as well as Yassir Fazaga of the Orange County Islamic Foundation) for "a frank discussion" on the state of Muslim-Jewish relations at the Shabbat service. The topic is great, but why permit Islamists to represent Muslims? This mistake both distorts the discussion and it gives CAIR an all-important Jewish imprimatur. Dec. 6, 2006 update: Thanks to something called the Israel Peace Alternatives, the head of CAIR's Sacramento Valley chapter, Basim Elkarra, two days ago lectured on "What We All Should Know About Islam" at Congregation Bet Haverim in Davis, California.
The mayor of Tampa, Florida, Pam Iorio, not only attended attended the CAIR-Florida chapter's banquet in her town on Sep. 30, but she proclamed Oct. 1 as "CAIR Day." (Oct. 2, 2005)

The Irvine branch of Wells Fargo Bank took out an ad in the southern California office's annual fundraising banquet, writing there: "Congratulations to CAIR for promoting understanding and cooperation between Muslims and people of other faiths." (Sep. 17, 2005) Dec. 1, 2006 update: That was no one-time mistake. CAIR lists Wells Fargo as a "silver sponsor" of its southern California 2006 annual banquet on p. 19 of Southern California InFocus, December 2006 issue.
Robert Edgar, general secretary of the National Council of Churches, graced CAIR's "2005 Annual Orlando Banquet" in an effort to help CAIR establish an Orlando office. Jeb Bush, governor of Florida, Charlie Crist, the state's attorney general, and Buddy Dyer, Orlando's mayor, all sent letters of congratulations to CAIR on the occasion of the event. (May 28, 2005)
San Francisco's prestigious Commonwealth Club inaugurated its new "Middle East Forum" (original name, no?) on Nov. 29, 2004, by inviting CAIR's president, Omar Ahmad, to speak about "American Muslims: Challenges and Opportunities." Ahmad, famous for his 1998 statement that "Islam isn't in America to be equal to any other faith, but to become dominant. The Koran . . . should be the highest authority in America, and Islam the only accepted religion on earth," was on best behavior, spouting pieties about American Muslims helping to build "a bridge between America and the Muslim world." (March 2005)
I posted a weblog entry today on the shame of Fox Broadcasting having accepted CAIR as its Muslim interlocutor. See it for full details. (Jan. 14, 2005)
"This group – many of you friends of mine – does a great job of showing the balance of the Muslim community as committed Americans . . . . You have shown the most commitment to democracy of any group I've ever known." So spoke Paul Welday, Republican chairman of Oakland County, Michigan, at a CAIR fundraiser on Oct. 10, as reported by Debbie Schlussel on her blog. The only good news is, as Schlussel puts it, "Despite his drooling and gushing, the Muslim audience loudly booed Welday." (Oct. 11, 2004)
No less a personage than the mayor of Lexington, Kentucky, Teresa Isaac, participated in the inaugural festivities welcoming the formation of a Kentucky chapter of CAIR. And the press – you couldn't pay for better reviews. The Lexington Herald-Leader ran a puff piece under the (ungrammatical) headline "Local American-Islamic relations group forms: Their goal is greater understanding." (Aug. 22, 2004)
The Canadian Civil Liberties Association (CCLA) has elected Sheema Khan, head of the Canadian Council on American-Islamic Relations, to its board of directors for a 2-year term. To mark the occasion, John McCamus, chair of the CCLA board, stated that "CCLA is delighted with the election of Dr. Khan to its Board of Directors. We look forward to her valuable contributions to our efforts at advancing civil liberties, protecting human rights and promoting non-discrimination." (August 20, 2004)
The FBI's Miami Division met with the CAIR's Florida office "to discuss ways to promote better relations between law enforcement and the state's Muslim and Arab-American Communities. Officials from the Miami-Dade Police Department, the Broward Sheriff's Office, U.S. Attorney's Office, the Florida Department of Law Enforcement, and the Intergovernmental Bureau of Homeland Security also took part in the meeting. … There was a broad agreement at the meeting that Muslim advocacy organizations like CAIR-FL must be more involved in providing cultural and sensitivity training to law enforcement officials." (July 30, 2004)
The House Democratic leadership (Nancy Pelosi, John D. Dingell, John Conyers, Charles Rangel) and other House Democrats (Gregory Meeks, Nick Joe Rahall) met today with CAIR and a host of other radical groups (Islamic Society of North America, Indian Muslim Council, Muslim Public Affairs Council, Muslim American Society, Association of Pakistani Physicians of North America, Muslim Bar Association, National Association of Muslim Lawyers, and the Universal Muslim Association of America). (July 15, 2004)
The National Aeronautics and Space Agency is hosting on July 7 a two-and-a-half-hour-long "Sensitivity and Diversity Workshop: Muslims in the Workplace," according to a posting. But a blast e-mail and flyer sent out today by Syed Ameen of NASA's Islamic Study Group spells out the program in more detail: "The presentation will include an outline of information relevant to managers and co-workers of Muslims and is designed to assist employers in formulating and implementing policies that will help create a culturally-sensitive workplace environment. It is presented by representatives of the Council on American-Islamic Relations (CAIR) in Washington DC." (June 29, 2004)
The Detroit Police Department recently invited CAIR's Michigan office to participate in its annual Homeland Security Reserve/Auxiliary Conference in Southfield, Mich. CAIR recounts that the assistant director of the Michigan office, Celena Khatib, "offered Islamic cultural sensitivity training to conference participants" and after the presentation, CAIR representatives were invited to conduct more training sessions for local jails, police departments and the Investigations office of the Michigan Secretary of State. (April 27, 2004)
Ohio law enforcement officials agreed to hold a "joint educational seminar" on April 20 with the Ohio office of CAIR. Federal agencies making this error of judgment included the Department of Justice's Community Relations Service, the Federal Bureau of Investigation, and the Transportation Security Administration. State agencies included the Ohio Civil Rights Commission. Local ones included the Columbus Community Relations Commission, the Columbus Police Department, the Westerville Police Department, and the Franklin County Sheriff's Office. Jad Humeidan, the head of CAIR's Ohio office, professed himself "extremely pleased with both the large turnout and the great interest demonstrated by the officials in what CAIR had to say." (April 22, 2004)
Two New Jersey politicians, Rep. Bill Pascrell and Senator Jon S. Corzine, both Democrats, took part in the Annual Community Brunch co-sponsored by CAIR and a slew of other radical organizations, reports Joel Mowbray in the New York Sun (March 29, 2004)
The Toronto-based Globe and Mail daily newspaper has engaged the services of Sheema Khan, chair of the Council on American-Islamic Relations Canada, as a columnist. Her first column, titled "Coalition of the Peaceful: Muslims against Terror," gets her off to a typical CAIR start: she writes that although Islamic "institutions have unanimously condemned terrorism, their statements have largely been unreported by the media." No, Ms Khan: Statements by Islamist groups have been extensively reported but they have also been discounted on account of their "We condemn, but …" quality. (March 20, 2004)
KERA ("public TV and radio for North Texas") announces that it and CAIR together are presenting an advance screening of the PBS series "The New Americans" on March 18 in Richardson, a suburb of Dallas. KERA informs readers that the screening will feature two items: an episode from "The New Americans" about a Palestinian immigrant and a segment from "The Islam Project." (March 15, 2004)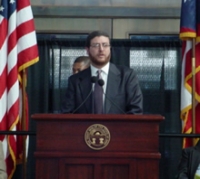 Dr. Ahmad Al-Akhras, president of the Council on American-Islamic Relation's Ohio office, recited the opening chapter of the Qur'an
Elderhostel ("a not-for-profit organization dedicated to providing extraordinary learning adventures for people 55 and over") is pleased to announce a new series of programs titled "Building Bridges to Islam" in March and April 2004. So far so good. But the first ones, to be held in California and Florida, will be held in collaboration with CAIR. Elderhostel's publicity incorrectly describes CAIR as "a mainstream organization that regularly works with national law enforcement authorities, elected officials, media and other civil liberties and minority groups." Of course, the Elderhostel program contains standard CAIR boilerplate about "the commonly misunderstood aspects of Islam, such as rights of women, jihad, and democracy." (March 4, 2004) March 14, 2004 update: Responding to a protest about the Elderhostel-CAIR connection, Jay Rittenberg of Elderhostel's Customer Service Group wrote this drivel: "Please note that CAIR is America's largest not profit organization that promotes civil rights for Muslims in America. Its aims are to promote a better understanding of Islam and the American Muslim community. The CAIR chapters that Elderhostel is currently working with to provide programming have worked with the Federal Government to educate and train US troops and federal law enforcement officials on the Islamic community and culture." March 30, 2005 update: The Chicago Tribune's puff piece today on CAIR and Elderhostel indicates that a program slated to run on four dates proved so popular—with over 300 people on a waiting list—that it was expanded to two more dates. More than that, the "immense interest in Islam by America's eldest generation" means that close to 5,000 people have enrolled to be indoctrinated by CAIR. They pay $39 and for that get a mosque tour, three lectures, a Middle Eastern lunch, "afternoon prayers," and a town hall-style discussion.
The Ohio State Senate invited Ahmad Al-Akhras, president of the Council on American- Islamic Relation's Ohio office to recite a prayer to open today's session. (Jan. 21, 2004)