To much attention, the leftist Center for American Progress just issued a report, Fear, Inc.: The Roots of the Islamophobia Network in America, written by Wajahat Ali and no less than five co-authors (Eli Clifton, Matthew Duss, Lee Fang, Scott Keyes, and Faiz Shakir). It's the predictable leftist-Islamist alarmism about those of us trying to warn the world of lawful Islamism, with a specific focus on five individuals - Frank Gaffney, David Yerushalmi, Robert Spencer, Steven Emerson, and myself.
The report does have one original element, however, a calculation that "seven charitable groups provided $42.6 million to Islamophobia think tanks between 2001 and 2009." The reporting on Fear, Inc. has focused on this $42.6 million number. A table on pp. 14-15 of the report shows how this number was arrived at. Curious to test its accuracy, I asked a colleague to check the nearly $6 million that the report indicates was received by the Middle East Forum from six of those seven foundations over the nine years.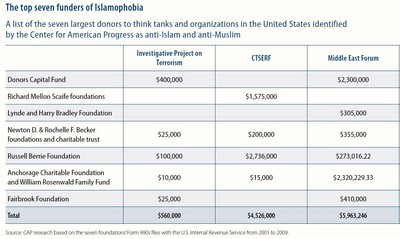 An extract from the CAP study on the funding of critics of lawful Islamism.

I learned that CAP got two right (Bradley and Becker) and four wrong (Donors, Berrie, Anchorage, and Fairbrook). To give one example, CAP lists Donors Capital Fund providing $2.3 million to us during the period 2001-09; in fact, the correct number is $2.6 million.
Comments: (1) In addition to getting the larger picture wrong, the CAP report cannot even get the details correct. (2) It's pretty rich that CAP, an organization whose 2009 budget was $38,187,695, focuses on 8 organizations receiving about that sum over a period of 9 years. (September 2, 2011)
May 21, 2013 update: How rich. Not only does CAP enjoy a budget many times larger than all of the organizations it attacks but, it turns out, it's secret Business Alliance has a host of corporate donors. (I can state for the record that the Middle East Forum has no such donors.) This information has, surprisingly, been revealed by Ken Silverstein in the Nation magazine. Here's a taste of his long article, "The Secret Donors Behind the Center for American Progress and Other Think Tanks":
The Center for American Progress, Washington's leading liberal think tank, has been a big backer of the Energy Department's $25 billion loan guarantee program for renewable energy projects. CAP has specifically praised First Solar, a firm that received $3.73 billion under the program, and its Antelope Valley project in California.

Last year, when First Solar was taking a beating from congressional Republicans and in the press over job layoffs and alleged political cronyism, CAP's Richard Caperton praised Antelope Valley in his testimony to the House Committee on Energy and Commerce, saying it headed up his list of "innovative projects" receiving loan guarantees. Earlier, Caperton and Steve Spinner—a top Obama fundraiser who left his job at the Energy Department monitoring the issuance of loan guarantees and became a CAP senior fellow—had written an article cross-posted on CAP's website and its Think Progress blog, stating that Antelope Valley represented "the cutting edge of the clean energy economy."

Though the think tank didn't disclose it, First Solar belonged to CAP's Business Alliance, a secret group of corporate donors, according to internal lists obtained by The Nation. Meanwhile, José Villarreal—a consultant at the power-house law and lobbying firm Akin Gump, who "provides strategic counseling on a range of legal and policy issues" for corporations—was on First Solar's board until April 2012 while also sitting on the board of CAP, where he remains a member, according to the group's latest tax filing.
Feb. 13, 2015 update: I take a look at the 2nd edition of Fear, Inc. today at "What Causes American Fear of Islam and Muslims?"