Starting in 2006, the Malaysian-based Islamic Fashion Festival carries the slogan "Discover the Beauty of Modesty" and aims to "take an innovative spin on the conventional fashion exhibition to boldly present Islamic culture and attire on an international platform," It offers such features as "Hijab Fashion" and "Abaya Fashion." The IFF has staged events in Kuala Lumpur, Abu Dhabi, Astana, Dubai, Jakarta, Monte Carlo, New York, Singapore and Bandung. Next month, the show will be brought to London.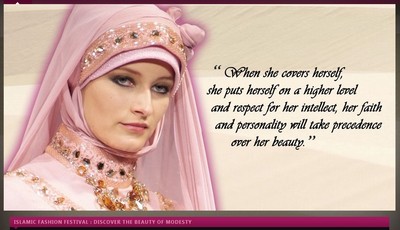 The Islamic Fashion Festival's paragon of beauty.
Comes a news item from the Malaysian National News Agency that the IFF is now "preparing its fashion designers to show off its creations at one of world's most prestigious fashion modelling catwalk. IFF, under the patronage of Malaysia's First Lady, Datin Seri Rosmah Mansor, has been invited to participate in the Milan Fashion Week." The rest of the article details the excitement and planning for this debut on the world stage on Sept. 19-25, 2012.
I mark this and plan to follow the IFF's career in Milan: Will hijabs and abayas take the fashion world by storm? Does this new form of da'wa succeed and the Islamification of the West continue? (June 26, 2011)
July 1, 2011 update: Andrea Morigi kindly points out an article he wrote in Libero, "L'Islam in passerella a Milano" (Islam on the catwalk in Milan ), in which he checked with the organizers of the Milan Fashion Week and finds that the IFF was, in fact, not invited to participate in the show.
Per ora tuttavia il grande salto nel circuito della moda mondiale è soltanto una speranza, nemmeno molto fondata. L'invito a prendere parte alle sfilate, che sarebbe stato rivolto all'Iff, risulta soltanto alla Bernama, l'agenzia nazionale di stampa della Malaysia. Al contrario da parte della Camera della Moda, ente organizzatore della Settimana della Moda, interpellato da Libero per una verifica della notizia, arriva una smentita secca. Se c'è un invito, non è certamente partito da loro. E comunque nel loro calendario non risulta proprio nulla del genere, né per le collezioni femminili né per quelle maschili.
July 2, 2011 update: A reader points out the existence of stylish Islamist clothing for men as well, such as these three models showing off a jackets while engaged in a funeral ceremony. The striking thing is how Islamists appropriate a quite ordinary piece of clothing.
Male models in an Islamist clothing show.