Islamic honor killings normally target the women-folk, bearers of the family honor ('ird), not the men involved with them. But in some cases, to be documented here, men are killed or injured for reasons related to family "honor." This weblog entry documents those rare occurrences.
---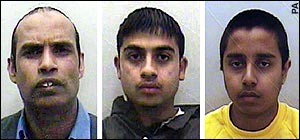 Chomir Ali (left) and his two sons Mohammed Mujibar Rahman (centre) and Mamnoor Rahman.

Gets girl pregnant, her lover murdered by her relatives: A Bangladeshi father and his two teenage sons were just found guilty of an honor killing in Oxford, England. What makes the case unusual is that Chomir Ali, 44, ordered Mohammed Mujibar Rahman, 19, and Mamnoor Rahman, 16, to kill not his daughter and their sister, Manna Begum, but the 19-year-old Iranian Muslim boy who made her pregnant, Arash Ghorbani-Zarin. This horrid incident (Ghorbani-Zarin was stabbed 46 times, mostly in the chest) brings Italy to mind rather than the Muslim world, where the pregnant daughter/sister would usually be the victim. (November 5, 2005) Dec. 13, 2005 update: At sentencing today, Chomir Ali got a minimum of 20 years in jail, Mohammed Mujibar Rahman got a minimum of 16 years, and Mamnoor Rahman a minimum of 14 years for their parts in the murder.
Preventing marriage to an unworthy bride: Rachid (30) and Mohamed (33) and a brother-in-law, Ali (31) tried to abduct their brother/brother-in-law on his wedding day in Brussels and spirit him off to Morocco, their ancestral country. They took these steps because they considered his bride unworthy, the prosecution asserted. (Although of Moroccan origin, the girl had Spanish citizenship.) Failing in this, during the wedding ceremony on July 5, they dealt the bridegroom several blows and tried to tie him down to force him into their car. The wedding party members intervened, prevented the abduction, and called the police, who arrested the trio. Comment: The Islamic doctrine of kafa'a, requires that the bridegroom be socially on a par with his bride, not the reverse, so this case comes as as a surprise. (July 7, 2008)
Fiancé killed by intended's brother in Canada: As Feroz Mangal and Khatera Sadiqi, 23 and 20, sat in a car on Sep. 19, 2006, they were shot by Khatera's brother Hasibullah Sadiqi, 23. He killed them because Khatera decided to marry without her father's permission and then moved into the house of Feroz' family before their wedding. Almost three years later, he has been found guilty of two counts of first-degree murder and sentenced to life in prison with no chance of parole for 25 years. (May 31, 2009)
Man attacked with acid for relationship with a married woman: A Danish man of Asian origin, 24, is in a critical condition, after an attack by four men about 2 a.m. on July 2 in Marchant Road, Leytonstone, east London, due to his having "insulted" a religious family by developing a close relationship with a married woman. The assailants poured sulphuric acid on his face and down his throat, stabbed him twice in the back, and attacked him with bricks. He ended up blinded in one eye, with severe injuries to his tongue and throat, 50 percent burns over his body, and fractures to his face. He is on life support in Broomfield Hospital, Chelmsford. His condition is described as critical but stable.
One eyewitness recalled: "I saw four men lashing out and kicking him on the ground. I shouted and they ran off, then one went back and started on him again. The poor man got up and ran straight into a tree, then staggered back to his house, tugging at his burning clothes and banging on doors shouting for water." Kay Dice, 52, another witness, added: "He was screaming and screaming, but he spoke little English and some people thought he may have just had too much to drink. I thought he had a huge cross on his back, but it was where his skin had peeled away."
The police arrested seven young men. Five are free on bail and two, ages 19 and 25, have appeared in court, charged with attempted murder. (July 23, 2009)
Homosexuals punished or killed: A topic conspicuously missing here, so far, is the treatment of Muslim homosexual men in the West. To give some idea of the problem, here are some extracts from a study out today from Human Rights Watch, "'They Want Us Exterminated': Murder, Torture, Sexual Orientation and Gender in Iraq," about the same issue in Iraq: In addition to women, men
also bear the "honor" of their families and tribes. Human Rights Watch heard testimonies from Iraqi men who faced violence or murder because they were not "manly" enough, incurring shame on the whole extended household. These stories suggest the importance of treating "honor" as an issue, and an incitement to rights violations, that cuts across genders.

Punishments for not being "man" enough start when young. "Since I was 12, my father and my brothers beat and insulted me for my feminine appearance and behavior," Tayyib, 24, from Baghdad, told us. "My father beat me all the time, and he also burned my hands and arms with heated metal. My brothers would beat me up whenever they saw me playing with girls, for example. My mother tried to protect me, but she couldn't do anything to stop it."
The study goes on to give several other accounts along these lines. (August 17, 2009)
Attempt at male honor killing goes awry, innocent couple killed: A jury in the Preston Crown Court in Lancashire, England, is hearing a case involving an attempted honor killing of a male lover:
Hafija Gorji was having marital troubles with her husband. Then, as Brian Cummings QC, prosecuting, recounts: "In April of last year she met Mo Ibrahim at a wedding, found him attractive and sent text messages. It soon progressed to a sexual relationship between them. In September her husband found out about the affair and assaulted her. She went to the police scared that her husband would go to Mo's house and cause a disturbance." Detectives then questioned Mo Ibrahim, who confirmed the affair and related having received a phone call from Hafija's husband, who demanded that he swear on the Koran before her family that there was nothing between them.
Less than a month later, to punish Mo Ibrahim on behalf of the family for his sexual relationship with Hafija, her brother Hisamuddin Ibrahim, 21 (no relation) ordered a firebombing. According to the prosecution, Hisamuddin Ibrahim, who lives in London, got three young men – Habib Iqbal, Mohammed Miah, and Sadek Miah (no relation), to drive from London to Blackburn to carry out the attack on Mo in the early hours of October 21, 2009, at his residence, 135 London Road. But, armed with a can of petrol, the trio confused the house and instead attacked 175 London Road, killing Abdullah Mohammed, 41, and his wife, Aysha Mohammed, 39.
Sadek Miah has pleaded guilty to manslaughter; his co-defendants have all pleaded not guilty. The trial continues. (July 3, 2010)
Two brothers kill brother-in-law: Two Pakistani nationals living in Dubai, known only as A.A. and his brother F.A. are wanted for strangling a taxi driver, M.S., 31, on Nov. 29 because he married their sister in May 2014 without the consent of the family. On arrest, A.A. admitted planning the murder of M.S. as ordered by their family back in Pakistan. They used a plastic wire used for tying pipes together to strangle him. (December 15, 2014)
Wife kills husband for raping their daughter-in-law: Prior cases here concerned men killing men; here is a case of a woman doing so.
Begum Bibi, of Khyber Pakhtunkhwa's Shangla village, Pakistan, killed her husband Gulbar Khan because "he didn't respect family and relations." She accused him of raping their daughter-in-law in the absence of their son over a three-month period. According to the Indian Express,
Khan was sleeping when his wife opened fire on him with a pistol with their daughter-in-law's assistance, police said. Begum said that Khan, in the absence of their son, forced his wife into an "illicit relationship" and the practice continued for three months, the report added. "I decided to kill him when he refused to give up his evil practice."
Comment: One wonders if she will benefit from the usual leniency afforded to "honor" killers. (June 4, 2017)
Parents murder son and son-in-law. And daughter too. Akbar and Iran Khorramdin (81 and 74, respectively) admitted to the police in a suburb of Tehran, Iran, that they had used sleeping tablets to knock out their son, daughter, and son-in-law before suffocating and stabbing them, and cutting up their bodies. They had differing reasons in each case: the son (the film-maker Babak Khorramdin, 47), because he was single and engaged in relationships with students, the son-in-law because he was abusive, and the daughter because she became addicted to drugs. Akbar told reporters, "I don't regret what I did with the cooperation of my wife. They were corrupted and I thank God." (May 21, 2021)