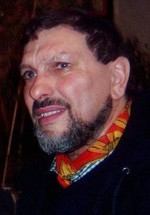 Salem Chaker, Professor des universités Berbère, Institut national des langues et civilisations Orientales, Paris.
I've been studying the Middle East and Islam since 1969 but there is still so much to learn. It was only on visiting
Salem Chaker
, professor of Berber studies at the University of Paris in March 2006 that I realized the vibrancy and oppositional nature of Berber culture – or to use the preferred nomenclature, Amazigh culture. As Chaker's professional position suggests, the Amazigh have a considerable presence in France as part of the immigration from Morocco, Algeria, and Tunisia. In the English-speaking world, however, they remain almost invisible.
MEMRI took a small step today toward changing that by publishing a fascinating collection of North Africa press commentaries under the title, "'Berbers, Where Do You Stand on Palestine?'" As the MEMRI introduction explains:
Throughout the recent fighting in Gaza, the mainstream North African press was nearly unanimous in its support for the Palestinians and its condemnation of Israel. Some Amazigh (Berber) activist groups, though, made a point of distancing themselves from this mainstream view - for which they were attacked by the Islamist press. While a number of conservative and left-wing Amazigh groups expressed support for the Palestinians, others expressed contrary views, to underline their non-Arab identity and their belief that North Africa should detach itself politically and culturally from the Middle East.
Then follow six excerpts from the Moroccan and Algerian media concerning Berber attitudes towards the war in Gaza. Some of it is bitter indeed, as, for example, a commentary by Moha Moukhlis, a Berber activist:
And the so-called 'Arab street[?]' A brainless herd that has been indoctrinated and riled up and that has lost all sense of gravity and direction. They express their hatred for the Jews, whom they hope to exterminate from the face of the Earth… Yet this 'Arab street', which sees itself as the voice of the [world's] peoples, never dared to lift a finger against the crimes committed by the Hamas fundamentalists, or by the Arabo-Islamist regimes against non-Arab populations in Darfur, Kurdistan, Egypt, Syria, Libya, Algeria, or Niger. No! [And] the rights of the Amazigh people are supposed to be sacrificed on the altar of [this] Arab fundamentalism.
For other MEMRI reports on the Amazigh, see here, here, here, and here.
Comments: (1) Mercilessly repressed on every level – linguistic, cultural, religious, political – the Amazigh nonetheless show signs of defining their identity, in part through emigration and in part through new media. (2) It is time for Washington to begin factoring them into its foreign policy. (February 26, 2009)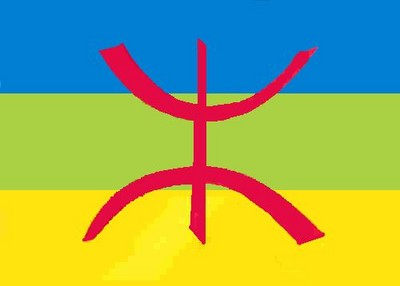 The Amazigh flag.