"Some Congressional Leaders Worry Gaza Pullout Amounts to Appeasement": That's the eye-catching title of an article by Geostrategy-Direct. The text is no less interesting:
Nobody in the Republican-controlled Congress wants to be seen as opposing the wishes of both Israeli Prime Minister Ariel Sharon and the Bush administration. But quietly, the unilateral Israeli pullout from the Gaza Strip is making some prominent House and Senate members nervous.
The article goes on to give one specific quote, from Rep. Dan Burton, (Republican-Indiana) in a speech on the House floor on June 20.
Personally, I will not second guess the prime minister [of Israel]'s wisdom. I very much hope that he is right. But again, my experience tells me that if you take steps to appease an enemy you only give him a green light to put more pressure on you. In my opinion, it is imperative and critical to U.S. national security that we as policymakers understand the consequences should the Israeli disengagement plan fail to live up to expectations.
This cautious demurral follows in the tradition of other American politicians who worry that the Israeli government is not taking its own or American security enough into account. Here is how I summed up the views of two prominent senators in a December 2000 Commentary article:
Senator Charles Schumer of New York, a Democrat, has said that he would, for the Israeli's own protection, "put more pressure on them to do more to go after Hamas and the terrorist groups," while Jesse Helms of North Carolina, a Republican, responded to last summer's Camp David summit by saying that in his opinion, Barak's concessions there "went too far" and that the borders contemplated at the summit "leave Israel vulnerable."
My conclusion to that article, written at the tail end of the Oslo process, is worth hauling out again as the Gaza withdrawal looms large: "Israel's acute demoralization thus places upon the United States an urgent and unusual burden: the need to firm up a democratic ally's will to resist. One can only hope, for the sake of both countries' interests, that Americans rise to this challenge." (August 2, 2005)
Apr. 5, 2006 update: Again, Geostrategy-Direct pursues this theme:
Bush and some of his aides have been quietly concerned over the image of Israel as a country ready to withdraw in the face of terrorism. Privately, leading aides and strategists believe that Israel's hesitancy to fight Hamas, Hizbullah and other terrorist groups could encourage Al Qaida and those sworn to defeat the United States. They also see Israel's failure to defeat Palestinian insurgents as encouraging Iran's belligerency. "Israel screwed us up with its unilateral withdrawal plan because this is what is expected of us in Iraq," a senior Bush aide said in a recent private conversation with a Republican House member. "But we can't be seen as intervening."
Apr. 13, 2007 update: In December 2002, when he was chairman of the Senate Judiciary Committee, U.S. Senator Arlen Specter (Republican of Pennsylvania) learned that Marwan Barghouti's right-hand man, Nasser Abu Hamid, had been sentenced a decade earlier to nine life sentences for his murderous ways, only to be released in 1995 by the Israeli government as a "confidence building measure." Then, in 2002, Abu Hamid, was re-indicted and re-convicted, this time sentenced to seven life sentences plus 50 years imprisonment.
Appalled by Israel's release of Abu Hamid, Specter asked then-U.S. Attorney General John Ashcroft for the extradition of Hassan Salame, a leader in the Izz ad-Din al-Kassam Brigades who had been sentenced in 1996 to 50 life sentences for his role in killing civilians in Israel, three of them U.S. citizens. Specter explained this unusual request on the grounds that "There is no reason in the world for this murderer not to be extradited to the US, in order to be punished for an offense that bears the death penalty." He was trying, in brief, to make sure that Salame would not be released as Abu Hamid was.
May 30, 2007 update: Secretary of State Condoleezza Rice, of all people, took a harder line than the Olmert government yesterday, when she discouraged negotiations with Syria, though she did so to keep negotiations with the Palestinians alive. According to a report in the Washington Post,
Israeli officials have confirmed Israeli news media reports that there is intense discussion about whether to pursue a peace agreement with Syria, which would in effect abandon the Palestinian track for now. Syrian President Bashir al-Assad has strongly suggested he is interested in reaching an agreement similar to one nearly concluded by his late father a decade ago, but Israeli officials are unsure whether he could actually deliver a deal. ...

Rice briefly met with the Syrian foreign minister, Walid al-Moualem, in Egypt this month to discuss the situation in Iraq, ending the administration's diplomatic isolation of Syria. But she indicated that she, too, had doubts the Syrian government was ready to negotiate. "My understanding is that it is the view of Israelis, and certainly our view, that the Syrians are engaged in behavior right now that is destabilizing to the region."
July 17, 2007 update: "Israel Embrace Of Terror Organization May Cost Congressional Support For Jewish State," writes David Bedein in the Philadelphia Bulletin. He notes that the government of Israel consistently pretends that the PLO has (1) ratified the September 1993 Declaration of Principles (DOP) between Israel and the PLO and (2) cancelled the 1968 PLO Covenant, which explicitly calls for Israel's destruction.
This old news is newly relevant, Bedein writes, as the Palestinian National Council (PNC) convenes. It can take these two steps, but will it? Bedein
asked Israeli officials if they will demand that the PNC finally ratify the DOP and cancel the covenant. The Israeli spokespeople would not answer. PLO spokespeople, however, made it clear that the PLO is not being asked by Israel to ratify the DOP or cancel the PLO covenant.

The PLO therefore remains a terrorist entity. That means that the decision of the government of Israel to arm Fatah technically makes the Israeli government an official sponsor of a terrorist entity.

While the Bush administration concurs with Israeli support of the Fatah, the March 2002 U.S. designation that defines the Fatah al-Aksa Martyrs Brigade as a terrorist organization has not changed. Under U.S. law, any government that aids and abets an organization defined as a terrorist entity will forfeit aid and assistance. In other words, the Israeli government, in a move to placate the U.S. administration, may undermine its own support base with lawmakers of the U.S. Congress.
July 23, 2014 update: When the Federal Aviation Administration banned U.S. carriers from flying to Israel for a day, Sen. Ted Cruz (Repulican of Texas) accused the Obama administration of using a federal regulatory agency "to launch an economic boycott on Israel, in order to try to force our ally to comply with his foreign-policy demands," thereby raising a question no Israeli politician would dare touch.
Dec. 5, 2016 update: Sen. Lindsey Graham (Republican of South Carolina), the chairman of the U.S. Senate Foreign Operations Subcommittee, has announced that, even against the wishes of the Government of Israel, the Senate will pursue legislation to cut funding to the Palestinian Authority and Egypt. Yaakov Katz of the Jerusalem Post explains that Graham
expects Israel to oppose both moves but says he will move forward regardless. He revealed that Prime Minister Benjamin Netanyahu had personally asked him during Israel's negotiations with the White House over a memorandum of understanding for a new military aid package to suspend his efforts in the Senate to get Israel more money than initially agreed upon.

According to Graham, he was offended by Netanyahu's request. Graham said the first piece of legislation is called the "Taylor Force Act," named for the US military veteran who was killed in a Palestinian terrorist stabbing in Tel Aviv earlier this year. Force's parents live in South Carolina. ...

Similar legislation is pending for Egypt, he said, due to Abdel Fatah al-Sisi's recent decision to approve legislation that cracks down on NGOs operating in the country. Graham said that he traveled to Cairo, met with Sisi to "help him" and persuade not "go down the wrong road" but that once he did, the Senate would need to take action....

Asked how he would respond if Israel requested that he refrain from advancing the legislation, Graham said bluntly, "I don't care."
Nor is that the only issue: "Graham didn't hide his frustration with Netanyahu for deciding in September to sign the new 10-year MOU, a $38b. military aid package, with Obama. ... Israel, Graham added, 'better get ready to send back the check' since Congress will move forward and approve more than agreed upon between Netanyahu and Obama.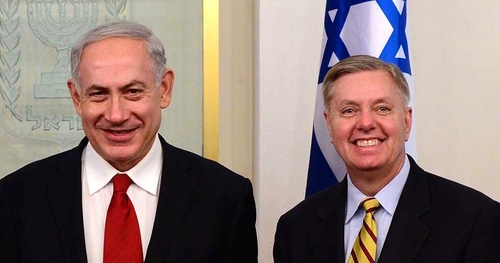 Benjamin Netanyahu and Lindsay Graham.