"Retired Gen. Çevik Bir jailed in postmodern coup case" reads the headline in Today's Zaman, complete with a picture of a policeman accompanying Bir as he left a courthouse after being arrested.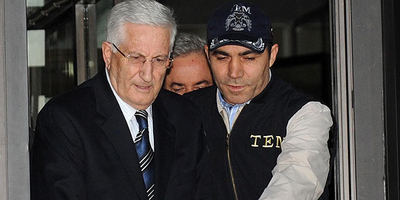 Bir is the Turkish military figure I have had the most contact with, so his arrest has a personal feel that the other incarcerations did not.
Here is a picture of him presenting me with a souvenir gift at military headquarters in Ankara in 1997.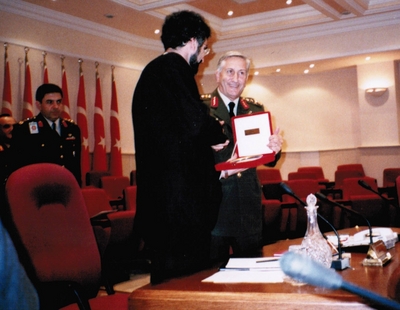 This development is a direct consequence of the military's capitulating to Erdoğan in July 2011. (April 16, 2012)
Apr. 26, 2012 update: The AKP geniuses have now decided that I, of all people had a role in the 1997 military coup that overthrew the Erbakan government; see here and here. Even the country's leading columnist, Cengiz Çandar, has jumped on this bandwagon. (For an English-language interview with him, see "US, Israel behind Feb. 28 coup d'état, claims Çandar."). They conclude this in part from my connection to Çevik Bir, in part because he co-authored an article, "Formula for Stability: Turkey Plus Israel," in the Middle East Quarterly, the journal I founded and publish. They also focus on an article of mine, "A New Axis: The Emerging Turkish-Israeli Entente," that I wrote in 1996, which one Turkish newspaper helpfully translated today (as "Türk Israil Anlaşmasiyla Ortaya Çikan Yeni Eksen"), complete with an incendiary headline, "Siyonistlerin Gözüyle 28 Şubat" ("February 28 through Zionist eyes") and scare bolding.
Dec. 19, 2013 update: Bir and four other generals have, according to AA, been released from Sincan prison "under condition of judicial supervision. The defendant generals have been banned on leaving the country, and they have been stipulated to append a signature once in every fifteen days."
Apr. 13, 2018 update: Bir (and twenty others) has been sentenced to life in prison for his role in 1997.
Aug. 20, 2021 update: From Ahval:
An Ankara court on Thursday [Aug. 19] issued its final ruling to convict 14 former soldiers in the case regarding the 1997 military memorandum, dubbed the February 28 coup. ... With the final verdict announced, the court sent out arrest warrants for the former generals and sent notices to the Turkish Chief of General Staff for the removal of their ranks. ...

Retired general Çevik Bir, the second chair of the Chief of Staff at the time, was also detained from his home in Milas, Muğla.
Sep. 7, 2021 update: Bir, 82, suffers from Alzheimer's and cannot take care of himself. Nonetheless, the court did not release him on health grounds.