Only 13 years ago the Turkish and Syrian governments came close to war, a culmination of long-existing tensions over borders, terrorism, water, contending alliances, and domestic factors. From an account of mine about the mood in October 1998:
On Friday, [Oct. 2,] the Turkish chief of staff Huseyin Kivrikoğlu said relations with Damascus had already become an "undeclared war." President Suleyman Demirel announced that "we are losing our patience and we retain the right to retaliate against Syria." He also put the Syrians on warning: "Those who expect benefits from terrorism have to know that they will also suffer from terrorism in the future." Prime Minister Mesut Yılmaz accused Syria of being "the headquarters of terrorism in the Middle East" and reportedly warned Damascus that the Turkish army is on stand-by, "awaiting orders" to attack. A "crisis committee" has apparently been put together at the Turkish prime minister's office to deal with this issue.

Newspapers bristle with talk of military plans. A leading daily announced that the army's plans begin with air strikes on Syrian military airports as well as radar and missile installations; a land-based incursion could be considered later on. Another newspaper predicted that Turkish planes could reach the terrorist camps in Lebanon in a half-hour.
I quoted a former U.S. ambassador to Damascus to the effect that "the only thing that would delay the Turks in an invasion of Syria would be the need to stop and drink tea."
But the crisis was averted, then Hafez al-Assad died in 2000 and the AK Party (Adalet ve Kalkınma Partisi) came to power in 2002. For nine years, relations improved between the two states. In October 2009, for example, Turkish and Syrian forces carried out joint military maneuvers near Ankara and a "Turkey-Syria High Level Strategic Cooperation Council" came into being, then promptly announced the signing of almost 40 agreements to be rapidly implemented. Turkish prime minister Recep Tayyip Erdoğan and Syrian president Bashar al-Assad vacationed together in Turkey in summer 2008. Even the border problem concerning the Turkish province of Hatay was shelved, if not solved.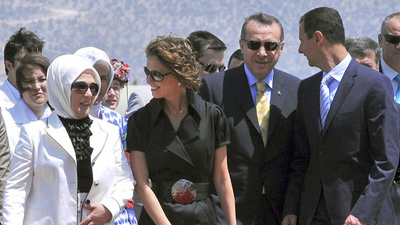 Bashar (right) and Asma al-Assad (second from left) with Recep Tayyip Erdogan and wife Emine in Bodrum, Turkey, August 2008.
Then, of a sudden, the intifada in Syria has challenged if not wrecked this near-decade of comity. As Bashar al-Assad cracked down on his rebellious subjects and they fled to Turkey, a new crisis, quite unrelated to the old one, emerged. Muhlis Kaçar reports in Zaman newspaper that "Syria's operations close to border may spark clash with Turkey," relying on the analysis of Veysel Ayhan of the Center for Middle Eastern Strategic Studies (ORSAM). Ayhan warns that
Syrian refugees in a refugee camp in a border town in Hatay province of Turkey on June 13, 2011. (Reuters/Osman Orsal)

Turkey will not be a bystander if and when the Syrian army, which is located close to the Syrian-Turkish border, starts killing civilians in front of the eyes of Turkey. "Remember when NATO was accused by the international media and public of not being able to prevent 8,000 Muslim Bosnians from being murdered in front of the world's eyes? As a member of NATO and a country whose border is about to witness such a massacre by the Syrian army, Turkey will not allow such a thing to happen again, especially before its own eyes," Ayhan told Today's Zaman.

Top Turkish political and military officials have been paying visits to the border region lately to check on the status of Syrian refugees and get a perspective on the situation first hand. The high-level appearances sent a strong message to Syrian leadership that Turkey will not remain indifferent to what has been happening along the border areas with Syria, experts argued. … According to Ayhan, all of these top-level visits of Turkish officials to the region send a clear and serious message to Syria that Turkey will not close its eyes to the killings of civilians at its elbow. "Yet I have doubts about how much of those messages will be understood by the other side," Ayhan said. …

Ayhan says that if the Syrian army steps in and harms those people along the border this will have grave consequences. He also warns that Turkey will not stay put in the event that the Syrian army moves into the area, especially with an intention to conduct mass killings of its own people with whom many in Turkey share historical, cultural, religious and familial ties.
Also, a report today in the Iranian press indicates Turkish violation of Syrian airspace.
Comment: In contrast to 1998, when I saw the Turks spoiling for a fight with Assad over a host of unresolved issues, this time I see the signals from Ankara as defensive and humanitarian in nature; more than anything else, Erdoğan et al. really want to get back to business-as-usual with their Damascene counterparts. (June 19, 2011)
June 24, 2011 update: "Syrian troops said to mass on border with Turkey" reads the Los Angeles Times story by Alexandra Sandels. Excerpts:
Syrian army units massed near the border with Turkey on Thursday, according to Syrian pro-democracy activists and media accounts, with some troops, backed by tanks, rolling into a village close to makeshift refugee camps housing civilians who fled villages in northwest Syria. … An activist group, the Local Coordination Committees in Syria, said 40 tanks had been deployed in the border village of Khirbet Jouz and that snipers had taken positions on rooftops. … Video aired by the Al Jazeera news channel showed Syrian military activity in full view of the Turkish border, including tanks with Syrian flags on a nearby hill and troops atop a tall building. … The Associated Press reported that Turkish troops in the border area moved their positions back several hundred feet in an apparent bid to avoid a confrontation with the Syrian forces.
June 27, 2011 update: War talk is heating up, according to Turkey's Zaman newspaper:
"Turkey informed Britain, France, Italy, Germany and the North Atlantic Treaty Organization (NATO) leadership of the possibility that it would launch an offensive in … Aleppo, Homs, Hama and Latakia," As-Seyassah daily quoted an unnamed British officials as saying, according to the Lebanese news website nowlebanon.com. …

The Syrian army is reportedly reinforcing troops near the Turkish border to prevent further inflows of refugees towards Turkey. The Turkish military is also reportedly considering reinforcing border troops. Senior Turkish commanders have recently traveled to the border province of Hatay to inspect the border area.

"Turkish officials fear the possibility of the Syrian army committing mistakes on its borders, which might oblige the Turkish army to cross the Syrian border," the Kuwaiti daily quoted a Lebanese diplomat in Ankara as saying. The Syrian government's brutal crackdown on anti-regime protesters has brought once-close Turkish-Syrian relations to a breaking point, with Prime Minister Recep Tayyip Erdoğan describing the Syrian response to protests as "savagery."

Earlier, a columnist for Lebanese daily al-Akhbar, said to be close to Hezbollah, claimed that Iran had threatened Turkey that if it were to be used as a platform for NATO action against Syria, then Iran would bomb US and NATO bases in Turkey. A columnist for the newspaper also said Iran sees the preservation of the Syrian regime as the preservation of the Iranian and Lebanese governments.
July 10, 2011 update: Soner Cagaptay of the Washington Institute for Near East Policy speculates about possible consequences of Turkish troops entering Syrian territory, noting the many domestic and foreign implications:
"Although Turkey is split down the middle between the AKP's supporters and their opponents, war would unify domestic opposition behind the AKP leader and Turkish prime minister Erdoğan."
"a successful military campaign would also re-empower the secular Turkish army, which has lost face in recent years for purported involvement in a coup plot against the AKP."
"Strong ties with Syria that the AKP has cultivated since 2002 would crumble in the case of an invasion."
"Turkey's relationship with Israel [would change], harkening back to the 1990s, when the two countries united against Damascus for its harboring of terrorist groups."
"a Turkish incursion would drive a wedge between Ankara and Tehran, thus ending the honeymoon Ankara has pursued with Tehran since the Iraq War [began in 2003]."
"A Turkish invasion would rejuvenate Turkish-U.S. ties, which have yet to recover fully from the Iraq War."
Nov. 7, 2011 update: Ankara is applying a cordon sanitaire around Syria, to judge by a report by Tha'ir Abbas in Asharq al-Awsat:
Turkish sources disclosed that Ankara has imposed what could be described as sanctions on Damascus, like its total ban on the entry of weapons to Syria, this includes stopping three previous shipments from Iran, in addition to "the careful examination" of particular banking transfers to businessmen loyal to the regime so as to pressure and prevent them from supporting it. They cited Turkish Foreign Minister Ahmet Davutoğlu about his country's readiness to impose a buffer zone all along the borders to protect the civilians and stressing that his country "has the readiness and ability to impose the buffer zone but we need an Arab and international cover."
Dec. 21, 2011 update: According to the Turkish press, the Syrian authorities arrested 49 Turkish intelligence agents and efforts by Ankara to win their release have failed.
Nov. 9, 2012 update: This topic has become too intense through 2012 for me to follow as I did earlier. But here's a quote that needs to be noted, from an interview with Bashar al-Assad made public today: "Erdoğan thinks that if Muslim Brotherhood takes over in the region and especially in Syria, he can guarantee his political future, this is one reason. The other reason, he personally thinks that he is the new sultan of the Ottoman and he can control the region as it was during the Ottoman Empire under a new umbrella. In his heart he thinks he is a caliph."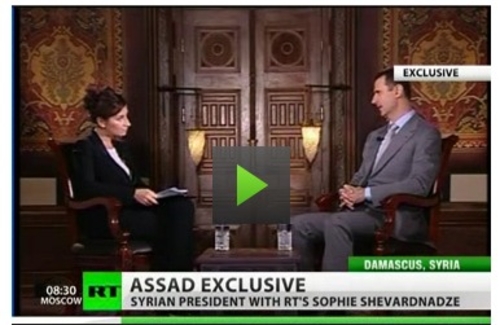 RT's Sophie Shevardanze interviewing Bashar al-Assad in English.