On the occasion today of Israel's 60th anniversary, going back fifty years and watching a television interview on April 12, 1958, with the country's then-ambassador to the United States, Abba Eban, offers both an insight into what has changed and what has not and an opportunity to hear the most eloquent defender, bar none, of the Jewish state. The video and a transcript of the interview can both be found on the University of Texas-Austin website.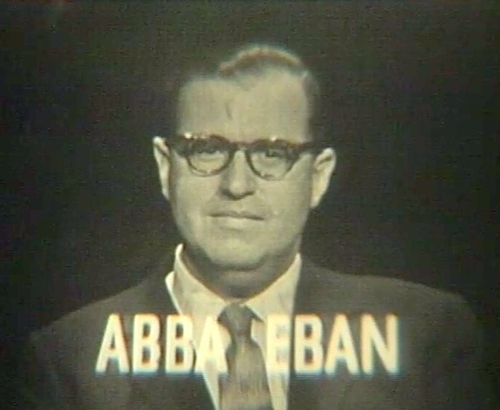 Abba Eban, Israeli diplomat, interviewed by Mike Wallace in 1958.
Take the very first exchange, in which a flat-toned Mike Wallace notes to Eban that "in its ten years as a nation, Israel has been involved in repeated violence: major border incidents, two open wars with the Arabs" and asks his expectations of what is to come in the next ten years. To which, Eban immediately and fluently responds:
Well, Mr. Wallace, the last ten years have not only been years of violence. They have been incomparable years of joyous creation, of sovereignty restored, of the people gathered in, of a land revived, of democracy established, but there has also been violence imposed by the hostility of our neighbors.

For our second decade, we devoutly hope for a period of peaceful consolidation. We hope that there will be no recurrence of the violent conflicts which marked our first decade, but that we and our kindred neighboring people will devote all our efforts to the development of our respective countries and of our common region.
Comment: (1) The whole 4,300-word interview is well worth viewing or reading.(2) Eban was not only Israel's outstanding spokesman but ranks with Winston Churchill as among the most eloquent English-language statesmen of recent times. (3) The video has a curious time-piece quality about it, with its advertisement for Parliament cigarettes and smoke from Wallace's cigarette swirling sometimes in the picture. (May 8, 2008)