Tragedy looms as Iraqi authorities threaten by April 30 forcibly to expel 3,400 Iranians, members of the Mujahedeen-e Khalq. MeK members rightly fear for their lives if pushed across the border for the Iranian regime criminalizes membership in the MeK and abominates the organization, its determined foe.
Some background: Saddam Hussein allied with the MeK (also known as the People's Mujahedeen Organization of Iran, or PMOI) against their common enemy in Tehran. Following the U.S.-led conquest of Iraq in 2003, MeK members living in Iraq acquired "protected persons" status and entered a political limbo, neither friend nor enemy of the occupying powers. With the gradual withdrawal of U.S. troops and increasingly close ties between the Iraqi and Iranian governments, MeK circumstances worsened to the point that in April 2011 Iraqi troops attacked Camp Ashraf, its Iraqi home since 1986, killing 34 people and injuring 325.
Cooler heads prevailed after this dangerous flare-up. With U.S. government approval, Baghdad signed a Memorandum of Understanding (MoU) with the United Nations in December 2011. In it, the Government of Iraq committed to the relocation of Camp Ashraf (now renamed Camp New Iraq) residents to a temporary transit facility where the United Nations High Commissioner for Refugees (UNHCR) would begin the process of transiting MeK members in Iraq to refugee status, a necessary first step to resettle them outside Iraq.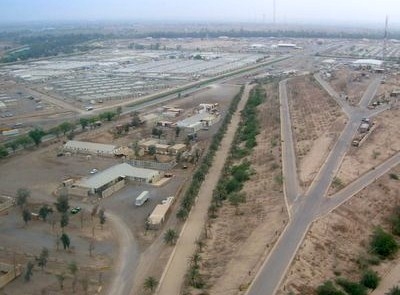 Camp Liberty from the air in 2009.
Toward this end, about 400 MeK members voluntarily left Camp Ashraf on Feb. 18 and
moved to Camp Liberty
, a former U.S. military base. Their transfer, however, was marred by threats from Iraqi forces, harassment from elements of Iran's Islamic Revolutionary Guards Corps, and
inhospitable living conditions
and constant police surveillance within Camp Liberty.
This move cast doubts on Iraqi government intentions and set a worrying precedent. Further, there is no clear sense how the MeK members will all be processed as refugees within the next two months, much less of their ultimate destination for resettlement outside either Iraq or Iran.
Here follow some practical recommendations for Washington, which must not abandon the organization most feared by the tyrants in Tehran:
Establish a contact group along with the UNHCR, the Iraqi government, and MeK representatives to safeguard MeK members who leave Camp Ashraf, as agreed upon in the December MoU.
Pressure the UNHCR to get the refugee processing done quickly.
Remove the unwarranted terrorist tag from the MeK, as the European Union has already done. Government and private sources alike reveal no evidence that the MeK engages in terrorist activities or has the capability and intent to do so. The discredited "terrorist" description, however, has real-world consequences. For example, Iraq's Prime Minister Nouri Maliki has linked ill-treatment of Iranian dissidents to the MeK's designation as a terrorist group; and the terrorist label, understandably, makes third countries reluctant to resettle MeK members.
Seek out culturally similar hosts for MeK members; perhaps Persian-speaking countries (such as Tajikistan or Afghanistan) or Muslim Middle Eastern countries hostile to the Islamic Republic of Iran (such as Saudi Arabia or the Persian Gulf statelets).
These steps offer a way to resettle MeK members and resolve an urgent impending human tragedy in advance of the looming April 30 deadline. (February 28, 2012)