As fires swept through a hot and dry Victoria State, Australia in February 2009, some observers (including myself) wondered if this might not be an Islamist attack on the country. But one stayed quiet, not having proof.
Now, Mervyn F. Bendle, a senior lecturer in History and Communications at James Cook University, Queensland, has come out and made the argument in a 6,000-word article, "Australia's nightmare: bushfire jihad and pyroterrorism," in the National Observer. Bendle marshals an impressive body of evidence. But first, a review of what happened: The fires, he writes,
began in the mountainous forest areas north-east of Melbourne, and in Gippsland, Bendigo and other parts of the state, on Saturday, 7 February 2009, and continued for several weeks. The fires broke out on a day of extraordinarily high temperatures (up to 47˚C) and gale-force winds (exceeding 100km/h), after an extended heat wave and a protracted drought. In a ghastly conflagration, they caused the largest ever bushfire death toll in Australian history, leaving at least 210 people dead, some 500 injured, and over 30 missing. Some towns were virtually wiped out, including Kinglake, Marysville, St Andrews, Steels Creek, Flowerdale, Strathewen, and Narbethong. The fires destroyed more than 2,000 homes and 1,500 other buildings or structures, and damaged thousands more, leaving an estimated 7,500 people homeless. An area of approximately 4,500km² (450,000ha) was burned out and millions of animals were destroyed. At one point, fires came close to the main electricity transmission lines supplying Melbourne from the Latrobe Valley, and also threatened the Hazelwood Power Station. Insurance payouts could reach several billion dollars.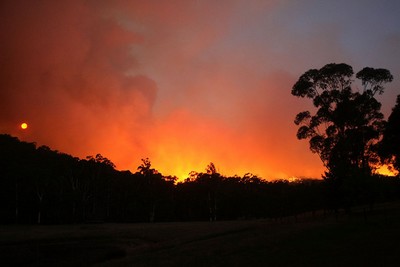 A fire blazes on February 9, 2009, in Healesville, Australia.
Then to the evidence (mostly Bendle's, some added by me):
Police believe that the Victoria fires were the result of human action, as are over 90 percent of Australia's fires.

Australian authorities have long worried about this form of jihad; for example, in 2003, a spokeswoman for Attorney General Daryl Williams stated that "Arson attacks are just one of a wide range of scenarios which have been considered as part of our investigations into al-Qaida's ability to conduct attacks in Australia."

An article by Josh Gordon, "Islam group urges forest fire jihad," appeared in Melbourne's Age newspaper on September 7, 2008 and described how "a group of Islamic extremists [is] urging Muslims to deliberately light bushfires as a weapon of terror" against Australia.

Al-Qaeda and other terrorist organizations not only celebrated the fire but held it up as a model for future action.

A number of non-Muslim groups have resorted to pyroterrorism, such as the Earth Liberation Front in the United States. "Globally, between 1968 and 2005, some 56 terrorist groups employed arson as their principal form of attack."

This form of terrorism has increased greatly in recent years. Between 2003 and 2004, for example, the number of fatalities from fires jumped from 7 to 254.

Islamists have long engaged in pyroterrorism in Israel, starting in 1988. By 2002, the chief ranger of the Galilee region, Gilad Mastai, estimated that the vast majority of deliberate fires were started by Arabs with political motives.
Despite this evidence, Bendle notes, the Victoria Police hyperbolically dismissed the possibility of an Islamist attack even as the blaze was in full force and well before it had any knowledge of the fires' cause. He worries that this willful blindness renders Australia (and, by extension, the entire West) vulnerable to this simple but devastating form of attack.
Comments: (1) Were the fires part of a jihad effort, it would fit an established Islamist goal. For example, in an issue dated December 6, 2007, inSite documents how members of password-protected jihadi websites discuss among themselves ways to destroy dams and flood cities both in the United States and other Western countries. (2) It's worth noting here the related phenomenon of self-inflicted arson, as documented in "'Islamophobic Prejudice' and CAIR," as well as a number of follow-up articles and blogs by me. (March 26, 2009)
July 1, 2009 update: "Tens of Simultaneous Fires in Northern Israel are 'Terror Arson'," reports Gil Ronen of Arutz Sheva. Sounds like a case of bushfire jihad:
Fire fighters in northern Israel fought dozens of blazes that broke out during the day Wednesday, most of them around noontime. A source in the Hadera Fire Services told News1 that due to the fact that numerous fires broke out in a relatively limited area, the working assumption is that they were deliberately set. "We still do not know how the fires were set and we do not have details about the arsonist or arsonists," he said.
Oct. 26, 2009 update: Back to the Australian fires: Sany Edow Aweys, 26, one of four Melbourne men standing trial on terrorism charges for taking part in a conspiracy to attack Sydney's Holsworthy Army Base, was recorded expressing delight about the Black Saturday bushfires. In a telephone call, he told a friend the "filthy people" are being brought down hard by Allah. "The whole nation is coming down, first the economy comes down. By Allah, factories shutting down, nothing here mate, nothing barely anything. By Allah, I've never seen Melbourne like this, then fire coming to them, no water, the water storage is empty."
May 1, 2010 update: I have just become made aware of a Feb. 16, 2008 report about a forest fire in Greece. Ioannis Michaletos and Christopher Deliso write at BalkanAnalysis.com about "New Security Threats, Trends in Global Intelligence Influence Greek Reforms," also containing references to the issue:
In summer 2007, the enormously destructive wildfires that decimated large swathes of countryside emerged as a new menace - and one that may yet be repeated with even more brutal effect in the years ahead. Although arid, sun-baked Greece is a natural victim of forest fires, what happened last summer was without precedent and became for a time the chief priority for the intelligence services, in a country essentially under attack. Further, deliberate arson aimed at a country increasingly vulnerable to desertification and lacking sufficient water resources can have devastating long-term effects for actors with political or economic objectives in mind.

While everyone from rogue property developers and organized crime syndicates to anarchists and leftists have been blamed at one time or another for the many and widespread fires that gripped the country during the summer, another and even more disturbing possibility is that least some of the fires that occurred, and that are likely to occur in the future, can be attributed to Islamist networks. A recent report, citing US intelligence channels, claims that an Arabic-language jihad website has urged Muslims in Europe, America and Australia to use arson as a tool of terror. The website apparently cited imprisoned Al Qaeda "theorist" Abu Musab Al-Suri as the ideological progenitor of this plan. While Greece is not specified among the countries to be attacked, and while it is not a contributor of troops to the US-led coalition in Iraq, it has been vital to the war effort by allowing the Americans access to its island bases, transport and other logistical services.

Further evidence attests to a possible connection between Islamists and the forest fires in Greece. A type of improvised explosive device used in setting off the fires was ignited with a mobile phone. By calling the phone's number, the device exploded, sparking a blaze that soon grew out of control. The advantage for the perpetrators is that this result can be achieved from a safe distance- even from abroad. Significantly, it is similar to one of the methods used in the Madrid bombing in March 2003.

Further, a ranking Greek intelligence officer, speaking on the condition of anonymity, states that during the height of the summer fires a Saudi national equipped with such a device was arrested by Greek border police in the north of Greece, in the company of several Kosovo Albanians. It is no secret that the latter consider Greeks to be an enemy, in light of the latter's historic support for the Serbian point of view regarding the Kosovo issue. However, there is no way of confirming this claim, so it must remain a mystery, at least for now. Nevertheless, there is evidence, some of it gathered in an August 2007 Jamestown Foundation report, of Greece being used as a transit zone and even potential target for al Qaeda and related groups.
Dec. 5, 2010 update: The worst fire in modern Israel's history started on Dec. 2 in the Haifa vicinity and seems to have been an accident. But ancillary fires appear to be the work of Muslim arsonists. More to come as information becomes available. As Aaron Lerner writes:
This piece of information is not being censored by the Israeli media in the sense that it is broadcast for a second and gets a sentence or two in reports. But what a JNF [Jewish National Fund] official termed "widespread arson terror" apparently doesn't fit into the narrative that the Israeli media herd has locked into. ... It raises questions the media isn't comfortable with about Arab-Jewish relations. And it raises horrific questions about what we may face in terms of internal Arab caused chaos in the next war and what measures may be required to address it.
Dec. 6, 2010 update: More details from a Jerusalem Post editorial today, which sets the stage by noting that arson attempts all year long "at a staggering average of two per day in the past 12 months" and "are part of a concerted effort by lawless Arab Israelis to take control of Jewish farmland in the Galilee. Crops or orchards that are repeatedly burned down are eventually left fallow, in some cases allowing Arab farmers to move in. Additional tactics include the killing of livestock and violence against Jewish farmers, according to those affected." As for recent days, it writes of "a mind-boggling rash of locally concocted arson attempts":
Perpetrated by Arab Israelis, these attacks are a cynical exploitation of Israel's sorrowfully inadequate firefighting capabilities. These local terrorists are willing to cause further ecological damage and endanger the lives of both Jews and Arabs in the name of hateful and narrow political goals.

On Friday, Israel Police Insp.-Gen. David Cohen directed district commanders to be on the lookout for such arsonists and has reportedly consulted with the Shin Bet (Israel Security Agency) on thwarting them. Yoel Zilberman, head of a grassroots network of about 1,000 unarmed volunteer guards that operates in the Galilee and who call themselves "Hashomer," a throwback to the pre-state organization, estimates that in the last three days there have been between 30 and 40 arson attempts in northern Israel. The organization was created two years ago to fight acts of arson and vandalism perpetrated by Arabs against Jewish farmers in the Galilee.

One of the largest arson attacks that took place since the fire erupted on Mount Carmel was at Tzur Shalom, where police found a bike and a wig, apparently abandoned by an arsonist who had disguised himself and planned to ignite the local gas pump and start a fire that could have spread to the factories of heavily-industrialized Haifa Bay.

Other suspected arson attacks occurred in Tarshiha, Kiryat Tivon, Shfaram, Naveh Yosef, a neighborhood outside Haifa, Mashad, an Arab village in the North, and in the Nazareth Forest. Police Cmdr. Shimon Koren, commander of the Northern District, said that there were cases in which Molotov cocktails were thrown along Route 70.
The Post concludes that Israeli Arabs who engage in arson are in part inspired by "a larger Muslim world with decidedly antagonistic attitudes toward Israel," as shown by celebrations at news of the Carmel fire.
Arutz Sheva also pursues this angle today and is critical of the mainstream media for ignoring it, in "Fire or a Massacre? Israeli Media Downplays Arson Suspicion," by Gil Ronen:
MK Yaakov Katz (Ketzaleh) of the National Union was the first leader Thursday to publicly give voice the possibility that the fire was a terror attack – "an act of arson that turned into a massacre," in his words. Most of the large forest fires in Israel are set by hostile Arabs, Katz said. He noted that he had proposed a bill for minimum punishment of terror arsonists nine months ago, and blamed Justice Minister Yaakov Ne'eman for torpedoing it. ...

The fire spread from three locations simultaneously – making arson a likely possibility. Deputy Minister Ayoub Kara (Likud), a resident of Usfiyeh, said on Channel 10 Thursday evening that he has received information that the fire is a terror act. He said that if the perpetrators are caught they should be executed "like [the Nazi criminal Adolf] Eichmann" who is the only person put to death by Israel to date.

Arab citizens of Israel use arson as a simple means of inflicting terror and destruction upon the Jewish state. Large scale fires recently consumed 5,000 acres in the Golan Heights. A fire was set in the Gilad Farm several weeks ago and an Arab was seen fleeing by a group of soldiers in the area. The numerous large fires that broke out or were set this year depleted Israel's reserves of fire-fighting chemicals, and the supply of chemicals is expected to be used up completely by Friday morning. Israeli planes are reported to be en route to France to bring more supplies of fire-dousing materials. According to an unconfirmed report on rotter.net, Radio Haifa reported that Arabs have been dancing in the streets of Furadis, just south of Haifa, in celebration of the deadly fire.
July 17, 2011 update: Another forest fire in Israel, this time in the Jerusalem Forest below the Yad Vashem Holocaust Museum, another suspicion of arson. Melanie Lidman explains in the Jerusalem Post:
The flames broke out simultaneously in four spots in the Jerusalem Forest, at approximately 3:30 p.m. [Jerusalem Fire and Rescue Services spokesman Asaf] Abras said firefighters would investigate the cause of the fire over the coming days, but the simultaneous outbreaks "raised a lot of questions."
Aug. 2, 2011 update: More Palestinian fires against Israelis, this time on the West Bank, writes Tzvi Ben Gedalyahu for Arutz Sheva:
Arson on July 25, 2011.

Palestinian Authority terrorists are reverting to the first Intifada tactic of burning down Jewish communities in Judea and Samaria. Arabs have set more than 20 fires in Jewish communities, mostly outposts, the past several weeks, which have forced the evacuation of residents. Police investigations have determined that the blazes were intentional, and tracks have led them Arab villages nearby the Jewish communities. Six Arab suspects have been arrested. ...

The renewed arson intifada causes more widespread damage than the usual life-endangering rock-throwing, particularly in the summer when forests are dry and afternoon winds quickly whip up a small fire into an inferno. It, too, can put lives in danger. Mitzpeh Danny, located in Samaria, has suffered seven fires in the past and nearby communities have had to evacuate its residents, including toddlers, because of the threat that purposely set fires would reach their homes,
Aug. 6, 2011 update: And now, it appears, a Jewish cemetery in Jerusalem.
Oct. 24, 2011 update: Forty-four fires burned on two days in the Galilee, prompting Yigal Ben-Abu, spokesman for firefighters in the western Galilee, to state that "The number of incidents raises suspicion. We are not naïve."
Dec. 21, 2011 update: The winter issue of Al-Qaeda's English-language magazine, Inspire, has an article encouraging forest first jihad.
Dec. 23, 2011 update: A former prime minister of Turkey, Mesut Yılmaz, indicates that when Tansu Çiller was prime minister, in 1995-97, the Turkish government was behind forest fires in Greece for purposes of retaliation. Dec. 26, 2011 update: The Greek press speculates that he could be referring to fires on Samos and Rhodes.
May 2, 2012 update: Issue nine of Inspire, Al-Qaeda's English-language magazine, has a feature title "It Is of Your Freedom to Ignite a Firebomb," with instructions on how to ignite an "ember bomb" in a U.S. forest, recommending Montana because of the rapid population growth in wooded areas. "In America, there are more houses built in the [countryside] than in the cities," writes the pseudonymous "AQ Chef." "It is difficult to choose a better place [than] in the valleys of Montana."
June 28, 2012 update: "Israel Going Up in Flames" reads the title of an article by Dovid Efune in the Algemeiner. It notes that Fire and Rescue Services spokesman Asaf Abras counted more than 200 arsons in Israel the past two weeks alone. He adds that in the past month-and-a-half there have been "more than 2,000 arson attacks," which averages to 47 every day. Efune continues: "What makes arson so attractive to those seeking to harm the Jewish state is that it is a crime that, by its very nature, destroys the evidence of how it was committed." Only 2 percent of arsons in the United States result in conviction.
July 22, 2012 update: According to the Israeli press, hundreds of fires have been set in the Jerusalem and Galilee regions this summer, burning down substantial areas. In several cases, Palestinians from the PA have been arrested on arson charges.
July 26, 2012 update: Political correctness in Israel is impeding recognition of the bushfire jihad, Gil Ronen reports in "Israel Burns, No One Dares Name the Arsonists."
Israel is on fire: every other week this summer sees at least one major fire, and small ones occur daily. It is general knowledge, though rarely admitted by authorities or most news sources, that Israeli Arabs are the ones lighting most of the fires out of nationalist motives. ... Israelis are experienced at government and media cover-ups of subjects that might create rage against the Arab populace, and many believe that that fire, too, was intentionally set. In any case, it is known that there were numerous secondary fires lit as the blaze raged, in an attempt to intensify the damage.
Aug. 8, 2012 update: More from Gil Ronen about two fires in Israel:
Two fires described as "huge" broke out Wednesday afternoon near Jerusalem and Haifa. Four Arabs have been arrested in connection with the blaze near Jerusalem. While there are no reports yet regarding the suspected reasons for the fires, Arab arson is likely, having apparently become the most common reason for fires in Israel in recent years.
Oct. 2, 2012 update: A Colorado Springs Gazette editorial notes Colorado Springs resident William Scott's concerns (on which, see the Aug. 13, 2012, update) and asks that "the Forest Service, the FBI and other relevant state, local and federal agencies take seriously the potential threat posed to our forests and wildlands by operatives who have been instructed to burn them."
Oct. 3, 2012 update: Alexander Bortnikov, head of Russia's Federal Security Service speculates that Al-Qaeda set the recent outbreak of forest fires across Europe, especially in Portugal and Spain, where scores died and thousands fled. "Setting fires to forests in the countries of the European Union is a new tendency in al-Qaeda's strategy of a 'thousand cuts'," he told a meeting of heads of security agencies. "This method allows [Al-Qaeda] to inflict significant economic and moral damage without serious preliminary preparations, technical equipment or significant expenses."
May 7, 2013 update: A group, Mishmar Admati (or "Land Guards") has emerged in Israel to fight the ever-more serious problem of arson jihad. Its chairman, Shuki Gilon, explains that it works with police, farmers, ranchers, and forest rangers to prevent fires.
"The idea is for everyone to work together to reduce the incidents of arson. We use technology, science, and other methods to develop creative solutions that will foil these arson incidents." Gilon said that the group had prevented numerous acts of arson by Arabs. "We work mostly in the lower Galilee, the northern and southern Negev, and the Lachish region north of the Negev," said Gilon. These areas have suffered from inordinate numbers of arson incidents in the past. "We have senior security people and top officials of the Parks and Nature Authority working with us," Gilon said. "As part of our equipment we use thermal cameras and special identification equipment. We invest a great deal of energy in synchronizing our actions with police," he added. "We recently provided them with information about four fires – all the details, including who set them, when, and why."
May 27, 2013 update: (1) Israel's firefighters have been called since the beginning of May 15 times to put out arson fires at the Ofrit base and 13 times to Hashalom Forest, both near Jerusalem. Firefighters have frequently been hit with rocks as they went about their work. Other areas of Jerusalem have also experienced arson, though not so much.
(2) In a variant of bushfire jihad, Jerusalem firefighters twice came under attack by Muslims throwing stones and firebombs this past week, even though they were working to save Muslim-owned residences.
In the latest incident Monday afternoon, an Arab mob threw stones and firebombs at a firefighting crew dealing with a brush fire that broke out in the Atarot Industrial Zone in northern Jerusalem. The Industrial Zone is adjacent to a large Arab neighborhood. Had the crew not put out the fire, it is quite likely that a major blaze would have been set off in the residential area. The firefighters found themselves under heavy attack, and were only able to leave the area under the protection of border guards. In order to safely evacuate the firefighters, the border guards were forced to open fire on the rioters. No one was injured, but one of the firetrucks sustained damage from the rioters.

In last week's incident, a firefighter was injured in an Arab riot as he and his crew tried to put out a fire that had broken next to the Arab village of Issawiya, Iwhich is within the municipal boundaries of Jerusalem. The firefighters were greeted by a large mob of Arabs, who pelted them with stones and bricks. The injured firefighter was taken to Hadassah's Mount Scopus Hospital for treatment. Police were called in to clear the area and allow the firefighters to continue putting out the blaze.
May 30, 2013 update: Here's a first: a jihadi bushfire was set near the outpost of Yitzhar on the West Bank and an enterprising photographer took pictures of the soldiers and residents who fought the fire as they were attacked with rocks. A Yitzhar spokesman explained that Yitzhar experiences an average of 20 arson attacks each summer.
July 3, 2013 update: Masada al Mujahideen, a Palestinian jihadi group, has claimed it set a Arizona wildfire that killed 19 firefighters, reports the SITE Intelligence Group. (The fires are conventionally understood to have begun due to lightening.) Its statement, "Masada al-Mujahideen Fulfilled its Promise and Attacked America Again After the Expiration of the Period with Fires that Achieved Historic Results," informs:
We had previously announced an unconventional war against the occupation state of Israel, and then we escalated this war to reach its main supporter, America, so that it receives a major share of it, which will destroy their flora and fauna, with permission from Allah and then with our hands.
The group targeted the United States "to make it clear and to make it know we can reach it when we warn it, and to make it certain that our hands don't just reach it but also strike it." It warns that the attacks "will not be the last ... if America does not respond to our demands."
In January 2012, the group equally implausibly claimed to have started wildfires in Nevada as well as more than a dozen fires in Israel since 2010.
June 11, 2015 update: A fire apparently started by Arab arsonists raged in the Gevaot Forest on the West Bank; in addition, several other potential arson incidents occurred at other locations under Israeli control, including Hemdat, Mount Sansan adjacent to Tzur Hadassah, and in a factory in the industrial region of Ma'ale Efraim.
July 4, 2015 update: Forest fires in the Jerusalem area appear to be the work of jihadis, according to Israel National News:
Police say that they believe Palestinian arsonists were behind three separate forest fires near Jerusalem this past week. The fires destroyed over a thousand dunams (one square kilometer). According to Ynet, authorities found several used Molotov cocktails near where today's (Saturday) fire began. Eyewitnesses also reported seeing people throwing incendiary devices in the area. The location is near the Arab village of Bidu. Similar fires broke out on Sunday and Thursday.
Sep. 22, 2015 update: A fire in Beit Haggai, an Israeli town south of Hebron on the West Bank is "heavily suspected" to be a case of Palestinian arson.
Nov. 28, 2016 update: Israel experienced a wave of fires over the past week, some of them caused by arson. A summary of the problem from Wikipedia:
a wave of fires (both wildfires and urban fires) began in Israel from south as the Dead Sea area to Nahariya. Some of the fires occurred naturally; others were arson attacks. On 28 November, after 8 days, the firefighting services announced that the emergency condition was over, after firefighters fought 1,773, of them at least 39 were major fires that required at least ten crews or more.

The largest fire occurred in Haifa, where 527 apartments were destroyed completely 77 buildings, leaving 1,600 people homeless. 75,000 residents, about a quarter of the city's population, were evacuated from 11 neighborhoods. Other major fires occurred in Zikhron Ya'akov, Jerusalem area as well as smaller fires all across Israel and the West Bank. Israel's Nature and Parks Authority reported that more than 20,000 dunams (4,900 acres) of forests, brushland and open space were burnt, the largest amount since the Mount Carmel forest fire (2010).

While most of the fires were caused by weather conditions and negligence, some of the fires were caused by arsonists suspected of being nationally motivated Arabs. Two Arab citizens of Israel confessed they deliberately set up fires. At least 35 people were arrested on suspicion of setting fires or inciting to do so. More than 15 were citizens of the Palestinian Authority and at least 10 were Arab citizens of Israel. Officials in Israel has stated that the deliberate setting of fires is a form of terrorism. As of 28 November, at least 25 cases of fires were caused by suspected arsons.
Feb. 5, 2017 update: Three Palestinians were arrested on arson charges for setting a fire in November 2016 outside the Jewish town of Neve Tzuf.
Apr. 4, 2017 update: The chief fire investigator in Israel, Ran Shelef, says that 90 percent of the fires in the great blaze of November 2016 were arson.
Aug. 8, 2018 update: Gazans took bush jihad to different level of magnitude with their burning and bomb-laden kites, balloons, and even condoms. Israel's Ministry of Foreign Affairs sums up the four-month phenomenon at "Arson terror from Gaza continues to devastate southern Israel":
​Southern Israel, especially the areas adjacent to the Gaza Strip, have been suffering since late March from "arson terror" - Palestinians near the Gaza-Israel border release kites and hot-air balloons with attached incendiary material. The wind blows the kites and balloons to the Israeli side, causing fires that have destroyed thousands of acres of crops and grazing lands, forests and nature reserves, killing animals and destroying their habitat.

From 30 March to 4 August this year, there have been 1,316 fires - an average of 20-22 a day. Over 7,400 acres have been damaged or destroyed. Much of the summer wheat crop was lost, either to the fires or due to too-early harvesting. Hundreds of chickens and turkeys suffocated to death from smoke inhalation. People with asthma and other lung diseases are also suffering from the polluted air. In Nahal Grar, dozens of beehives, each with about 70,000 bees and 30-50 kilos of honey, were destroyed by fire. Farmers in the affected areas have filed 180 claims for compensation, valued at around 3 million USD.

The Ministry of Labor, Welfare and Social Services reports a large increase in the number of people seeking treatment at Hosen Centers, which offer psychological-emotional support and therapy. In centers located throughout the northern and western Negev (Eshkol, Hof Ashkelon, Shaar HaNegev, Sderot and Sdot Negev), 834 people were treated between March 21 and July 1 - a 308% increase over the period from January through March 20.
Nov. 14, 2018 update: Al-Ansar Media, an ISIS-supporting group, claims that the wildfires in northern and southern California are retribution for American forces being active in Syria.
May 24, 2019 update: More arson jihad by Palestinians near Jerusalem.
June 11, 2019 update: Seth Frantzman helpfully reviews arson as a jihadi tactic at "Fire Is a New Weapon of ISIS, Hamas and Others." (But he's wrong about it being new.)
July 2, 2019 update: Major fires in agricultural fields of Syria and Iraq raise the suspicion that ISIS is wrecking revenge.
Aug. 18, 2019 update: Hezbollah ignited a fire in Lebanon near the Israeli border on Aug. 16, counting on strong winds to fan the flames, and for the fire to cross the border into Israel, where it threatened a military base and a town, Margaliot.
The Arutz Sheva news report also lists other recent Arab arson efforts to harm Israel:
Last week, Muslim Arab arsonists set fire to a Jewish town in Samaria, and last month, Muslim Arab arsonists ignited a brush fire in Hevron that destroyed several buildings in an IDF base, including a synagogue.

Israel has been dealing with arson fires caused by incendiary and explosive balloonssent from Gaza into Israel since May 2018. The fires have destroyed tens of thousands of dunams of nature reserves, forests, and agricultural land, and caused billions of shekels in damage.

In November 2016, Arab arsonists caused a wave of fires across Israel.
May 17, 2020 update: An arson attempt to burn the fields belonging to the Jewish town of Rechelim literally backfired, burning instead the fields belonging to the Arab town of Yatma.
July 26, 2020 update: The ISIS-related Al-Hayat Media Center on July 26 "uploaded an animated video titled 'Incite the Believers' to its Telegram channel. The narrator called upon Muslims living in non-Muslim lands to avenge their Muslim brothers using whatever weapons are available to them and to carry out jihad and terror attacks, the video showed various kinds of weapons, including knives and firearms. The narrator said that Muslims should use commonly available items to carry out their attacks and specifically giving the example of fire. He elaborated that fires such as forest fires have killed many non-Muslims and caused hundreds of millions of dollars of damage. He encouraged Muslims to start fires in a fashion that doesn't draw attention to themselves and to dispose of all forms of evidence as they leave. The video urged viewers to set fire to forests, factories, agricultural fields, and buildings. The video showed a man marking a location in California on a map to set ablaze."
Sep. 11, 2020 update: See "Captivating Conflagration: Arson as a Terrorist Tactic" by Stevie Kiesel for a rare discussion of arson as a (very effective) political tactic.
Nov. 1, 2021 update: Israeli police arrested Suliman Cas'ab, 29, of Khan Yunis, Gaza for multiple arson attacks in the central Israeli city of Ramle. Arutz Sheva explains: "Cas'ab entered Israel legally last January, using an entry permit issued for humanitarian reasons. The suspect's mother had been granted entry into Israel for medical treatment, and Cas'ab was allowed to accompany her. After his mother's treatment was completed, Cas'ab remained in Israel illegally."
May 30, 2022 update: On May 29, Jerusalem Day, "multiple fires broke out in Judea and Samaria as a result of Arab rioting, firebombings, and intentional acts of arson," reports Arutz Sheva. And more continued today.