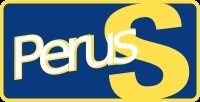 True Finn Party logo.
Elections in Finland
today saw the True Finns Party (PS) win 39 out of 200 seats in parliament, a huge increase over its 1 parliamentary seat in 1999, 3 in 2003, and 5 in 2007. In percentage terms, they went from 1, 2, and 4 percent of the vote to 19 percent.
This surge typifies the enormous strides by right-wing insurgent parties which typically emphasize such issues as immigration, cultural continuity, multiculturalism and Islamification.
For a graphic of where such parties now stand across Europe, see the helpful graphic, "Europe's Right Turn," published by Der Spiegel just before the Finnish election (and available here on my website).
To generalize: Anti-Islamic sentiments are now outpacing Islam in Europe. (April 17, 2011)
May 9, 2011 update: For a detailed, if hostile, confirmation of my point, see "Europe's Rising Islamophobia" by Paul Hockenos in The Nation. Excerpts:
Islamophobia has broad appeal across the political spectrum, from the far left to the far right and irrespective of class or educational level. Where it manifests itself in electoral parties, such as in France, the Netherlands, Denmark, Switzerland, Austria and now even Sweden and Finland, its advocates fare much better than old-school far-right parties ever did, with their vulgar anti-Semitism and expansionist fantasies. There is nevertheless plenty of overlap with the extreme right, which inscribes anti-Islam thinking prominently in its manifestos and is thriving on the new discourse; never before have so many of its representatives been so close to the levers of power in so many Western European countries. …

Where the new right parties aren't surging, centrist politicians take on much of the anti-Muslim baggage. It wasn't, for example, right-wingers who passed the burqa bans in France and Belgium but liberal and mainstream conservative parties, backed by the left. In France, some Socialists and Communists joined President Nicolas Sarkozy's ruling party in voting for the recent ban of the full veil in public, a law proposed by a Communist mayor from southern France (the Greens abstained, fearful of the repercussions of a no vote). Polls showed 80 percent of French voters in favor of the ban.
Hockenos concludes that, "Of all the specters haunting Europe, none are as potent—or potentially disruptive to democracy—as Islamophobia."