Suddenly, wherever you look in the greater Middle East, you find air forces bombing guerrillas:
Syria: The government air force attacks the rebels, mostly Sunni, with notorious use of barrel-bombs. The U.S. air force attacks ISIS, minus the barrel-bombs.
Iraq: Government forces rely partially on air power to attack ISIS forces.
Libya: Egyptian jets attack ISIS and other Sunni Islamist forces.
Yemen: Saudi jets attack Houthi positions.
Somalia: Kenyan planes just started to attack the Shabaab forces.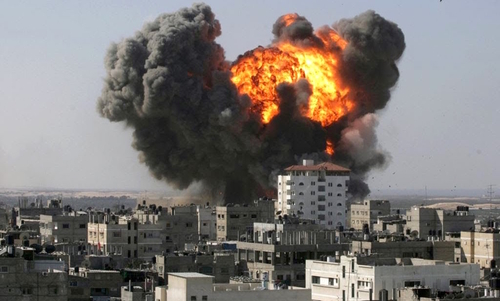 Barrel bombs dropped by the Syrian air force inflict great destruction.
One can imagine similar campaigns starting in Afghanistan and Lebanon.
Will these limited campaigns succeed? I doubt it. Although control of the air offers great advantages, it does not translate into control of land; for that, ground forces are essential. But infantry and cavalry soldiers tend to take more injuries and deaths than do pilots, so their use is politically riskier.
Governments unwilling to insert ground forces, cannot expect to prevail. They can bomb the landscape back to the proverbial stone age without effecting their will. (Recall the Americans' Vietnam and the Russians' Afghanistan.)
The conclusion is simple. I call it my iron rule of war: "Never initiate fighting unless prepared to do what is needed to win. (I.e., don't in advance rule out ground troops.)" A readiness to deploy ground troops is the requisite sign of seriousness of purpose. (April 6, 2015)